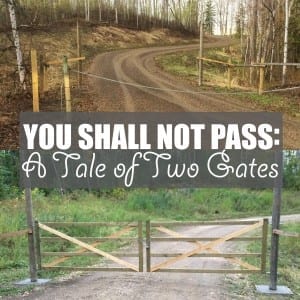 A quick and simple DIY wooden fence gate – made with secondhand lumber and love. Oh yeah, there's screws and stuff in there too.
I'll use anything as an excuse to throw down a Lord of the Rings quote (and apparently a bastardized title of a Dickens novel, because I'm all about literary reference mashups), even when it comes to something as innocuous as a handmade wooden gate. But it's a pretty awesome gate! Designed by Devin and I, built by Devin and his dad, our new gate took the place of our previous method of securing the land, aka future home to Our House in the Trees.
Let me break it down for you.
In order to lock the previously used chain to the post, I would have to sling it over my shoulder, drag it through the gravel, and then pull with all my might until I could get the lock through it. A few times my hair got caught between the chain and my shoulder. More than a few times I pinched my fingers between the chain and the lock, or in the lock itself. This all makes me sound pathetically feeble and incompetent, but I swear it was quite a process. Hence the new gate.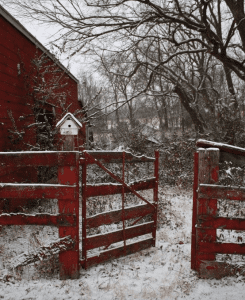 It still needs to be painted and I am dead set on red. Devin's reaction to this ranged from "bitch you crazy" to "cedar stain is sort of red" before he finally proclaimed "you just pick the colour and I'll close my eyes and paint it on." Now that's love. I've narrowed it down to three colours from Benjamin Moore – "Caliente" (very red), "Merlot Red" (reddish-orange) and "Mars Red" (reddish-brown). Every time I go to pick out paint colours I always end up wishing there was one called "This is the Colour You Want." (I'm paraphrasing a line from a TV show or movie, but I can't remember which one at the moment… because that's just how my mind works these days).
How do you feel about a red gate? Too bold? Not bold enough? Just right? Do you have any gates (or evil gate-impersonating chains) at your house? If so, what colour? If not, what – you just let strangers come and go as they please? You a hippy or something? Please scroll down… just a little further… little more… too far! Okay, right there… click on that link that sadly says "no comments" and make it go away already. Thanks!
Don't forget to subscribe to have new posts delivered directly to your inbox!
Posted on September 7, 2015
Former architectural technologist. Current treehugger.
I'm here to help you green your home – and your life.
Like what you're seeing? If so, please consider supporting Of Houses and Trees on Patreon – and get a few perks for yourself!
Subscribe to the Of Houses and Trees monthly newsletter and I'll send you my FREE list of "The 8 Best Places to Buy Eco-Conscious Decor Online."
Find out more about our 40 acres of land in Parkland County, Alberta and the sustainable home we built amongst the trees.
You Shall Not Pass: A Tale of Two Gates