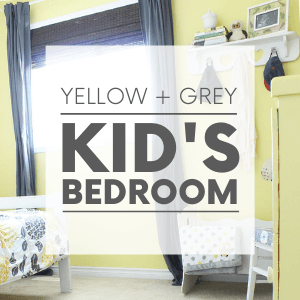 Here it is friends. The moment I've alluded to on several occasions – my eldest daughter's bedroom reveal. This room is like a vortex that continuously sucks me in. I mean, it's a super happy fun place that I never have to drag my three year old to as she flails about wildly. Nor visit on numerous occasions during what I refer to as "not so quiet time" because she needs help dressing ponies in their Grand Galloping Gala regalia or requires me to find a teeny doll shoe in the explosive mess of toys.
The thing is, this yellow toddler bedroom truly is a super happy fun place.
Yet, much like the ups and downs of teaching a tiny human not to be an asshole, the process of creating this room was also filled with ups and downs.
Let's start with the paint. Much like with our baby's room, I decided to paint the window wall an accent colour. I had long ago made up my mind the joyful yet soothing colour combo of yellow and grey would swaddle my eldest's new room. So a yellow accent wall it was. Except the colour I choose after MUCH deliberation was… awful. It was too bright. Too green-hued. It made me want to puke when I looked at it.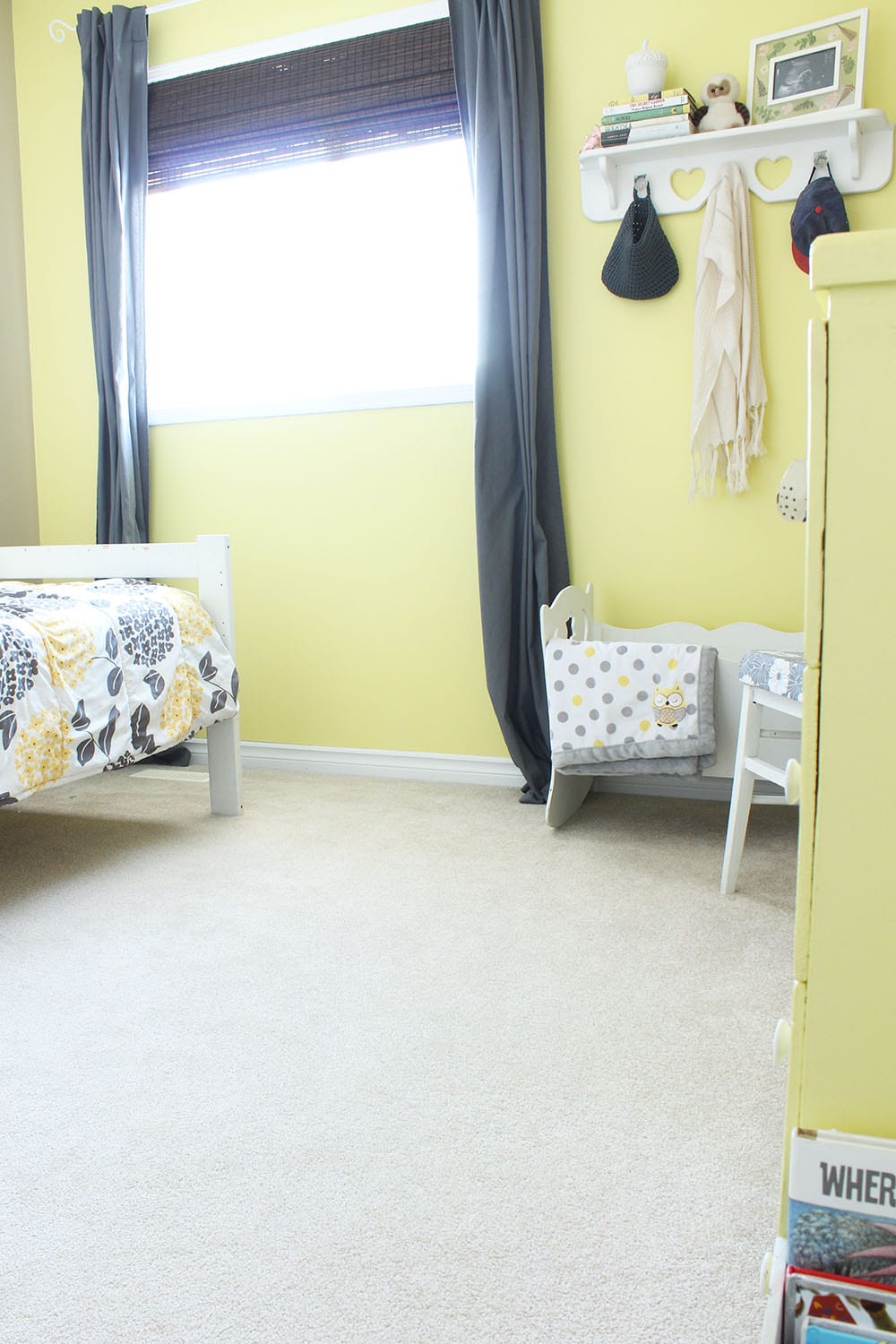 I spent some time mulling over how much I would care about a puke-inducing wall in the years to come. Then, we changed the light fixture and lightbulb. Voila! The colour transformed. Pregnant, sick and exhausted with the room makeover before it even began due to the extremely lengthy process of cleaning out the guest room/office that had inhabited it previously – I felt relieved.
I won't go into detail on every little hiccup we experienced, but even the installation of the aforementioned light fixture did not go smoothly. And speaking of lighting, a lamp met its end on our garage's concrete floor. This incident led poor Devin to embark on a solo Ikea trip where he convinced a costumer service agent to replace it for free by weaving a tale of woe featuring a pregnant wife murderously enraged over what I can now – with distance – admit was an unfortunate accident.
Then there was the chair, which was featured in a post of its very own. Once again, I will not outline every aspect of that nearly FUBARed project because, as with the broken lamp, time heals all emotional wounds inflicted by incorrectly upholstered furniture. But as with many things in life, the "oopsie" moments are the things we often remember and treasure most. Or is that just me? I do love a good story. Even if it's one that wasn't so good when it originally occurred.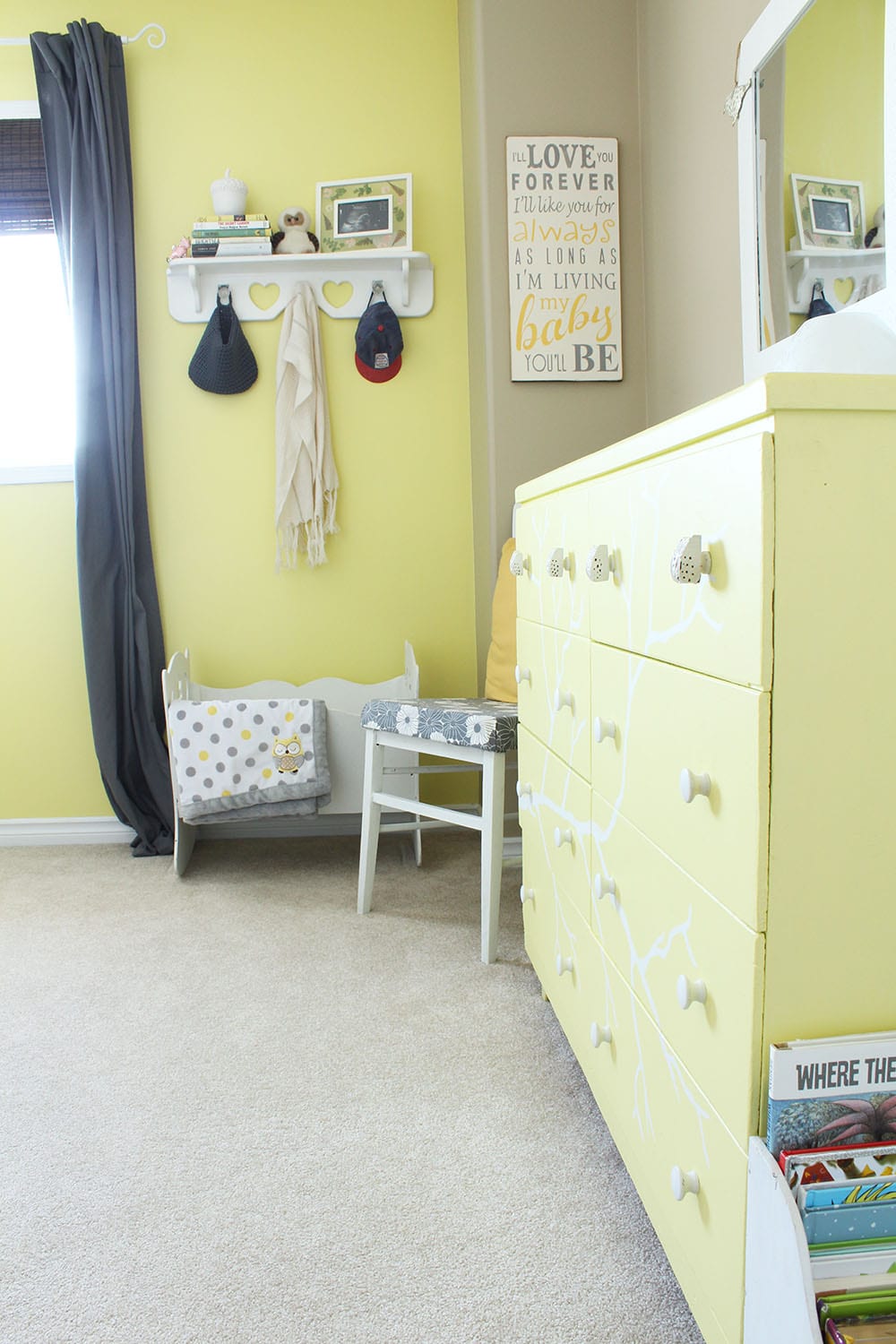 Take the dresser, which also has a post of its own. Built by my grandpa, it was my mom's dresser when she was a child. Other than the fact that it was lengthy, the painting process went pretty smoothly. Although the hand painted tree did originally look more like a bolt of lightening and required MANY touch ups before I inevitably said "oh eff it." Yet, the knobs were the biggest problem. No, not the owl knobs, which I purchased from Whimsical Vintage Creations and think are perfection.
As perfect as they are, the owl knobs were NOT cheap. But I had to have them! So I decided to do four across the top and buy cheap wood ones from a big box store for the rest. Cheap, indeed. We had to make three trips to pick up new knobs because they kept splitting in half upon installation. And, of course, I painted them before they broke so I had to repaint the new ones only to have them break… again. Oh, and did I mention I decided I didn't like the plain wooden knobs at any of our local big box stores because they were like 1/8″ too big so we had to drive into the city every time we needed new ones?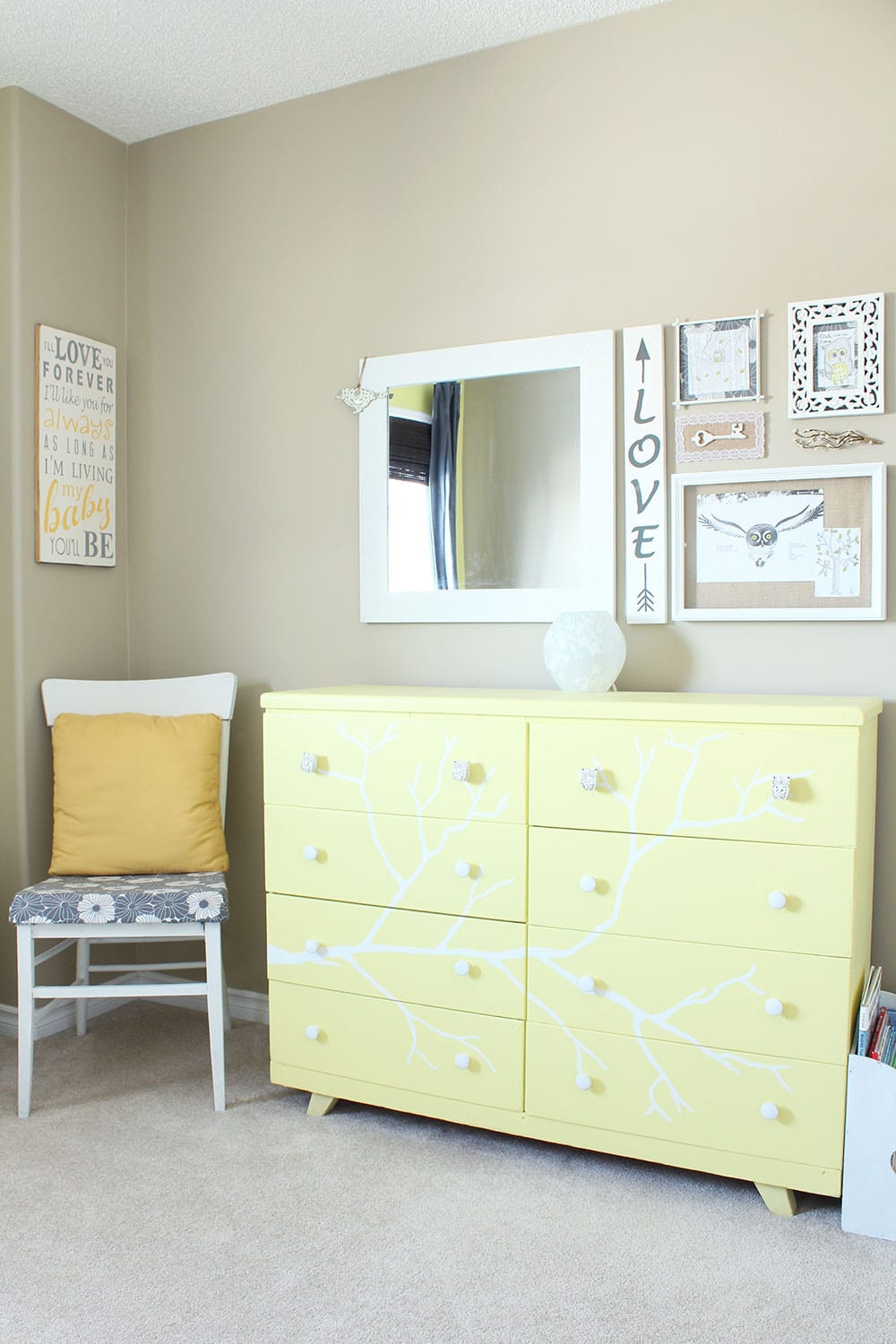 Even the original photos I took of my yellow toddler bedroom didn't live up to my standards. I had to wait months to retake them because I needed the extremely elusive combination of a sunny morning, which is when the light is best in the room, and someone watching my kids. And yes, I do realize my particular and obsessive nature is the root cause for almost all of these problems. That's just me.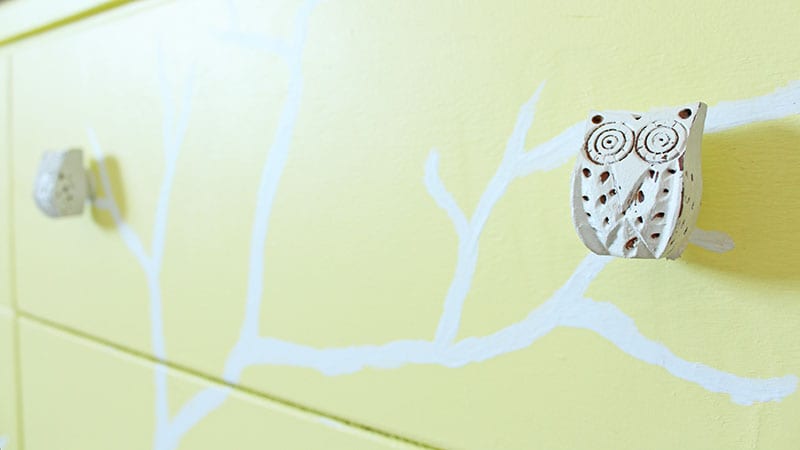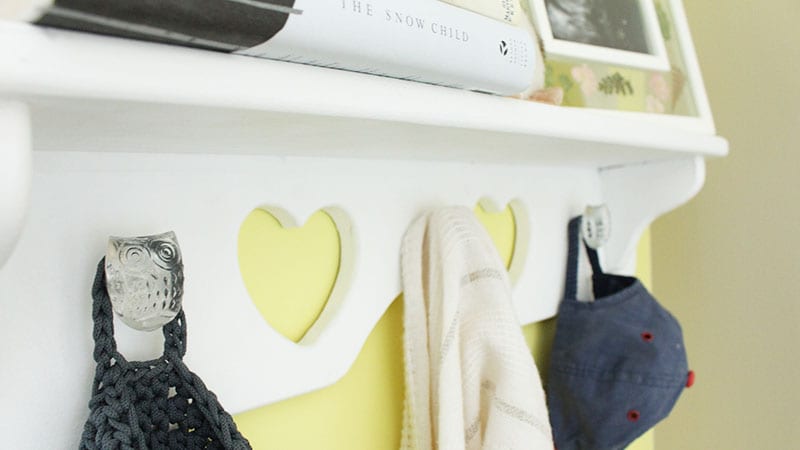 Now for the aforementioned owl knobs, aka my favourite thing in the room. I don't even know how long I've been pining over these guys (gals?), but I just love them. They're cute and quirky and where would they belong more than in a cute and quirky yellow toddler bedroom?
So, that's it folks! Much like a proud yet emotionally worn down parent, I could talk about this yellow toddler bedroom for days. But instead I will wrap it up and ask you what's the most exhausting home project you've ever tackled? Also, what's your favourite colour combo for a kid's bedroom? Make this longtime coming post feel welcome by commenting below and showing some pinning and subscribing love. 
PIN ME!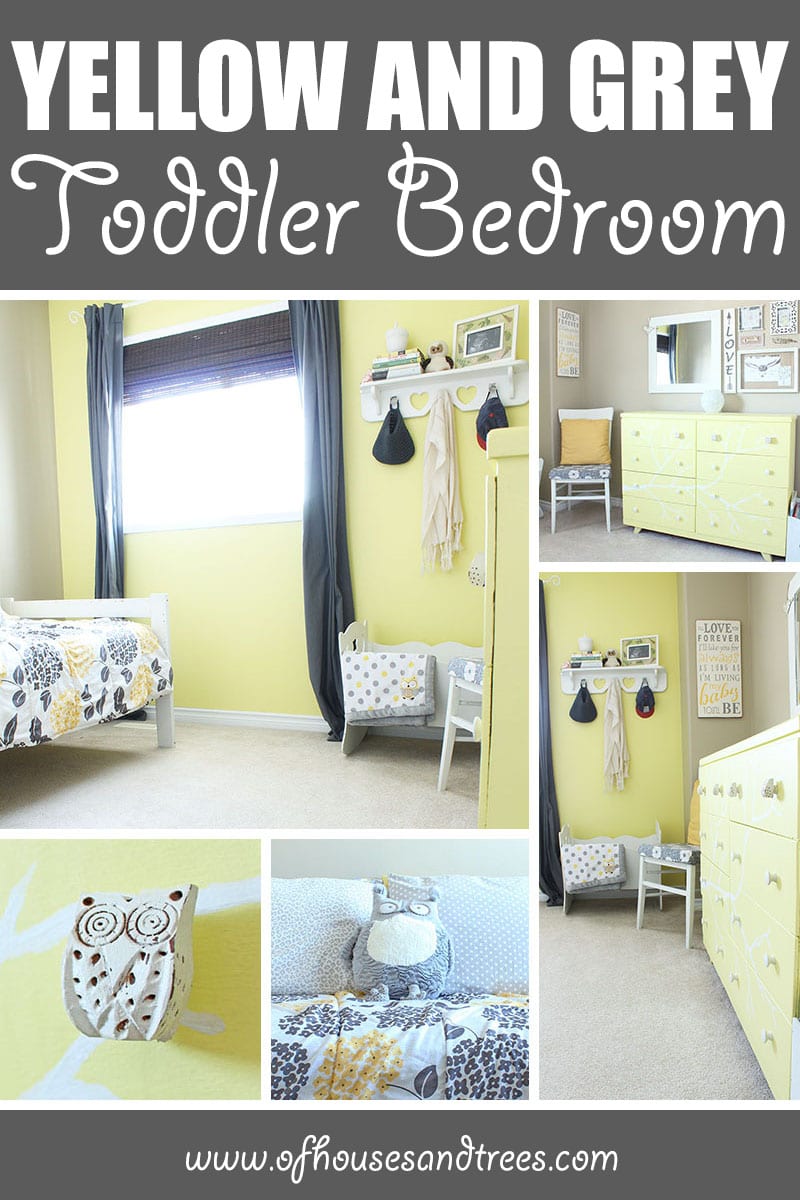 Posted on April 19, 2017
Former architectural technologist. Current treehugger.
I'm here to help you green your home – and your life.
Like what you're seeing? If so, please consider supporting Of Houses and Trees on Patreon – and get a few perks for yourself!
Subscribe to the Of Houses and Trees monthly newsletter and I'll send you my FREE list of "The 8 Best Places to Buy Eco-Conscious Decor Online."
Find out more about our 40 acres of land in Parkland County, Alberta and the sustainable home we built amongst the trees.
Yellow and Grey Toddler Bedroom