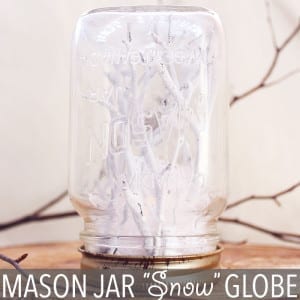 Oh mason jars, will your versatility ever end? Years ago while searching for winter craft ideas I saw a project similar to this on Pinterest and knew I had to make my own version one day. I mean, miniature trees inside a jar?
Kind of precious, right?
Plus – you know I have to point out – that if you reuse old jars from things like homemade jam, pickles, etc, paired with foraged twigs, then what you have is an eco-friendly Christmas craft!
So, if you're on the lookout for winter art and craft activities – here's what you'll need to make your own mason jar "snow" globe.
Supplies
– small to medium sized mason jar (Preferably used.)
– foraged twigs (You can also buy artificial twigs or miniature trees at a craft store if that suits you better.)
– scissors
– white paint (Try to get an eco-friendly paint like this one.)
– artist's brush or foam brush
– LED tea light candle (The ones with the taller "flame" work better for this project.)
– glue gun and glue sticks (Eco-friendly glue gun sticks here.)
– lace (Or something else to stand in for "snow." I used the same lace that I used on my vintage-inspired mounted key.)
– small piece of thin cardboard (I used a piece from a bread box.)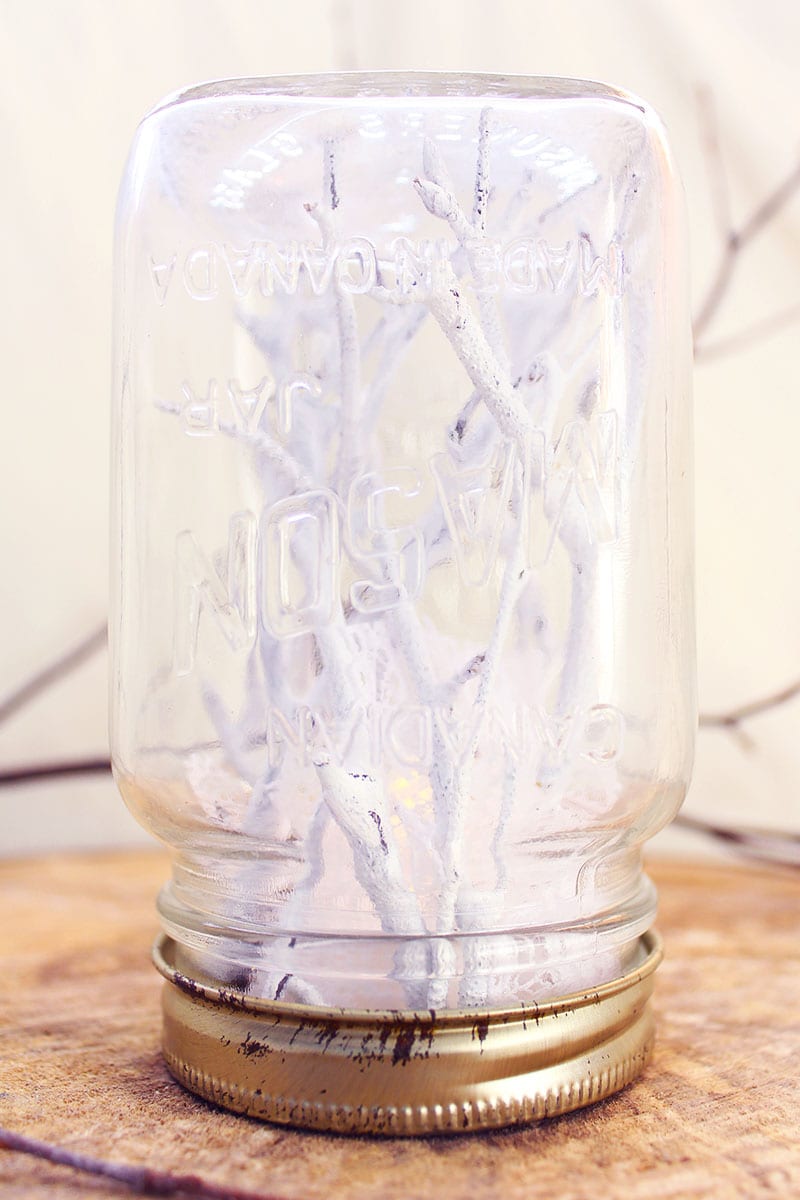 Directions
1. Use the mason jar's metal ring to draw a circle on the cardboard and cut it out. Then, use the bottom of the tea light to draw a circle in the middle of the larger circle and cut that out too. This is so you'll have access to the bottom of the tea light to turn it on/off and change the battery if needed.
2. Glue the cardboard to the bottom of the tea light and then glue the whole thing into the mason jar's lid.
3. Decide how many "trees" you want inside the jar, cut twigs to size and paint them white. (Note: If you cut them so they are the same height as the jar, you won't have to glue them in place because the pressure of the lid will hold them tight.)
4. Once the twigs dry, drop them into the jar. You can move them around to your liking, but know that when you put the lid on it will spin them around a bit. You could also glue them around the tea light if you want them to be in a particular configuration. I kind of liked that they did there own thing, but that's just me.
5. Cut the lace into small squares to act as "snow." It helps if your lace already has a snowflake-like look. Drop the pieces into the mason jar.
6. Put the lid on. (Can be a little hard to screw on with the twigs poking at it, but keep trying and you'll get it.)
7. Turn upside down and check where your lace has fallen. It should be nicely arranged around the base of the trees. If not, remove lid and adjust. I had to adjust the twigs and the lace several times before I was happy with how it looked.
8. Display and enjoy!
I also made a globe using fake trees I had leftover from several Christmases ago. These trees I glued into place around the candle as they wouldn't have sat nicely otherwise. Instead of lace I used burlap to create a "bed" for the trees to sit on. Sometimes it can be fun to try the same project a few different ways!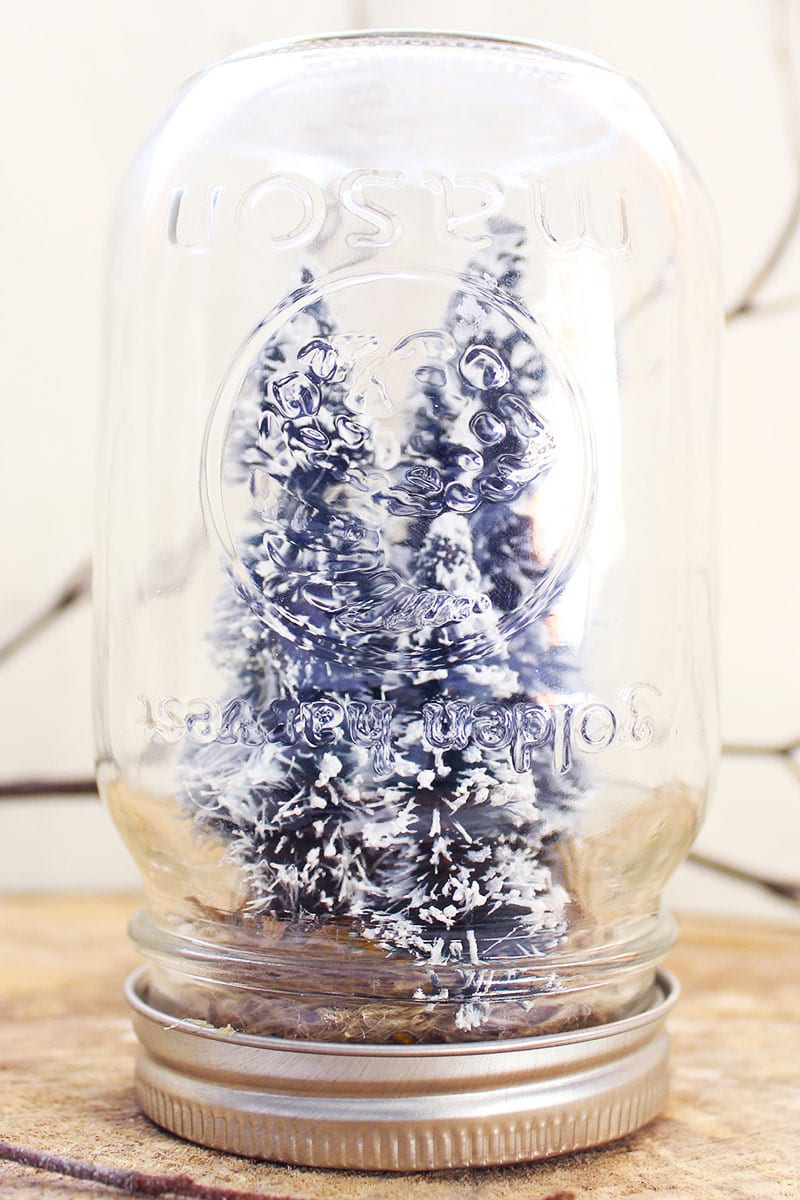 Do you have any creative ideas about winter crafts for adults? What about other winter theme ideas? Which of the above "snow" globes do you prefer? Spread the holiday spirit by commenting below and then sharing this post on all your social sites.
Don't forget to subscribe to have posts on sustainable design, sustainable living, sustainable eating – sustainable everything – delivered to your inbox!
—
Note that this post contains affiliate links, meaning if you click on a link and make a purchase a small percentage of the sale goes to yours truly. Please know that I only link to products that are good for the earth, good for the soul, or both!
—
PIN ME!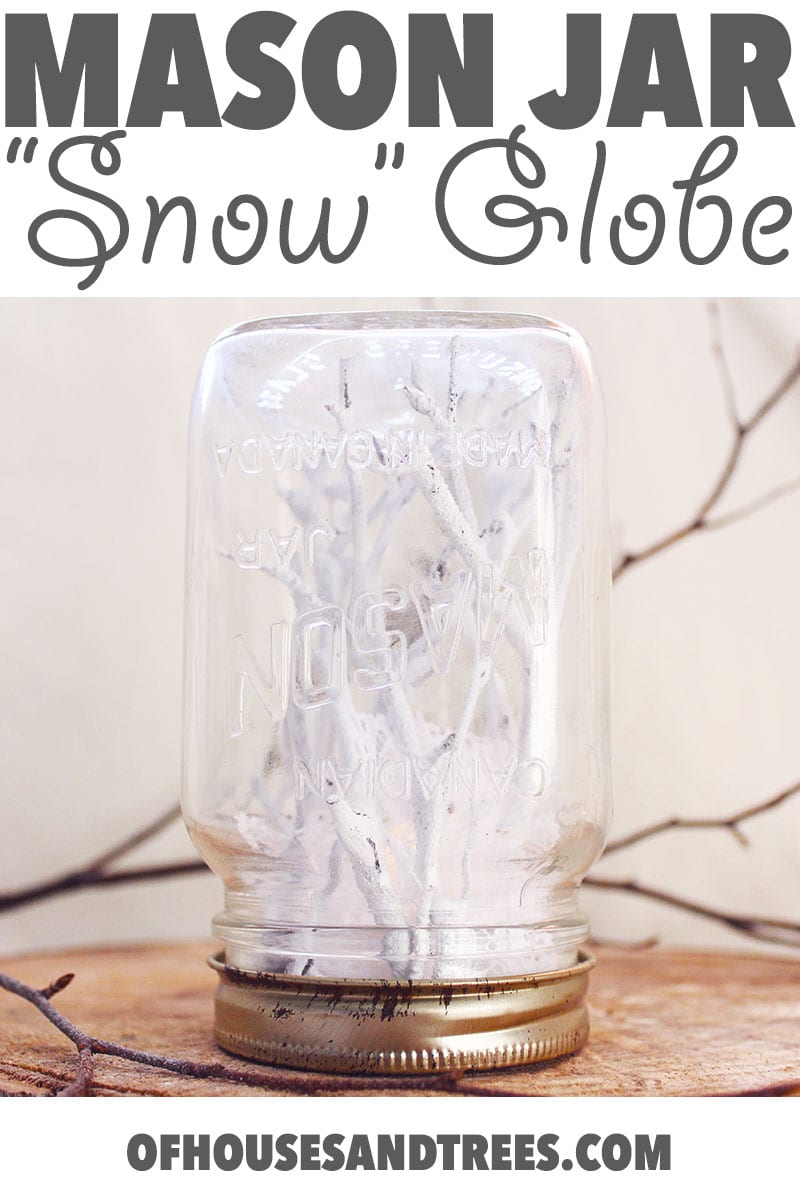 Posted on December 10, 2017
Former architectural technologist. Current treehugger.
I'm here to help you green your home – and your life.
Like what you're seeing? If so, please consider supporting Of Houses and Trees on Patreon – and get a few perks for yourself!
Subscribe to the Of Houses and Trees monthly newsletter and I'll send you my FREE list of "The 8 Best Places to Buy Eco-Conscious Decor Online."
Find out more about our 40 acres of land in Parkland County, Alberta and the sustainable home we built amongst the trees.