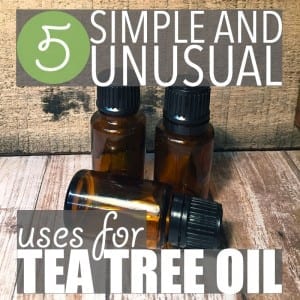 If you aren't already into essential oils, then I highly recommend giving them a try. Essential oils are all natural and thus so much more earth (and health!) friendly than other scented products. They can replace air deodorizers, cleaning supplies, medicinal supplies and more.
I think everyone who uses essential oils has a favourite – and mine is tea tree oil (melaleuca alternifolia). Tea tree oil essential oil has such a clean, fresh smell reminiscent of tree bark and dirt and rain.
Maybe others would describe it differently, but it smells like nature to me. And when I wash my face with my tea tree oil soap and breathe in the scent of the earthy suds… oh man. Heaven. In my nostrils.
There are a ton of online resources listing things you can do with tea tree oil. Make cleaning supplies, treat acne, cure infections, soothe bug bites… But instead of reiterating those, I wanted to share a few more unusual tea tree essential oil uses. Most of these uses I just stumbled upon and did no research before trying. But they worked wonders for me! Maybe they will for you too?
---
Note that this post contains affiliate links, meaning if you click on a link and make a purchase a small percentage of the sale goes to yours truly. Know that I only link to products that are good for the earth, good for the soul, or both! 
---
Glasses Cleaner
My glasses are ALWAYS dirty and it drives me nuts. I don't own any store bought glasses cleaner because ya'll know how I feel about chemicals so I usually make do with de-smudging my specs with water or – in truth – my shirt. But a few weeks ago I decided to add a few drop of tea tree oil to a microfibre cloth and give my glasses a polish. Not only did it clean the lenses, it also de-gunked the arms (I'm not the only one whose glasses get kinda gross from hair products and such, am I?). AND it made them smell amazing. Plus, since tea tree oil is a disinfectant it also de-germs your glasses. An excellent plus since they sit on your face all day long!
Phone Cleaner
Again, something of mine that is ALWAYS dirty. I'll admit, I let my kids play with my phone. I don't usually let them go on it, but I do let them button mash a bit or listen to music sometimes. Just like with my glasses, one day I decided to put a few drops of tea tree oil on a soft cloth and give my phone a polish. Fingerprints – gone. Face smudges – gone. Food splatters – gone. Germs – gone!
Goo Remover
This discovery came when I decided I wanted to relocate some decor items from my kitchen to my living room. Having been exposed to kitchen grease for years, some of them were pretty gunked up. I added a few drops of tea tree oil to the goo, let it sit a couple of minutes, then washed it off with a wet rag. No more goo!
Sleep Aid
This one is unusual because tea tree oil is actually known more as a stimulant than a relaxant. There's actually no scientific evidence that tea tree oil aids sleep, yet many people swear by it. It does make sense though, since tea tree oil has so many health benefits, and feeling healthy is one of the keys to a good night's sleep. I find that its clean, fresh smell makes me feel relaxed in the same way you relax when your house is spick and span. And there's nothing like a tidy house to make me sleep more soundly! For 19 other essential oils that reportedly help you sleep better, go here.
Sink Freshener
This one might not be that unusual, since tea tree oil as a cleaning and deodorizing agent is so common. But for my method I literally just put a few drops in the sink drain and that's it. No mixing or combining or any effort whatsoever. I do the same when my garbage can gets kinda stinky. And I have a baby still in diapers so… enough said.
I often buy tea tree oil from my local health store, which you can do too if you have access to one. If you need to or prefer to buy it online, here are a few different brands:
ArtNaturals Tea Tree Oil Essential Oil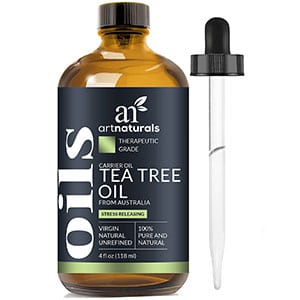 Sheer Essence Tea Tree Oil Essential Oil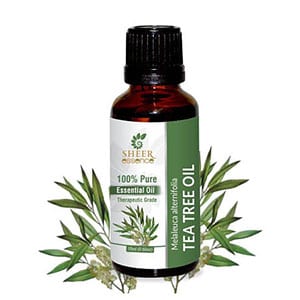 Healing Solutions Tea Tree Oil Essential Oil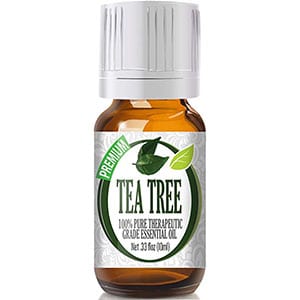 If you just can't get seem to get enough info on essential oils visit Wellness Aromas, which is great online resource for all things oil-y!
Do you have a favourite use for tea tree oil? Let me know in the comments and then we can geek out over how amazing it smells. Seriously, I can't be the only one who kind of wants to put it in my mouth? Which you can, by the way, diluted with water for use as a breath freshener!
Don't forget to subscribe to have posts on sustainable design, sustainable living, sustainable eating – sustainable everything – delivered to your inbox!
PIN ME!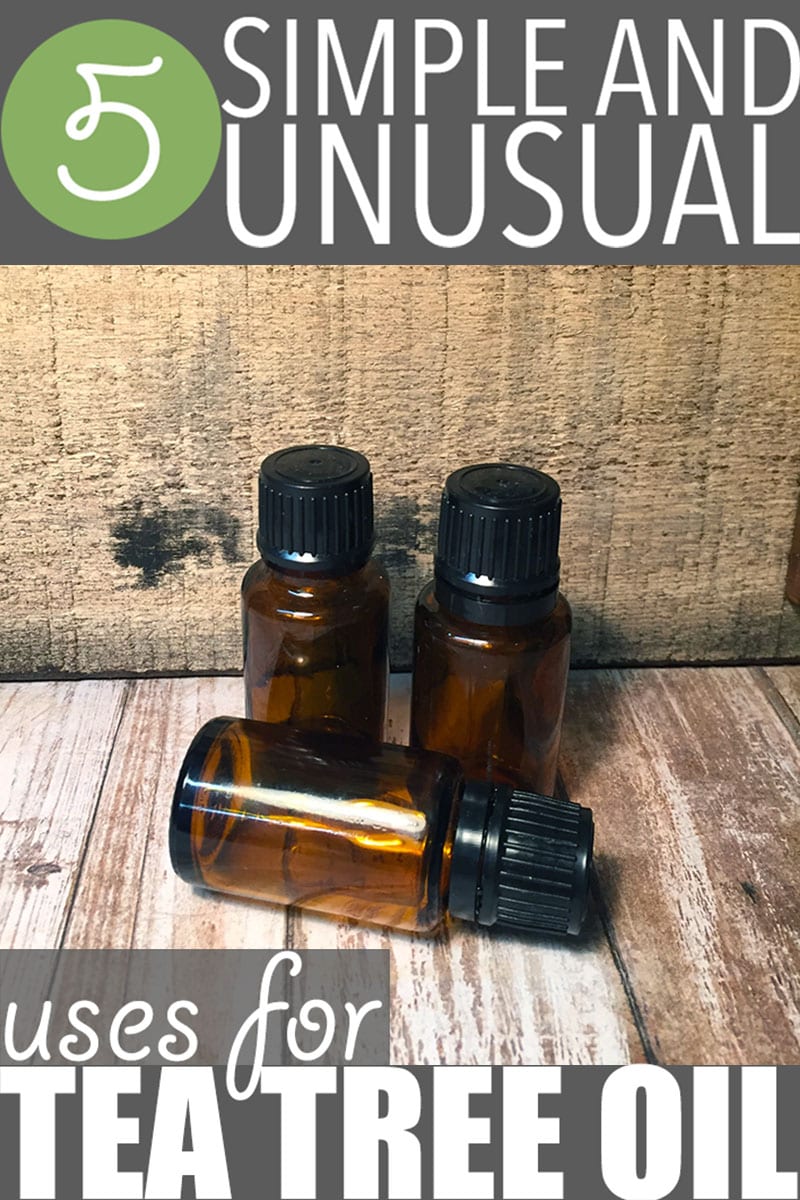 Posted on February 18, 2018 (Last updated on November 17, 2018)
Former architectural technologist. Current treehugger.
I'm here to help you green your home – and your life.
Like what you're seeing? If so, please consider supporting Of Houses and Trees on Patreon – and get a few perks for yourself!
Subscribe to the Of Houses and Trees monthly newsletter and I'll send you my FREE list of "The 8 Best Places to Buy Eco-Conscious Decor Online."
Find out more about our 40 acres of land in Parkland County, Alberta and the sustainable home we built amongst the trees.
5 Simple and Unusual Uses for Tea Tree Oil