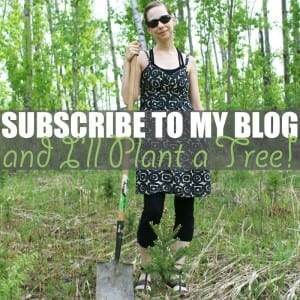 "The best time to plant a tree was twenty years ago. The second best time is now."
This Chinese proverb is one of my favourite quotes of all time as it reminds me that it's never too late to do good. There's something so simple and pure about the act of planting a tree, caring for it and watching it grow. Of course, not everyone has the time, funds or space for a sapling that will one day become a towering version of its former self. To be honest, I don't have a lot of time or funds myself. But something I do have – courtesy of the land – is space.
So here's how it works… For each one of you that subscribes to my blog during the month of June (2017), I will plant a tree out on our land in your honour. I will then name it after you and sing ceremonial songs to encourage its growth. Or at the very least I'll water it.
Because I am a one-woman show (albeit with the constant love and support of many), it may take me awhile to fulfill my subscribe and I'll plant a tree promise. But rest assured it will happen. Because when I say I'm going to do something – I do it.
UPDATE: To watch a video of my family and I planting the subscriber trees – plus instructions on how to plant saplings – visit my post How To Plant a Tree Sapling.
And now for a few facts about trees (from onetreeplanted.org):
Healthy forests help absorb greenhouse gasses and carbon emissions that are caused by human civilization and contribute to global climate change.
Every two seconds man destroys an area of forest the size of a football field.
Trees play an important role in the water cycle, grounding the water in their roots and releasing it into the atmosphere.
70 percent of the world's plants and animals live in forests and are losing their habitats to deforestation. Loss of habitat can lead to species extinction.
Without tree roots to anchor the soil and with increased exposure to sun, the soil can dry out, leading to problems like increased flooding and inability to farm. 
Deforestation comes in many forms, including fires, clear-cutting for agriculture, ranching and development, unsustainable logging for timber, and degradation due to climate change.
True, statements like the ones above can be overwhelming and depressing. But instead of letting it get to me I try and take the "what can I do to help" approach. And what I can do is plant a few trees. It's not a lot. But it's something.
Comment if I've goaded you into subscribing! I'd also like to hear your own personal plant a tree stories. Got a good one? Stay tuned for updates on the ceremonial tree planting!
PIN ME!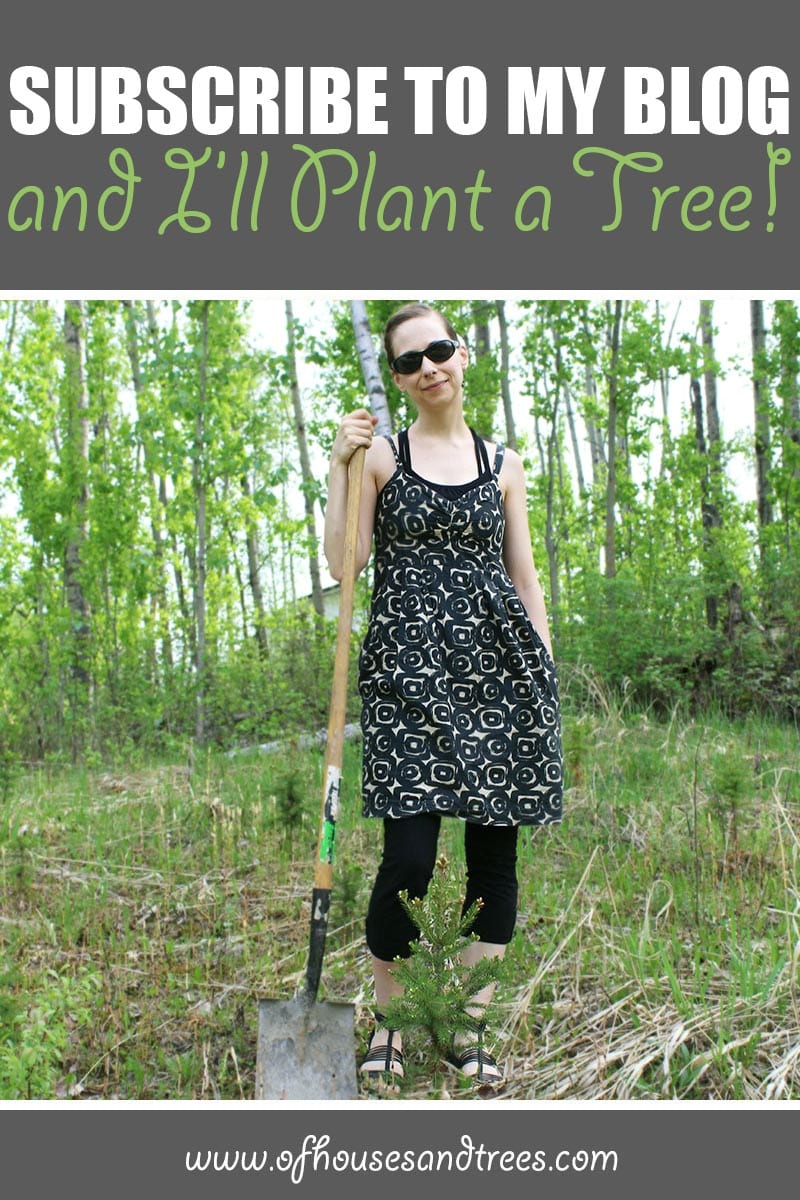 Posted on June 1, 2017
Former architectural technologist. Current treehugger.
I'm here to help you green your home – and your life.
Like what you're seeing? If so, please consider supporting Of Houses and Trees on Patreon – and get a few perks for yourself!
Subscribe to the Of Houses and Trees monthly newsletter and I'll send you my FREE list of "The 8 Best Places to Buy Eco-Conscious Decor Online."
Find out more about our 40 acres of land in Parkland County, Alberta and the sustainable home we built amongst the trees.
Subscribe to My Blog and I'll Plant a Tree!