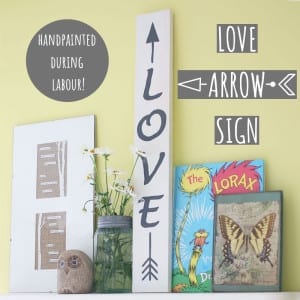 All you need is love – or so the song goes. But in the case of this handpainted love arrow sign all I needed was 23 hours of slow labour and nothing to do with my time other than distract myself with online yoga and crafts.
I had started this DIY a couple of weeks before I had my second daughter (who is three weeks old today). I first had to paint the 1×4 with several coats of white paint before I could stencil on the letters. Once that task was completed all that was left was the actual painting of the letters.
And that I did by hand with an artist's brush whilst listening to my iTunes playlist "Relax" and trying to dance off contractions. There's nothing like the imminent arrival of an infant to get the creative – and motivational – juices flowing.
Although I made this love arrow wall art while in labour with my second child, it's actually for my first child's bedroom (as part of the same gallery wall mentioned here). The following are the supplies and method used. Contractions not required, but I'm telling you they help if you're a bit of a procrastinator like moi.
---
Note that this post contains affiliate links, meaning if you click on a link and make a purchase a small percentage of the sale goes to yours truly. Please know that I only link to products that are good for the earth, good for the soul, or both!
---
Supplies
– solid wood 1×4 cut to size (or another piece of wood – reclaimed barnwood is always a winner)
– white paint (try to get an eco-friendly paint like this one)
– grey paint (again, eco-friendly option here)
– artist's brushes (I used a few different sizes depending on which part of the graphic I was painting – if you don't have any, try getting paint brushes with bamboo handles)
– print-out of the graphic you want to paint on (I created mine in AutoCAD, but you could do it in a word document or photo editing program)
– pencil
---
---
I can't take credit for the super easy way I transferred the letters and arrow onto the 1×4 as I learned how to do it here, but basically you use a pencil to colour the back of the print-out, then place that side down on the piece of wood and trace the graphic's outline so that the pencil on the backside transfers onto the sign. Then all you have to do is fill in the graphic with paint and voila!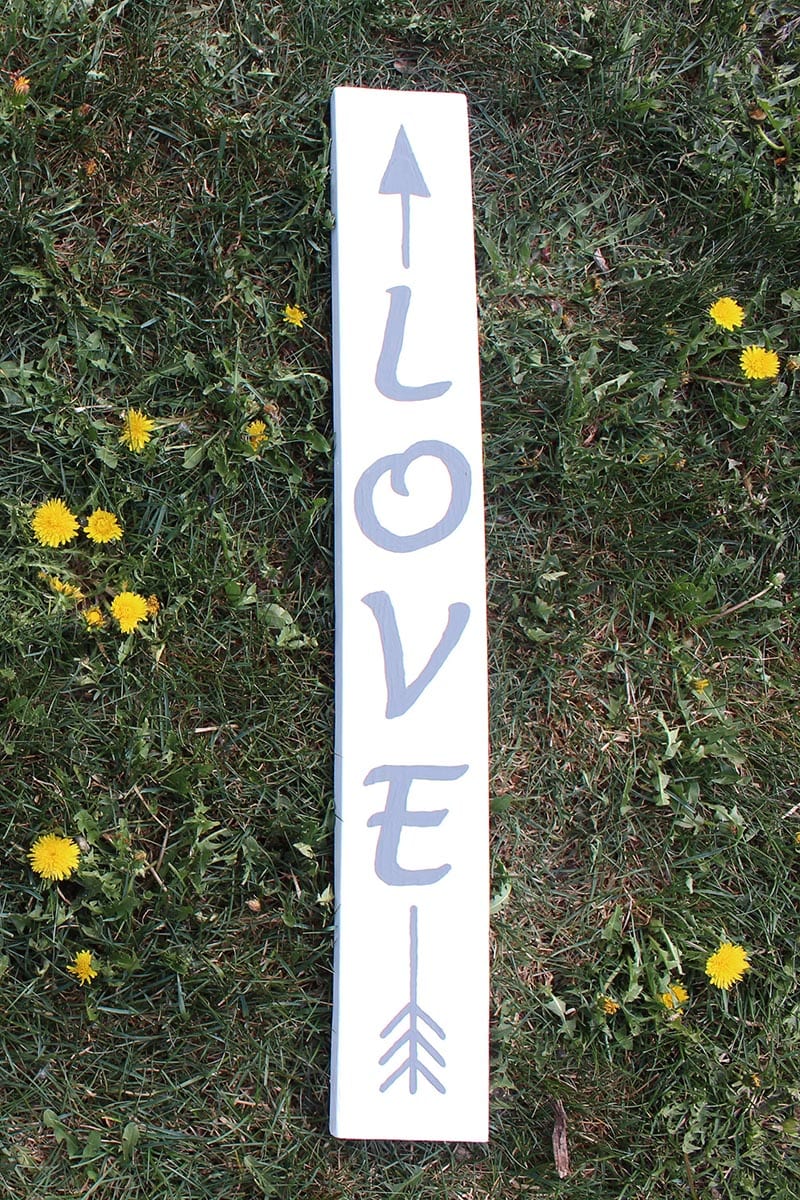 I'll admit it's a bit of a challenge to keep a steady hand, but if you go slowly and don't mind a few character-adding boo-boos you get a nice handmade-looking piece of art. (Note that the blog I learned this method from recommended using a paint pen, but I couldn't find one in grey hence the more difficult – but ultimately rewarding – artist's brush route.)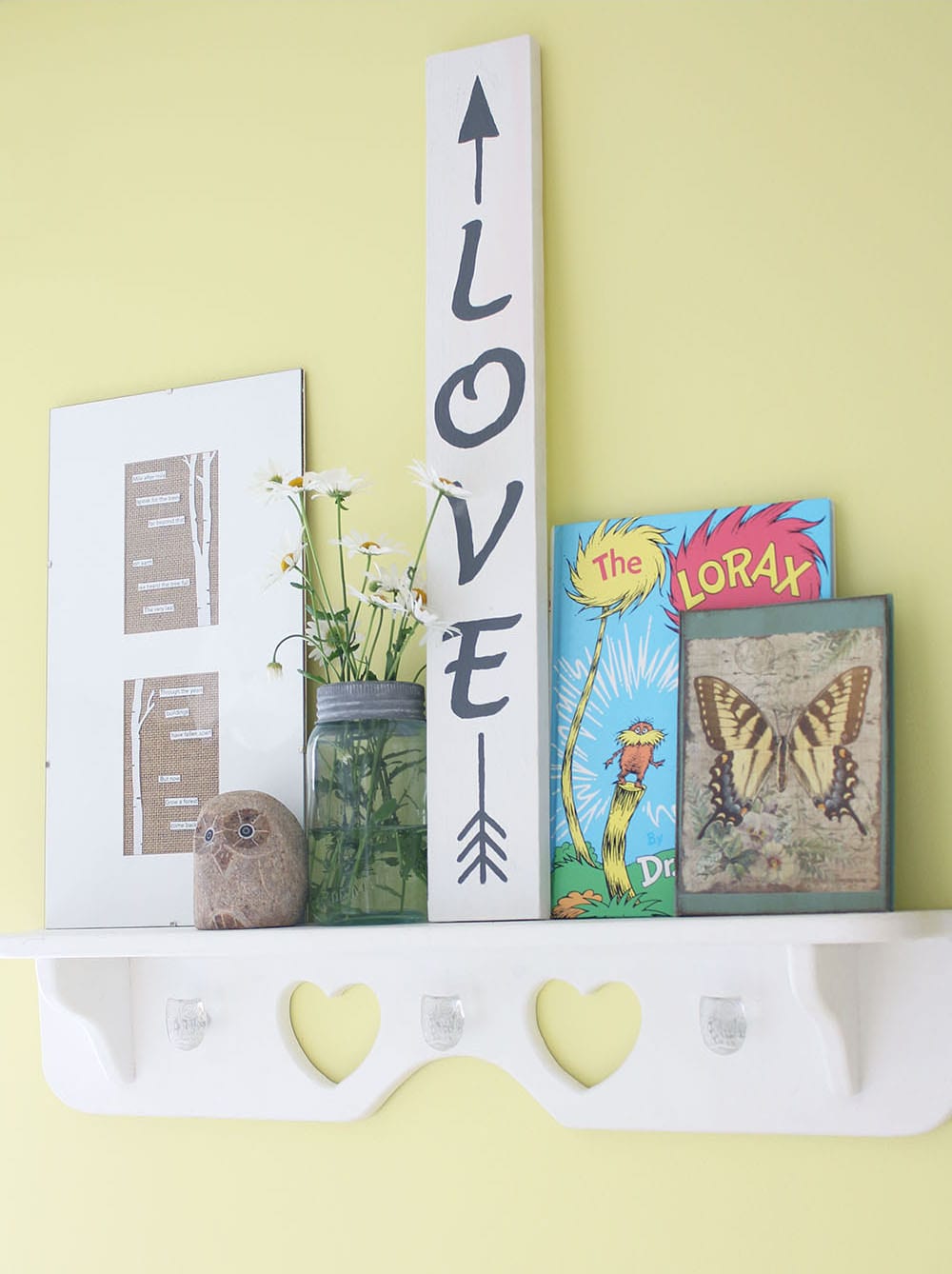 Gotta admit – I'm kinda in love with my love arrow sign!
Have you ever tackled a project while under some form of physical duress? (i.e.: A large portion of this blog's recent redesign is thanks to the horrendous flu I experienced back in January.) Have you ever handpainted a sign? Do you have an alternate method for transferring graphics other than the pencil scribbling one described above? Your comments will make all those contractions totally worth it… oh right, that's what the baby is for! 
---
LET'S BE TREEHUGGERS TOGETHER!
Subscribe to have weekly treehugger tips + the latest Of Houses and Trees posts delivered directly to your inbox!

OH, AND LET'S BE FRIENDS TOO…
---
PIN ME!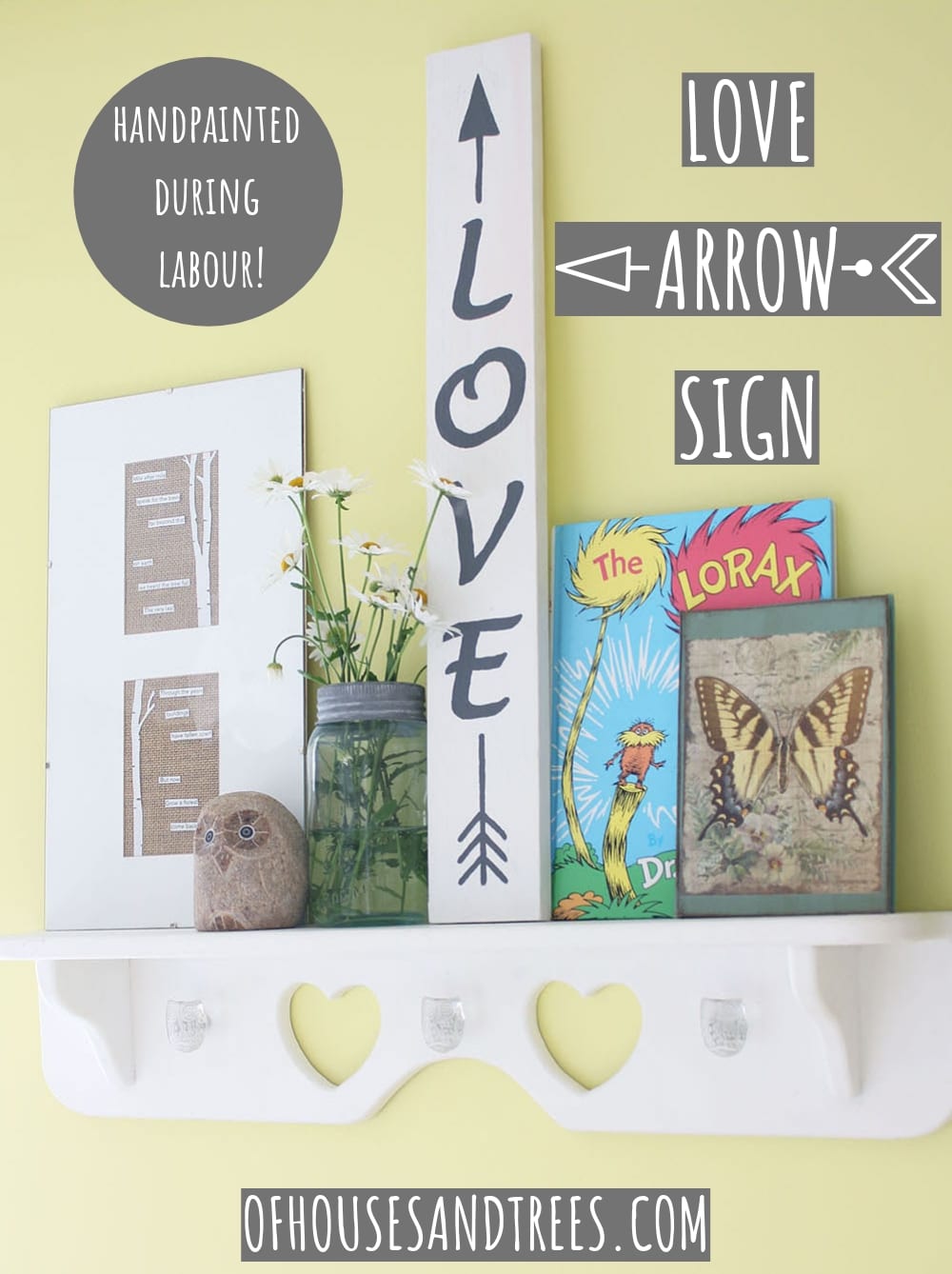 Posted on May 26, 2016 (Last Updated on December 6, 2018)
Former architectural technologist. Current treehugger.
I'm here to help you green your home – and your life.
Like what you're seeing? If so, please consider supporting Of Houses and Trees on Patreon – and get a few perks for yourself!
Subscribe to the Of Houses and Trees monthly newsletter and I'll send you my FREE list of "The 8 Best Places to Buy Eco-Conscious Decor Online."
Find out more about our 40 acres of land in Parkland County, Alberta and the sustainable home we built amongst the trees.
Love Arrow Sign – Handpainted During Labour!