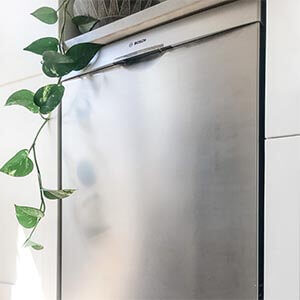 An energy efficient dishwasher needs to balance reduced energy consumption with water conservation – and here are five dishwashers that do just that!
Welcome to the second post in my most energy efficient appliances series – the energy efficient dishwasher.
It's been over two years since I published 5 of the Most Energy Efficient Refrigerators, which is the first post in this series. And guess what? It is still the most visited post on Of Houses and Trees.
This is great news! Because it means that people are regularly searching for ways to make their homes more eco-conscious. Or maybe they're just looking for ways to save on their electricity bills…
Whatever the reason is – I'll take it!
But let's not stop at energy conscious fridges. Next up in my most efficient appliances series – the energy efficient dishwasher. And make sure to visit my latest post in this series, Tips for Finding an Energy Efficient Stove.
Note that this post contains affiliate links, meaning if you click on a link and make a purchase a small percentage of the sale goes to yours truly. Please know that I strive to only feature eco-conscious products and brands.
How Much Electricity Does a Dishwasher Use?
So, what makes an eco friendly dishwasher, well, eco friendly? Much like refrigerators, the amount of electricity it consumes is a key factor.
As with my post on energy efficient fridges, I'll be recommending Energy Star dishwashers in this post. According to the Energy Star website, a standard-sized dishwasher must consume less than 270 kwH of energy per year. 
How Many Gallons of Water Does a Dishwasher Use?
Dishwashers also have the additional component of water consumption. And in order for a dishwasher to truly be gentler on the planet, it also has to use less water than traditional models.
Energy Star rated water efficient dishwashers must consume no more than 3.5 gallons of water per cycle.
Need help choosing eco-conscious furniture and decor for your home? That's what I'm here for!
5 of the Most Energy Efficient Dishwashers
Here are five energy efficient dishwashers listed on the Energy Star website. Note that Energy Star has a Most Efficient Dishwashers list – where they list the best of the best. 
However, this list is dominated by Miele, which is a pricier brand and is usually found at specialty kitchen stores, rather than home building stores like Home Depot or home tech stores like Best Buy. 
So instead of focusing solely on the most efficient list, I selected Energy Star models from easier to find brands with more accessible price points. 
One last note, I've mostly listed dishwashers with stainless steel tubs as I feel they are more sustainable overall. However, you can buy dishwashers with a plastic tub inside –  and they are typically more affordable – so I included one below  in case you're on a tight budget.
Energy Star Dishwasher: Frigidaire 18″ Built-In Dishwasher FFBD1831UB (270 kwH/year)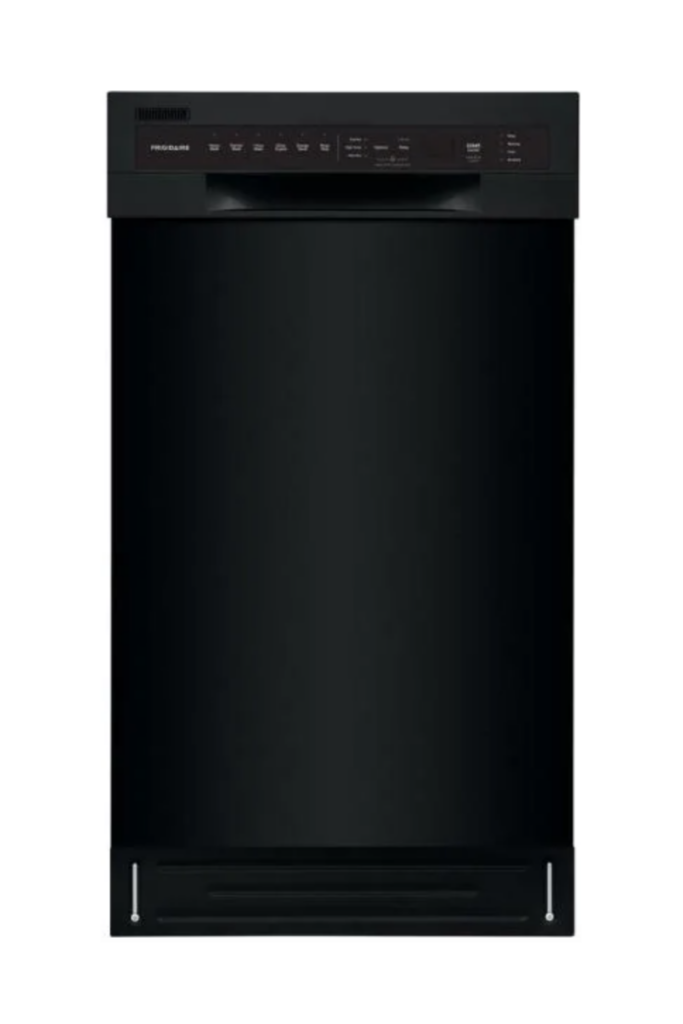 Brand: Frigidaire
Type: 18″ Built-In Dishwasher (still considered standard capacity even though it's slimmer)
Model Number: FFBD1831UB
Estimated Energy Use: 270 kwH/year
Estimated Water Use: 3.5 gallons/cycle
Tub Material: Stainless Steel
I hope this post helps you find the eco friendly dishwasher of your dreams. Make sure to check out my energy efficient refrigerators and energy efficient stoves posts if your dishwasher needs some friends!
PIN ME!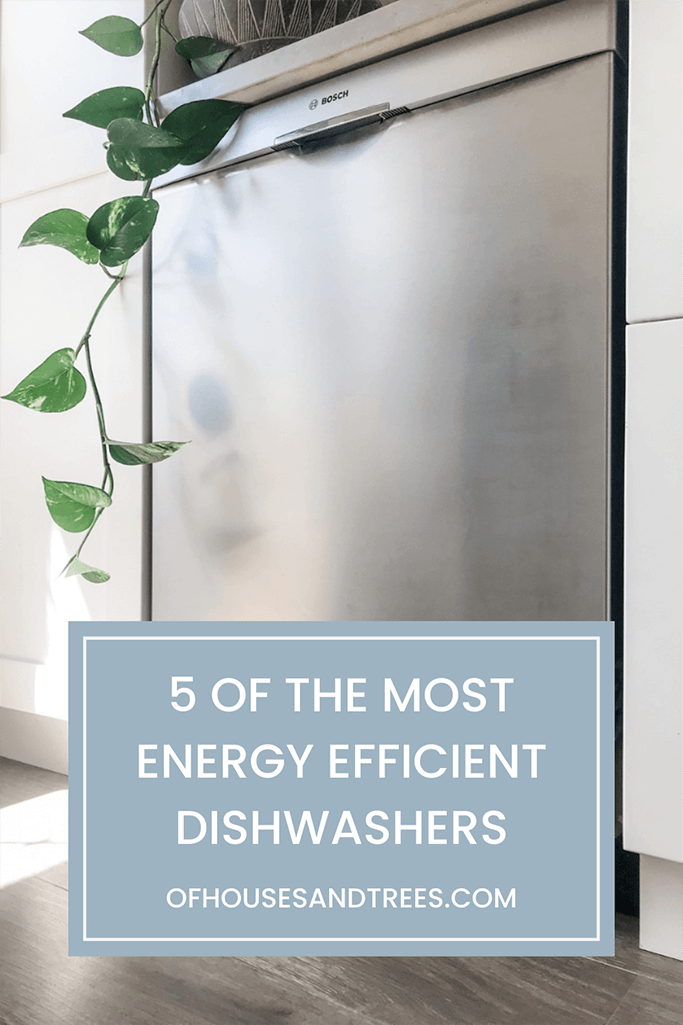 Posted on June 12, 2021 (Last Updated on August 25, 2022)
Shop sustainable brands for your eco-conscious kitchen needs!
Former architectural technologist. Current treehugger.
I'm here to help you green your home – and your life.
Like what you're seeing? If so, please consider supporting Of Houses and Trees on Patreon – and get a few perks for yourself!
Subscribe to the Of Houses and Trees monthly newsletter and I'll send you my FREE list of "The 8 Best Places to Buy Eco-Conscious Decor Online."
Find out more about our 40 acres of land in Parkland County, Alberta and the sustainable home we built amongst the trees.
5 of the Most Energy Efficient Dishwashers