This easy vegan gravy recipe is perfect for holidays like Christmas, Thanksgiving and Easter. But it's also perfect for every day meals!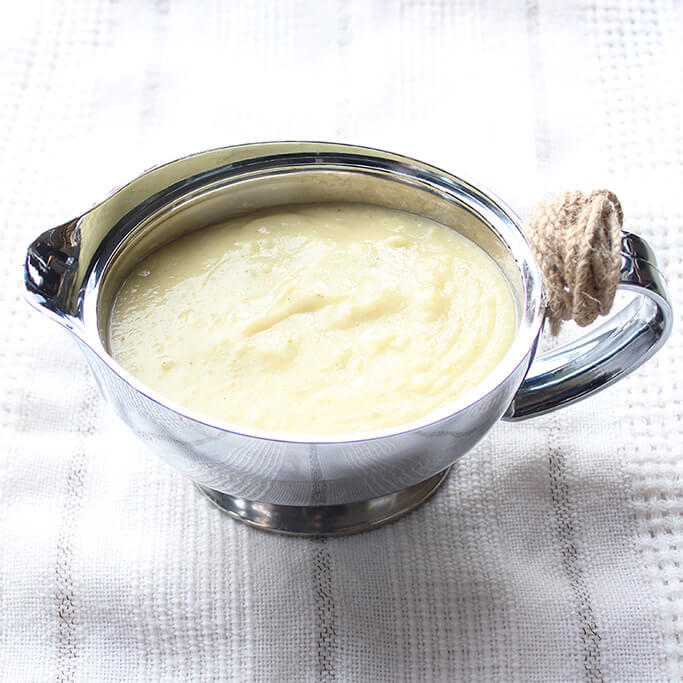 I write about a lot of different things on this blog. Design and decor, sustainable living, green products, healthy eating. I would say I possess a sufficient amount of knowledge in all of these areas. But there is one area I can confidently claim to be an expert in. And that area is gravy.
Perhaps being both a gravy expert and a vegan is an anomaly. But remember, most vegans did not start out that way and thus I consumed more than my fair share of gravy in my pre-vegan days. 
In fact, I'm quite famously known in my husband's family for the time I drank A&W gravy through a straw on a road trip. Is it my proudest moment? It's up there.
For those of you who think vegans miss out on everything and don't get to have any fun – I will tell you that most certainly is not the case. Perhaps the most fun thing about being vegan is discovering ways to veganize your favourites. And when you realize how simple it is to eat delicious meals made only of plant-based foods – well, it's pretty grand.
My easy vegan gravy recipe is perfect for holiday meals like Christmas, Easter and Thanksgiving. But this simple vegan gravy is also perfect for regular, every day meals as well. Just don't forget to buy some (reusable) straws.
Bonus: Not only is this recipe vegan, it also teaches you how to make gravy from scratch! Your mom will be so proud.
---
Note that this post contains affiliate links, meaning if you click on a link and make a purchase a small percentage of the sale goes to yours truly. Please know that I only link to products that are good for the earth, good for the soul, or both!
---
Easy Vegan Gravy
Prep Time: 0 minutes / Cook Time: 5 minutes / Total Time: 5 minutes / Serves: 4
Cuisine: North American / Description: Easy Vegan Gravy / Dietary Info: Dairy Free, Egg Free, Meat Free, Refined Sugar Free
Ingredients:
1 clove garlic, minced (or 1/2 tsp garlic powder)
2 tbsp vegan margarine (Earth Balance is my fav)
2 tbsp all purpose flour (or flour alternative)
1-2 tsp soy sauce (or soy sauce alternative)
1-2 cups vegetable broth, depending on desired consistency (I use bouillon and mix the broth myself)
Directions:
1. In a small pot, melt vegan margarine over medium heat.
2. Add garlic and stir. Then add flour, whisking to create a smooth paste. Wait for edges of paste to being bubbling.
3. Add soy sauce, then slowly begin adding broth, continuing to whisk. Wait for gravy to being bubbling and thickening, then add more broth if desired. Drink it up!
Notes:
Make an entirely vegan holiday (or regular) meal with my Baked Balsamic Chickpeas, mashed potatoes, bread stuffing and cooked veggies all drizzled with vegan gravy. You can also double the gravy recipe and freeze for later. I like to add frozen gravy to my homemade soups for added flavour – a trick my aunt taught me when I was kid.
Don't forget to SUBSCRIBE to have posts on sustainable design, sustainable living, sustainable eating – sustainable everything – delivered to your inbox!
PIN ME!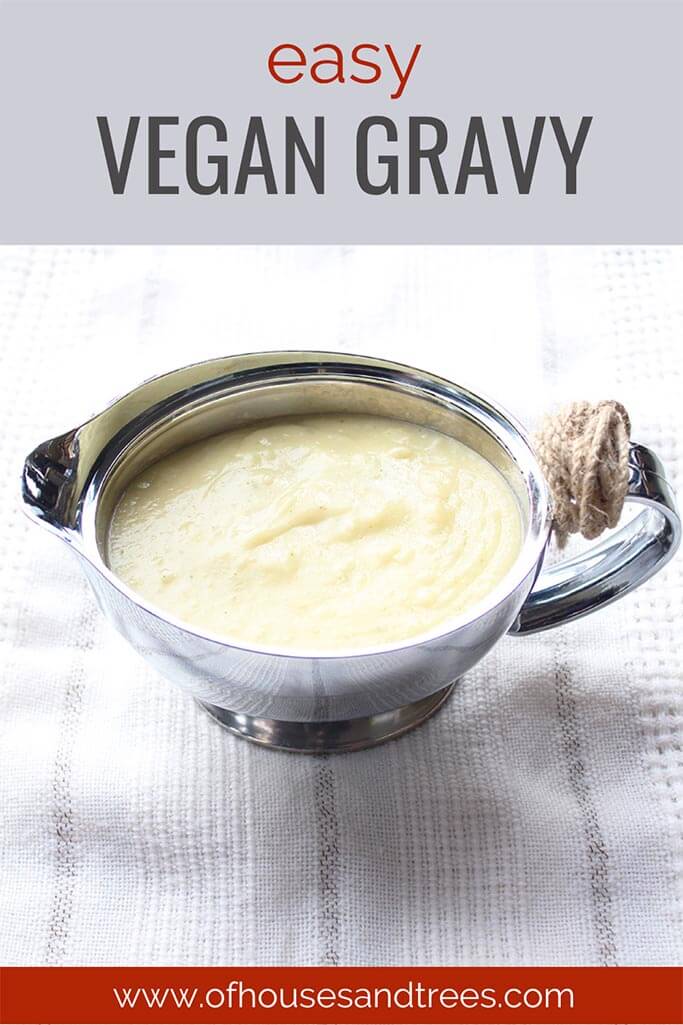 Posted on March 27, 2018 (Last Updated October 20, 2022)
Need help choosing eco-conscious furniture and decor for your home? That's what I'm here for!
Easy Vegan Gravy Recipe Made with Only 5 Ingredients!