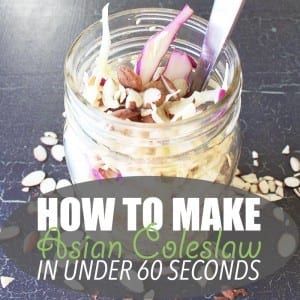 This is one of my favourite fast salad recipes and it really does take less than 60 seconds to make (well, after you assemble the ingredients that is). I even filmed a video to prove it! In honour of this recipe's no-fuss attitude (can coleslaw have an attitude?), I will jump right in… after I quickly tell you why coleslaw is so good for you. Of course, regular mayo-laden coleslaw is definitely not good for you (to make it healthier – and vegan – sub in Vegenaise!). But the main ingredient of any coleslaw – the slaw itself – is packed full of nutritiousness in the form of raw, shredded cabbage.
---
Note that this post contains affiliate links, meaning if you click on a link and make a purchase a small percentage of the sale goes to yours truly. Please know that I only link to products that are good for the earth, good for the soul, or both!
---
Being a cruciferous veggie just like broccoli and brussels sprouts, cabbage too is a cancer-fighting food. Cabbage in particular is good at preventing colon, prostate and bladder cancers. Cabbage also lowers cholesterol, is high in fibre and an excellent source of vitamins C and K. And – just so you know – red cabbage is even better for you than green cabbage, but the green stuff is no slouch either.
The coleslaw mix that I use (yes, I buy it in a bag… but I recycle the bag afterwards!) contains green cabbage, red cabbage and carrots. But you can certainly go out and buy a big old head of cabbage and chop it up yourself. That will likely take longer than 60 seconds though. Unless you want to lose a finger in the process.
And, on that note, here we go. 3… 2… 1… Begin! (Full recipe below. Note that the "dressing" is a simplified version of my Ginger Sesame Vinaigrette.)
Asian Coleslaw in Under 60 Seconds
Prep Time: 1 minute / Cook Time: 0 minutes / Total Time: 1 minute / Serves: Makes 1 serving.
Cuisine: Asian / Description: Easy Asian Coleslaw / Dietary Info: Dairy Free, Egg Free, Meat Free, Refined Sugar Free
Ingredients:
A few handfuls of pre-prepared coleslaw mix or chopped cabbage
A dash of soy sauce (or soy sauce alternative)
A dash of rice vinegar
A dash of garlic powder
A dash of ground ginger
A dash of sesame seeds
A dash of shaved almonds
Directions:
1. Add all ingredients to a container with a lid. Shake. Serve. Yum!
Notes:
As you can probably tell, this crunchy asian slaw recipe is VERY flexible. All the ingredients are to taste. And if it doesn't taste right, add a little more of this or that. Can also be made into an easy asian slaw with ramen noodles and cooked tofu!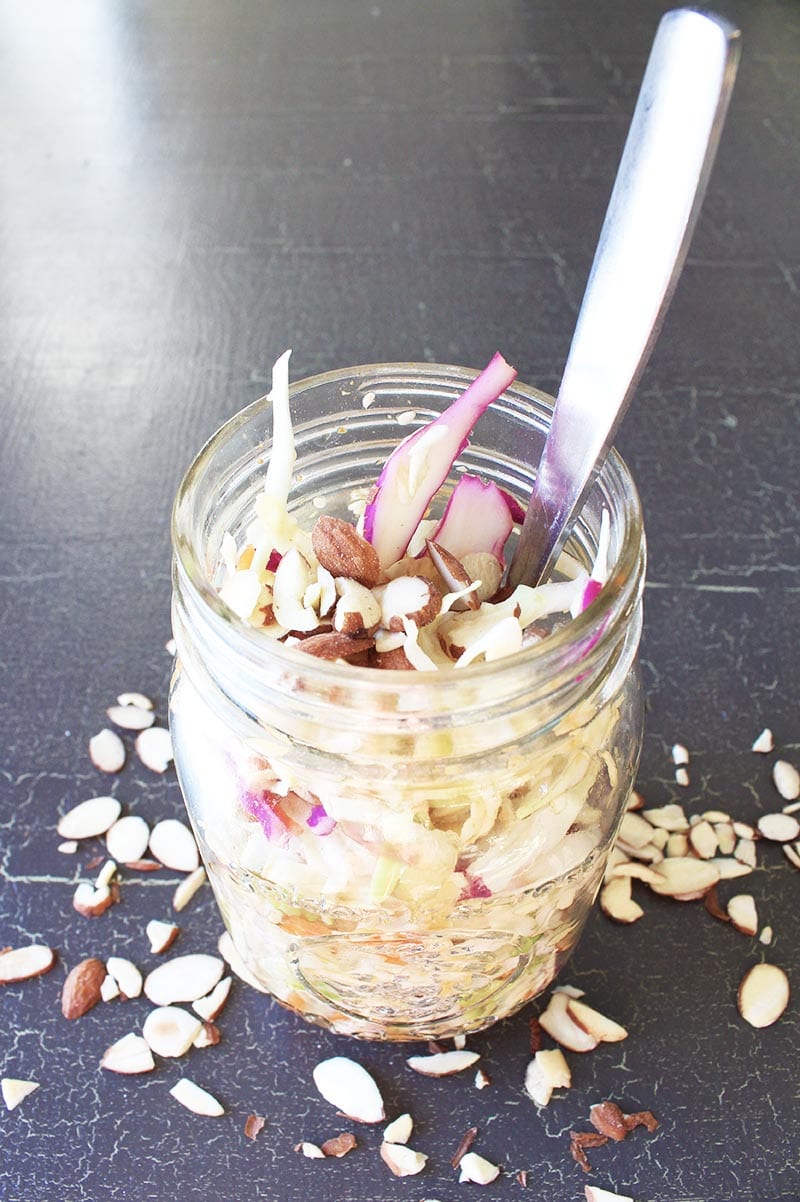 Don't forget to subscribe to have posts on sustainable design, sustainable living, sustainable eating – sustainable everything – delivered to your inbox!
PIN ME!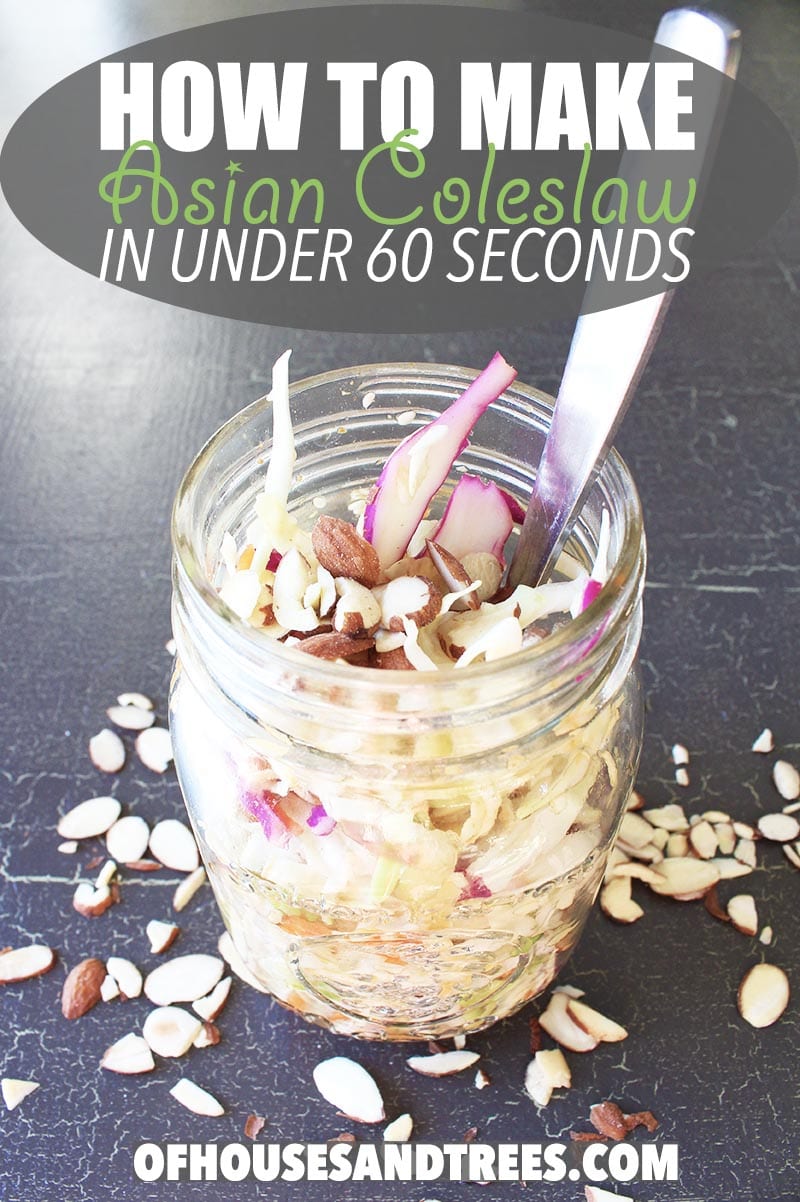 Posted on February 11, 2018 
Former architectural technologist. Current treehugger.
I'm here to help you green your home – and your life.
Like what you're seeing? If so, please consider supporting Of Houses and Trees on Patreon – and get a few perks for yourself!
Subscribe to the Of Houses and Trees monthly newsletter and I'll send you my FREE list of "The 8 Best Places to Buy Eco-Conscious Decor Online."
Find out more about our 40 acres of land in Parkland County, Alberta and the sustainable home we built amongst the trees.
How to Make Asian Coleslaw in Under 60 Seconds