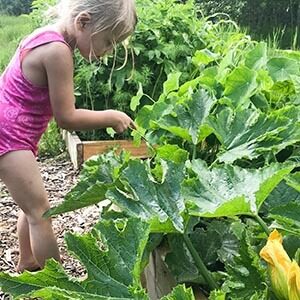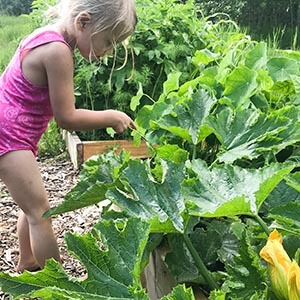 This summer was our first year using wooden raised garden beds to grown our vegetables and I have to say – it went really well!
Sure, as with any garden season there were ups and downs. But overall I would say we were quite successful.
And a big part of that is due to our raised garden beds.
When we moved into our home last fall, the frost had already settled in. We weren't able to ready an in-ground garden before it snowed. 
And once spring (finally) came, we didn't want to wait until we could dig up the ground to get things going.
How To Build a Raised Vegetable Garden
Wondering how to build raised garden beds for vegetables?
As a sustainability blogger, of course I'm going to say that the best wood for raised garden beds is going to be either recycled or reclaimed. If you're also looking for inexpensive raised garden bed ideas – reusing old materials is about as budget-friendly as you can get.
We used leftover 8x10s from our house construction and built six 4′ by 8′ boxes – using wood screws to fasten them at the corners.
Then, we used rocks, mulch – and even tree stumps! – to level them. (We already had the rocks and mulch so we didn't need to buy anything. If you are going to buy material then mulch is usually much more affordable.)
Lastly, we filled them with organic garden mix and away we went.
Even though there's a bit of a debate between raised bed versus in-ground gardening, I am 100% happy we chose to build the raised beds.
Want to know why I love our raised beds so much? Check out episode 9 in my Our House in the Trees series! You also get to see what our vegetable garden looked like in full bloom – and also what it looked like when snow came early.
If you want to learn more about how we built and set up the wooden raised garden beds – as well as see how the first half of our gardening season went – watch episode 8.

Did you know that Etsy is the first major online shopping destination to offset 100% of carbon emissions generated by shipping? Read more about the initiative here and view my favourite eco-conscious Etsy finds here.


Watch the Video!
Former architectural technologist. Current treehugger.
I'm here to help you green your home – and your life.
Like what you're seeing? If so, please consider supporting Of Houses and Trees on Patreon – and get a few perks for yourself!
Subscribe to the Of Houses and Trees monthly newsletter and I'll send you my FREE list of "The 8 Best Places to Buy Eco-Conscious Decor Online."
Find out more about our 40 acres of land in Parkland County, Alberta and the sustainable home we built amongst the trees.
Wooden Raised Garden Beds + Organic Vegetable Gardening | Our House in the Trees | Episode 9