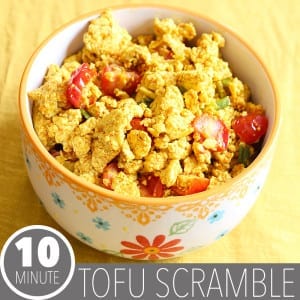 Every vegetarian and vegan has to have a tofu scramble recipe. Why? Because eggs. If you used to eat them regularly, they're definitely missed when you go animal-product free. You're probably also missing eggs if you can't eat them due to allergies, which is one of the reasons that I don't eat them – aside from the whole baby chicken thing.
Thank goodness for the versatility of tofu! This basic tofu scramble might not taste precisely like eggs, but damn it's good in its own right. Especially on a wrap with some salsa!
My four year old and two year old love it like that, even though the younger one can't figure out how to hold a wrap and instead just sits in my lap and repeatedly says "bite" until she's eaten all of mine. To be fair, she does this with pretty much everything I eat. Even when she has the exact same thing on her own plate. Sometimes food just tastes better when it belongs to someone else.
---
Note that this post contains affiliate links, meaning if you click on a link and make a purchase a small percentage of the sale goes to yours truly. Please know that I only link to products that are good for the earth, good for the soul, or both!
---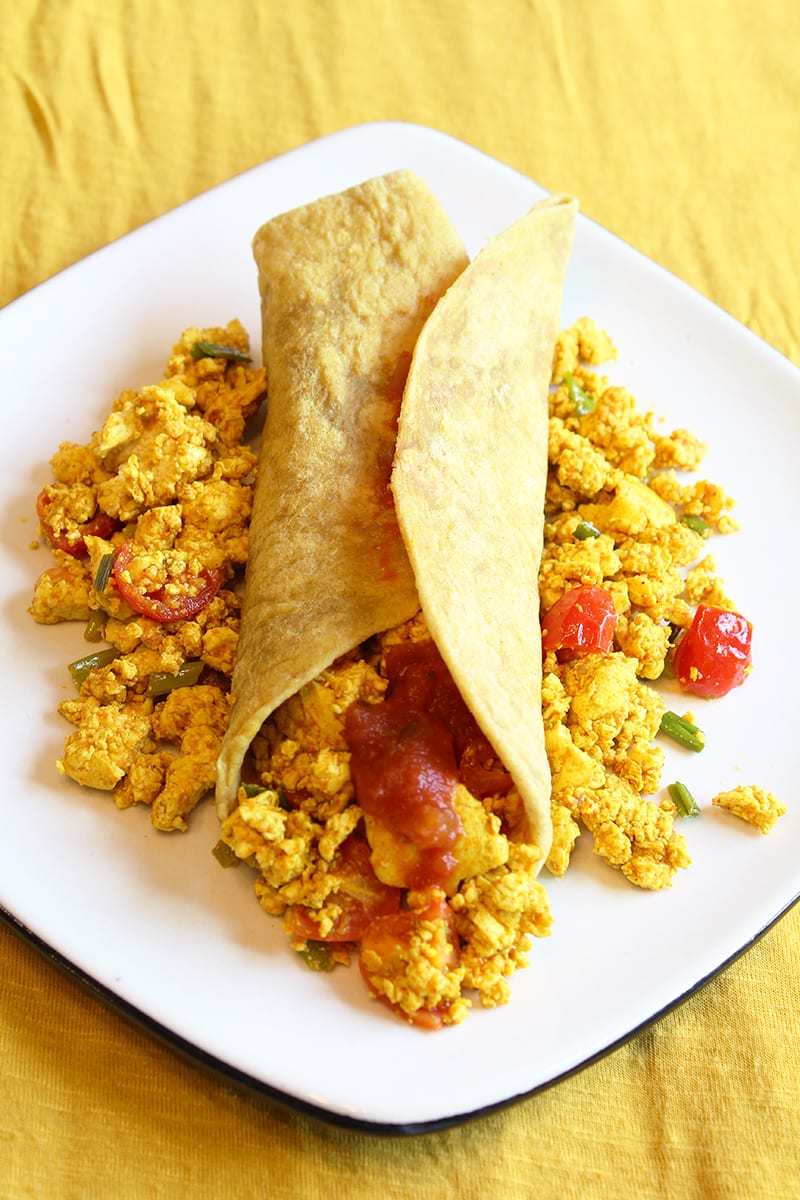 ---
Tofu Scramble Recipe
Prep Time: 5 minutes / Cook Time: 5 minutes / Total Time: 10 minutes / Serves: 2-3
Cuisine: North American / Description: Tofu Scramble Recipe (aka "vegan scrambled eggs") / Dietary Info: Dairy Free, Egg Free, Meat Free, Refined Sugar Free
Ingredients:
1 package medium-firm tofu
1 tbsp olive oil (I like to use a flavoured oil such as this one.)
1/2 tsp garlic powder
1/2 tsp onion powder
1/2 tsp cumin
1/2 tsp paprika
1/2 tsp turmeric
1/2 tsp nutritional yeast
2 green onion stalks, diced (optional)
1/2 cup grape tomatoes, quartered (optional)
1 cup spinach, chopped (optional)
Salt (I've heard that black salt makes a tofu scramble taste exactly like eggs, but I've yet to try it myself.)
Pepper
Directions:
1. Drain tofu and use a clean dish cloth to squeeze out most of the liquid, which will crumble the tofu. Place in a frying pan and begin to saute over medium-high heat until tofu starts to slightly brown. (Make sure you stir it often so it doesn't stick to the pan.)
2. In a separate cup or bowl, mix oil with garlic powder, onion powder, cumin, paprika, turmeric and nutritional yeast. Pour over tofu and stir until everything is covered in the tofu scramble seasoning.
3. Add green onion, tomatoes, spinach or any other veggie you desire and stir until they've softened.
4. Add salt and pepper, then serve this tofu scramble recipe with toast, on a wrap, or by itself. You can even turn it into lunch or dinner by serving it over a salad or rice. High fives for versatility!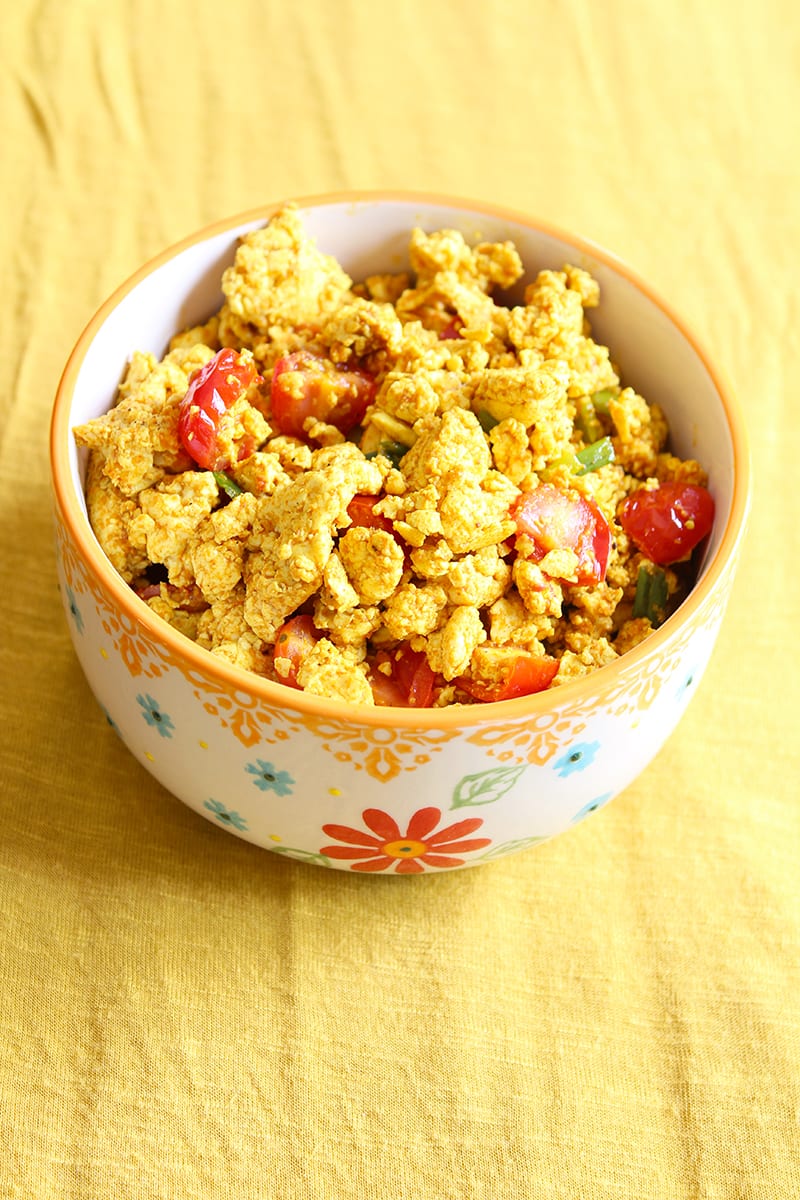 Don't forget to SUBSCRIBE to have posts on sustainable design, sustainable living, sustainable eating – sustainable everything – delivered to your inbox!
PIN ME!

Posted on July 3, 2018
10-Minute Vegan Tofu Scramble Recipe