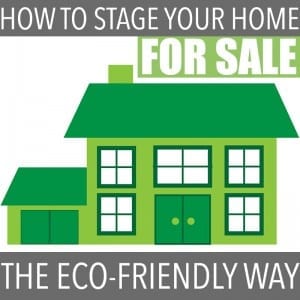 With the build of Our House in the Trees just around the corner (yikes!), we've begun readying our current home for sale (yikes again!). Getting your home ready to sell can feel very overwhelming, but there's one thing I find that always helps in a situation like this – and that thing is a list.
So I've put together some tips on how to stage your home for sale. Even if you feel you have a pretty neat and tidy home (like I used to… before I had kids) there are still a few things you can do to make it more enticing to buyers.
And, since a post on this blog wouldn't be complete without an eco-friendly slant, each of these tips for staging your home is accompanied with a Green Tip.
Hope these home staging tips and tricks help you out!
Assess Your Home
– Because buyers will see all the things you've turned a blind eye to (scuffed baseboards, small carpet stains, scratched paint), go through your home with an eagle eye and fix even the slightest blemish. Don't let small cosmetic issues be the reason someone turns down your home. Green Tip: Use eco-friendly cleaning and construction supplies such as no VOC paint or recycled paint!
– Ask a local real estate professional for their advice. If you already have a realtor – ask them. If not, ask friends and family members for names. And don't be afraid to get more than one opinion. The more you know about your home from an outsider's perspective, the better. Green Tip: Try not to print paper copies of things like comparables or email communications with realtors. Save some trees and use your computer or phone instead.
– Have a professional handle any major repairs or upgrades. Now is not the time to be cutting corners. Good work will increase the value of your home, bad work will make potential buyers wonder what else was done by an amateur. Green Tip: Choose a contractor who understands sustainable construction practices and can advise you on eco-friendly materials and finishes.
Clean and Declutter
– It's the hallmark of home selling. In preparation for listing, clean every corner of your house. This is a time when "clean enough" is actually not good enough, because you aren't cleaning for yourself, you're cleaning for potential buyers. Don't let them get distracted by dust bunnies and dirty washroom grout. Green Tip: Clean with vinegar. (You can even buy eco-friendly vinegar!) It's simple, inexpensive and gets the job done.
– The other half of cleaning before listing your home is the decluttering part. Essentially, all the stuff that makes your home YOURS needs to go, ie: family photos, knick knacks, extraneous toys and clothes, your kid's artwork, etc. It's not an easy process, especially if you really love your home and have made a lot of precious memories there. I find it helps if I remind myself that our memories get to come with us. Green Tip: Make sure you recycle or donate anything you're getting rid of during this process. The less that goes into the garbage – the better.
– Don't forget about the outside of your house. If you're listing in the summer, you need to make sure your home has curb appeal up the wazoo. This means your siding has been washed, your grass has been cut, your flowerbeds weeded and so on. If you're listing in the winter, your sidewalks, driveway and porch need to be shovelled. Also, consider putting out some evergreen wreaths to add colour and life. Green Tip: Avoid using chemicals to help control pests and weeds. Some of these chemicals are really harmful and actually end up in our water sources. Elbow grease and homemade fertilizer and weed killers are the way to go. As for the bugs? I usually just leave 'em be. Your yard is their home too.
Highlight Your Home's Features
– Sometimes what makes a home liveable doesn't necessarily make it show well. Sure, rugs are great for cozying up a space, but if you have hardwood floors, consider removing them to show off this in demand feature. Green Tip: If you decide you don't want to take your rugs to your new home, make sure to donate or sell them instead of tossing them.
– If your bedrooms have heavy blinds or drapes, consider removing them or switching them out for something light and airy. This will help showcase your home's natural light and whatever views there are out the window. Green Tip: Buy (or make) some inexpensive curtains out of a natural material like cotton or linen. Nothing draws the eye to a window like flowing, white fabric.
– If you have any other desirable features, such as a fireplace, a sunroom or a finished basement, pay extra attention to highlighting those areas. They may be what sets your home apart. Green Tip: You don't need to spend money buying a bunch of new items to help make your home more appealing to buyers. Sometimes all it takes is moving the things you already own around or adding simple touches like fresh flowers.
To Do Before a Showing
– Once all of the above work is complete, make your home as enticing as possible for showings by sweeping, dusting, mopping and wiping all visible surfaces the day of. Green Tip: Again, refrain from cleaning with chemicals and go green with natural cleaners. Here are 33 ways to use baking soda to clean your home.
– Go through your home and open all the curtains/turn on all the lights to make it nice and welcoming for buyers. If it's a warm day/evening, open the windows and let the fresh air flow through. Green Tip: You won't have to feel guilty about leaving so many lights on if all your bulbs are energy efficient LED!
– Consider diffusing essential oils prior to or during the showing. There are so many to choose from, and they all have different properties, ie: calming, stimulating, happiness inducing, etc. My personal favourites are lavender and tea tree oil. Green Tip: Essential oils are a much more environmentally friendly way to make your home smell nice compared to chemical air fresheners. Plus they have added health benefits!
Got any of your own tips and tricks on staging a home for sale? Leave 'em in the comments. I always love to read your feedback! 
Don't forget to subscribe to have posts on sustainable design, sustainable living, sustainable eating – sustainable everything – delivered to your inbox. Let's be green together!
Oh, and let's be friends too…
—
Note that this post contains affiliate links, meaning if you click on a link and make a purchase a small percentage of the sale goes to yours truly. Know that I only link to products that are good for the earth, good for the soul, or both! 
—
PIN ME!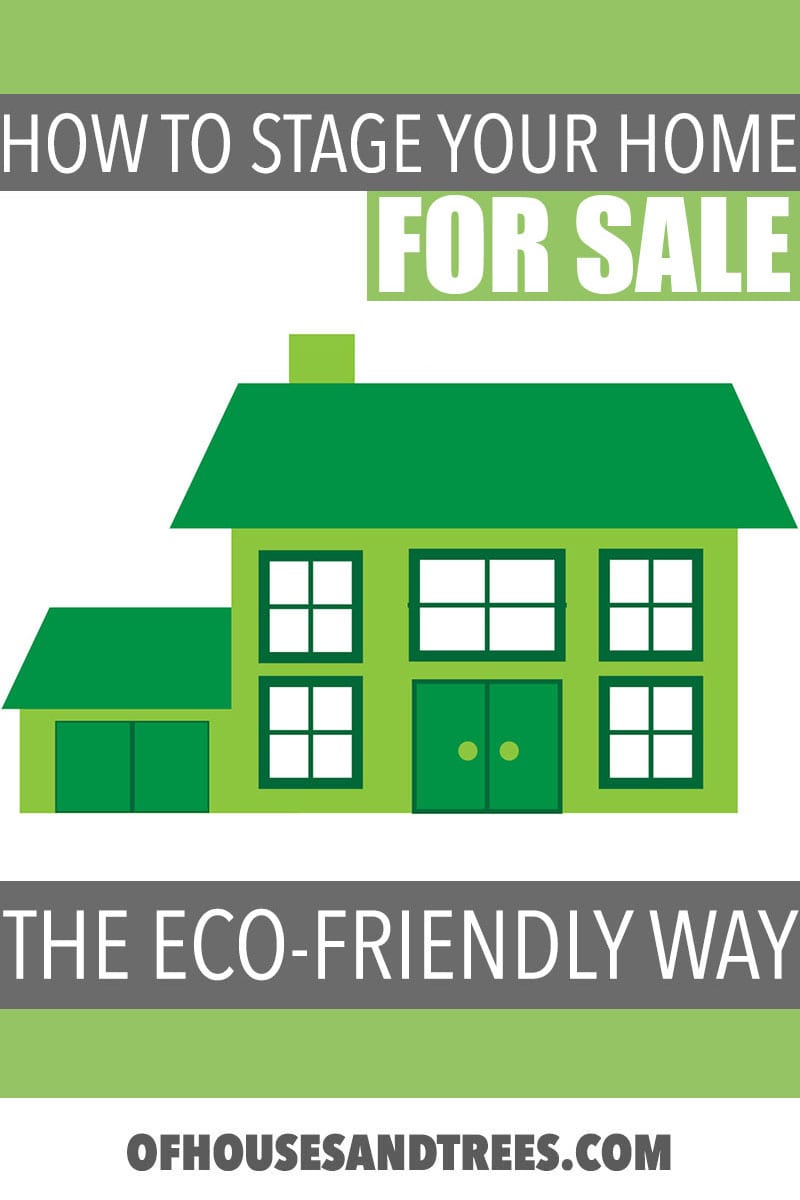 Posted on March 6, 2018
Former architectural technologist. Current treehugger.
I'm here to help you green your home – and your life.
Like what you're seeing? If so, please consider supporting Of Houses and Trees on Patreon – and get a few perks for yourself!
Subscribe to the Of Houses and Trees monthly newsletter and I'll send you my FREE list of "The 8 Best Places to Buy Eco-Conscious Decor Online."
Find out more about our 40 acres of land in Parkland County, Alberta and the sustainable home we built amongst the trees.
How to Stage Your Home for Sale the Eco-Friendly Way