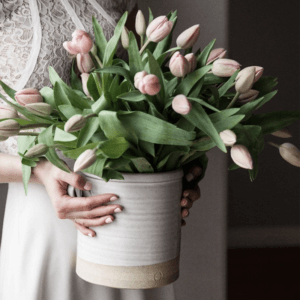 Your home is your haven. It should be filled with non-toxic, ethically made items that bring you joy and comfort, while having a low impact on the planet. Whether it's hand created, thrifted or made from recycled or eco-conscious materials – the sustainable home decor piece you're looking for is it out there. You just have to look for it!
Head to the sustainable products main page for more green items for your home, health – and beyond.
This directory is always being updated with items from eco-conscious brands and makers. Add it to your bookmarks and check back often!
Also, consider signing up for the Of Houses and Trees monthly newsletter and I'll send you my FREE list of "The 8 Best Places to Buy Eco-Conscious Decor Online."
Happy sustainable shopping!
Note that the Of Houses and Trees product directory contains affiliate links, meaning if you click on a link and make a purchase a small percentage of the sale goes to yours truly. Thank you for your support!
SUSTAINABLE HOME DECOR ON AMAZON:
Do you shop on Amazon? If so, send the message that you only want green items by shopping these sustainable brands!
Need help choosing eco-conscious furniture and decor for your home? That's what I'm here for!
Want to learn more about sustainable home decor and creating a happy, healthy home? Then you should definitely check out these posts!
Posts About Sustainable Home Decor
Share the Sustainability
Share this image on Pinterest, Instagram – and everywhere else!