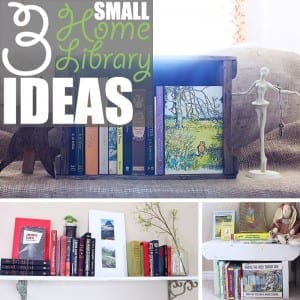 Do you dream of a massive, multi-storied, spectacular Beauty and the Beast style library? Me too! Do you have nowhere near the space nor the books (not to mention the funds) to create one? Me too.
No surprise being a writer and a bibliophile that I think about books a lot. I especially like to dream of the library I've included in my design for Our House in the Trees. It will be a teeny bit more modest than the Belle's library. But at least it will have one wall of floor to ceiling built-ins with a sliding ladder. 
Because every house with two small children needs a climbable moving object, am I right?
Even then, not everyone has the space nor funds for floor to ceiling built-ins. Still, that doesn't mean you can't proudly and artfully display your books throughout your house. There's something cozy and stimulating about having books in every room. So here are three small home library ideas I've come up with, all of which I've recently assembled with items I already had in my house. Take a look around your own home and see what you can create!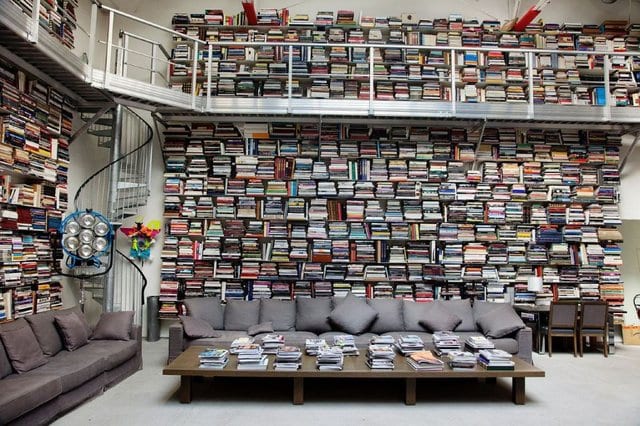 Bench Library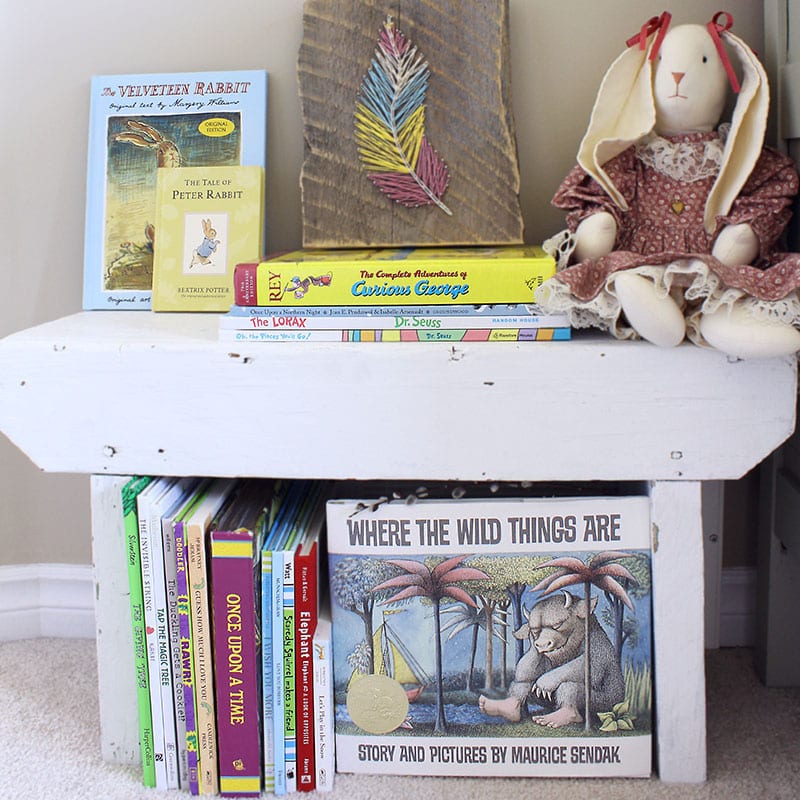 I bought this old bench a few years ago at the Rocky Mountain Antique Mall, gave it a quick coat of paint and now it resides in my youngest daughter's room. The bench is anchored to the wall, of course, and I'll be honest – on a daily basis there's only five books on display rather than the pictured dozen-plus because my baby likes to eat paper and then almost choke on it. It's her thing. But as she gets older and her paper-eating ways fall to the wayside I'll add more books in and this area can act as her own little small home library. It's perfect for a kid's room because it's on the floor. I can just picture her hunkered down on the carpet with a children's classic in her lap. Adorable.
Crate Library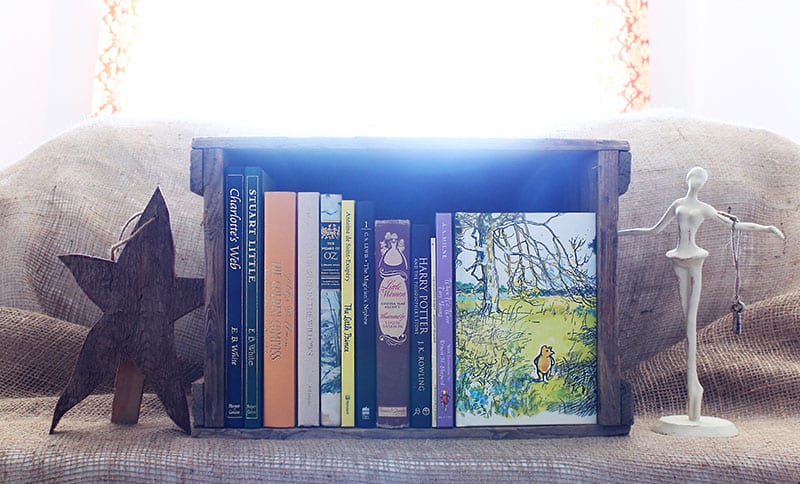 I love old crates. Almost as much as I love books… almost. I also purchased this one at the Rocky Mountain Antique Mall and – not to play crate favourites – but it has a special place in my heart. (It's actually a Canada Dry crate.) Crates are all the rage in the farmhouse chic corner of decor so I thought this one would be a perfect home for my collection of children's and young adult novels. You could leave it free-floating and thus portable or anchor it to the wall so it could act as a shelf library. Speaking of shelf libraries…
Shelf Library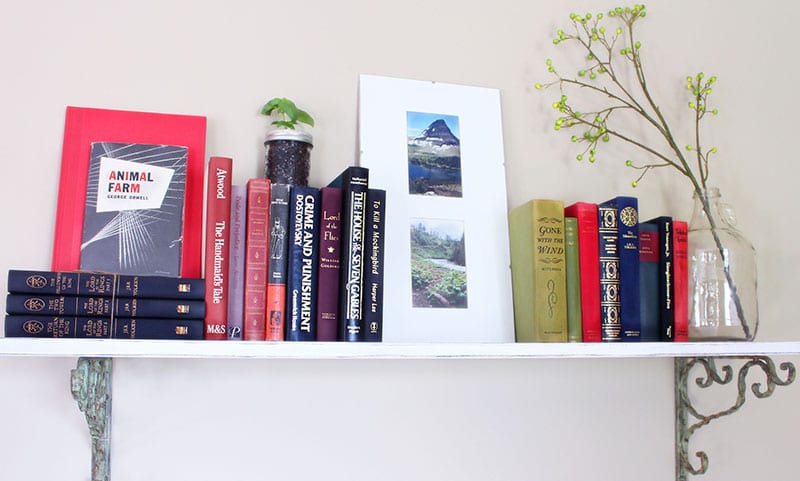 I find shelves tricky to decorate – they're usually either too barren or too overstuffed. I recently cleaned everything off the one in our living room and am now using it to proudly display my collection of classics. (Which includes a first American edition of my favourite book of all time, Animal Farm. Swoon!) The great thing about shelf libraries is you can have one almost anywhere since they don't take up any floor space. You could also double up and have a second shelf above or below with even more books. Mmmm, more books…
Does your house have a small home library? Or maybe a full-sized one? What does your dream library look like? Tell me all about it in the comments. And don't forget to subscribe for more posts on home decor as well as architecture, interior design, DIY projects, sustainability, crafts, gardening and healthy eating. 
—
Note that this post contains affiliate links, meaning if you click on a link and make a purchase a small percentage of the sale goes to yours truly. Please know that I only link to products that are good for the earth, good for the soul, or both!
—
PIN ME!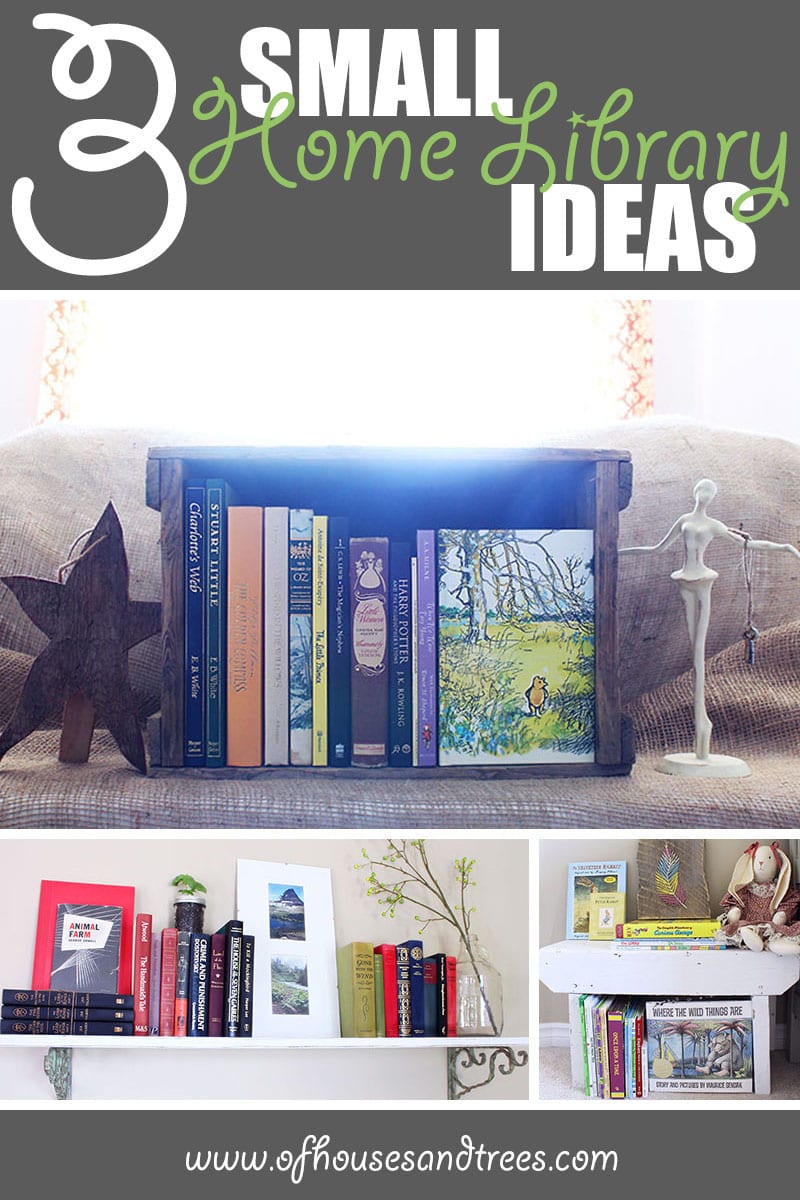 Posted on May 22, 2017
Former architectural technologist. Current treehugger.
I'm here to help you green your home – and your life.
Like what you're seeing? If so, please consider supporting Of Houses and Trees on Patreon – and get a few perks for yourself!
Subscribe to the Of Houses and Trees monthly newsletter and I'll send you my FREE list of "The 8 Best Places to Buy Eco-Conscious Decor Online."
Find out more about our 40 acres of land in Parkland County, Alberta and the sustainable home we built amongst the trees.
3 Small Home Library Ideas