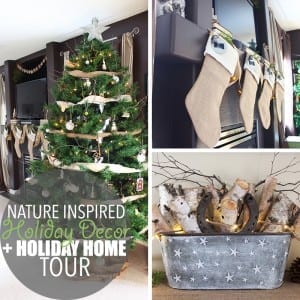 Once again, it's only days until Christmas and I'm just now posting my holiday home tour for the year. I started out the season quite organized and had most of my decorations up at the end of November. I also had almost all of my Christmas shopping done. But then December happened and… I don't actually know what happened. Illness, appointments, work deadlines, misbehaving children all mixed in with the hoopla of the holidays created a perfect storm of insanity and now here we are. The eve of Christmas Eve already.
But hey, that's okay. Wabi-sabi – the Japanese art of imperfection – is going to be big in 2018.
All of the craziness makes my nature inspired holiday decor feel that much more relaxing. It's simple, eco-friendly and, in my opinion, just really pretty to look at. When I pulled out my holiday decor at the beginning of November, I made a decision. I was only going to put out items that I love and that create a feeling of calm beauty. A feeling akin to walking through the woods on a crisp winter day.
I'm especially happy that this was the year I made the transition from a random Santa Claus and snowmen decor style to a more focused, nature-inspired one because it likely will be our last Christmas in our current house. If all goes as planned (and of course it's going to… right?), we'll be celebrating the holidays next year in our new home, surrounded by nature in all its true glory.
So, here are five ways (plus one bonus) to incorporate a little bit of nature's beauty into your holiday home decor.
---
Note that this post contains affiliate links, meaning if you click on a link and make a purchase a small percentage of the sale goes to yours truly. Please know that I only link to products that are good for the earth, good for the soul, or both!
---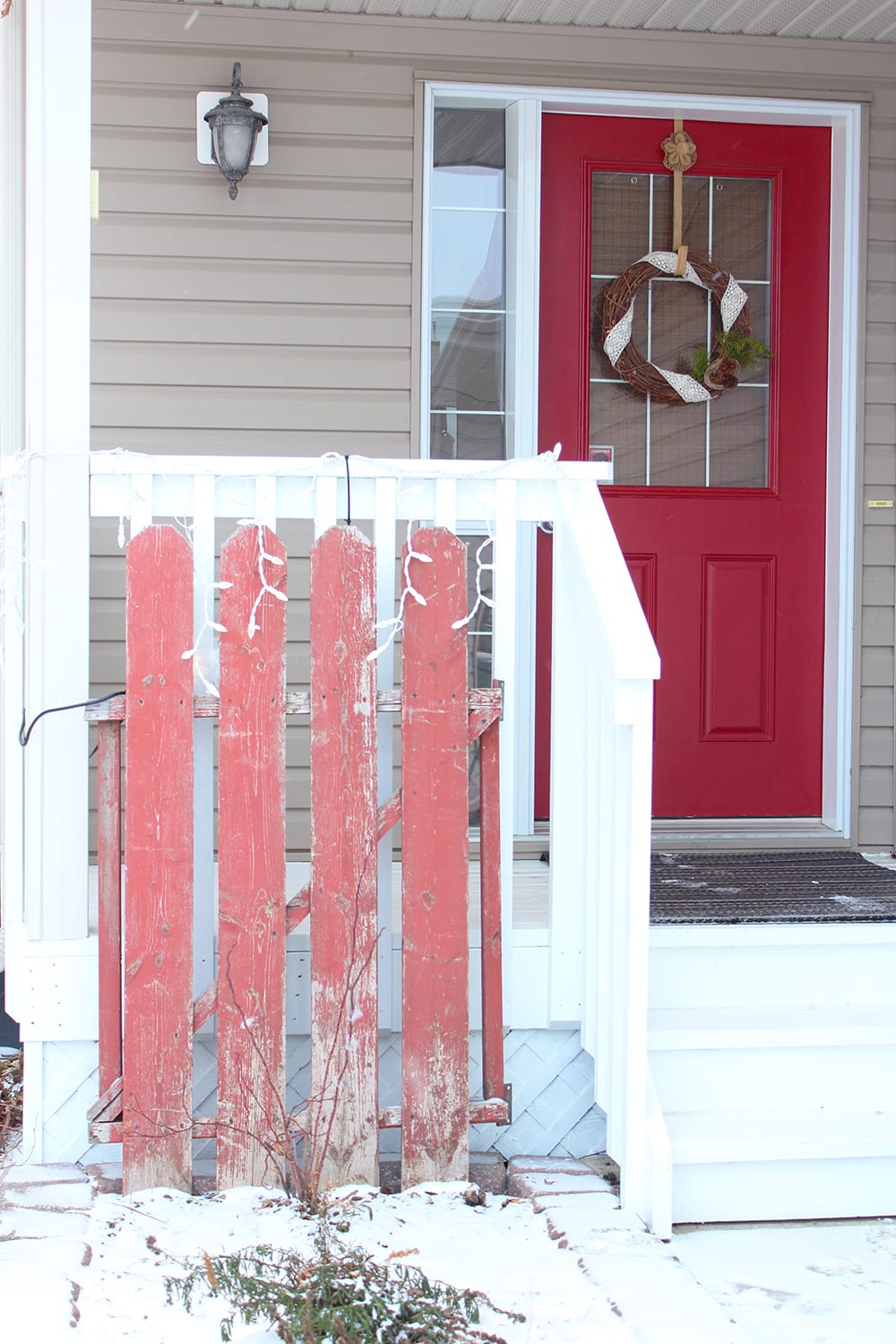 Found Objects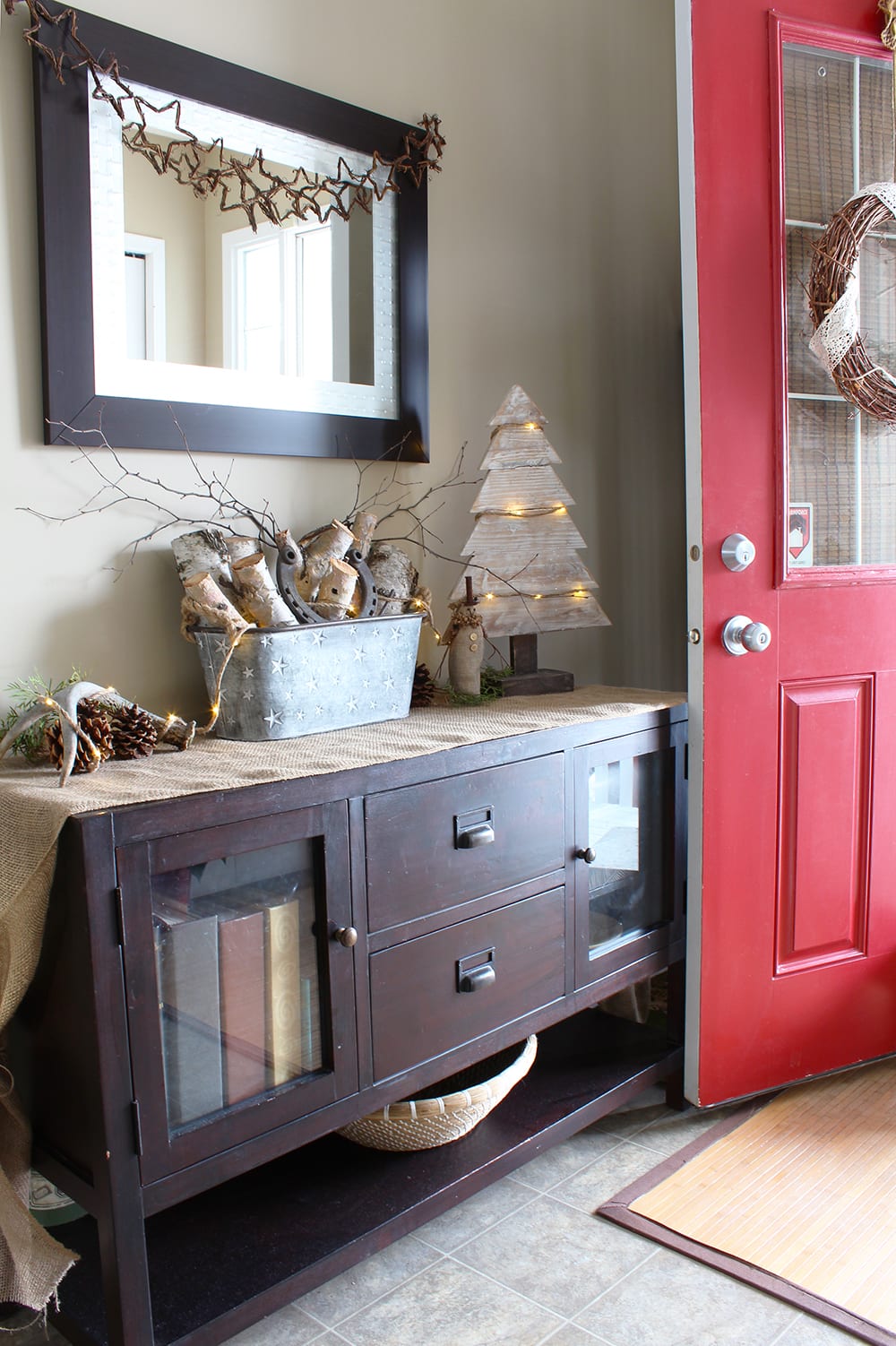 Antlers
An antler was actually the jumping off point for my entire nature inspired holiday decor theme. I saw a photo in a magazine of an antler on a very simple holiday fireplace mantle and thought, "Why, I have an antler in my front flowerbed!" Devin found it several years ago out on the land and I've been displaying it amidst my outdoor decor ever since. So I went outside and pulled it out from under a pile of snow. And someone I spoke to at a local home decor store told me one year she stuck several antlers in her Christmas tree. Cool! (As long as they were antlers that were naturally shed and not… yikes.) You can even buy found antlers on Etsy!
Pine Cones
The pine cones came next in my decorating scheme and I'm slightly ashamed to admit I actually bought most of them from a store. Bad treehugger! I haven't been out to the land in months and while next year I'm sure I'll be able to find some pine cones in their natural setting and bring them into the house, for this year I've accepted that store-bought ones (that smell like cinnamon… yum!) will have to do. I call wabi-sabi on this one as well.
Driftwood
Because I have to tell a story about every piece of holiday decor I have, the tale of how a piece of driftwood recently came into my life is a good one. I was helping out at my eldest daughter's playschool in November and her teacher said if I found anything I wanted on top of a shelving unit I could have it. Not expecting to come across anything exciting above all the wooden puzzles and foam toys, I was delighted to find a gorgeous piece of driftwood hiding up there all by itself. Sometimes random driftwood acquisitions are just meant to be.
Logs, Branches and Twigs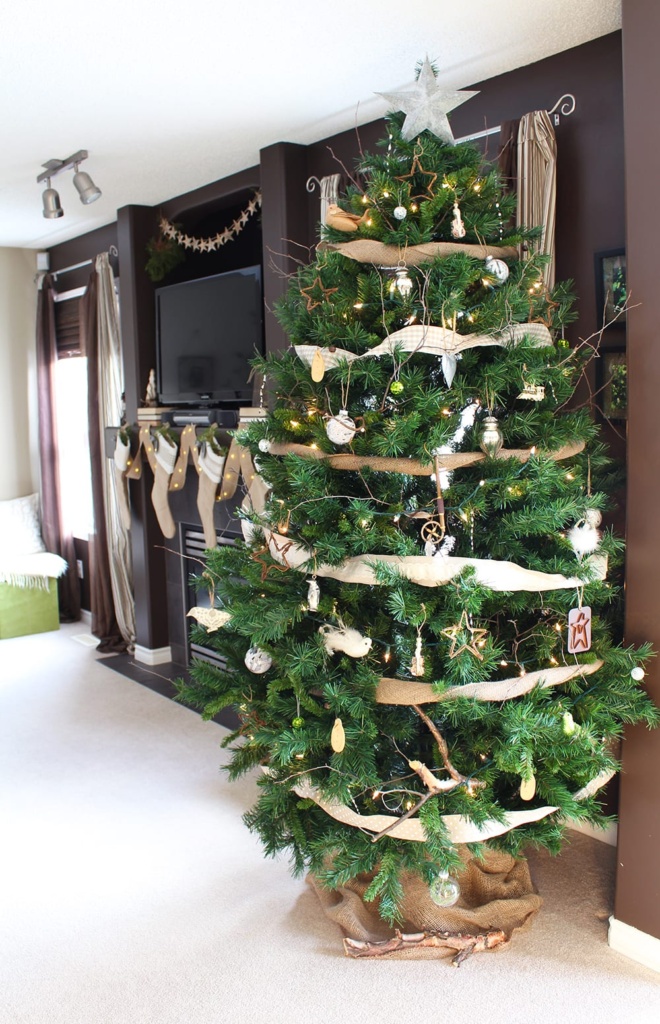 Logs
When I asked Devin to get me a few birch logs and branches from the land, he brought me more than I had intended. And yet I've managed to allocate every single one of them. Less "it's beginning to look a lot like Christmas" and more "it's beginning to look a lot like a forest" around our house these days.
Branches
I got a lot of mileage out branches this year. I think the branches wildly sticking out of our tree is my favourite part of our decor. Christmas trees (especially fake ones like ours) have become pretty manicured looking. I like how the branches rough things up a bit.
Twigs
There's something so simple and pretty about painted twigs, which is why I decided to have them stand in for trees in my Mason Jar "Snow" Globe. Another idea is to stick a few twigs in an empty Christmas ball or tie them into star ornaments similar to these ones.
Fresh Greenery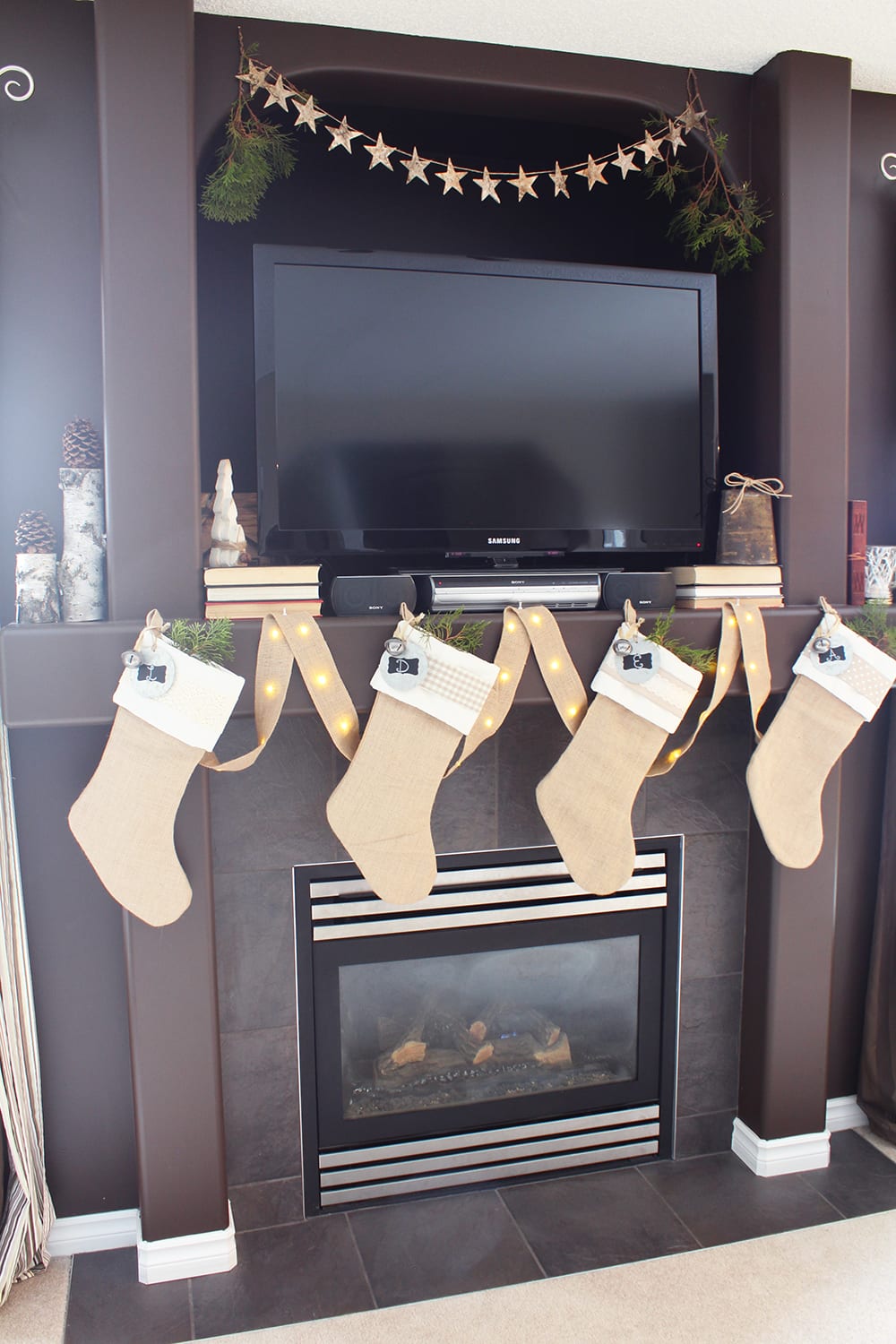 This cedar greenery is from a tree in our current home's backyard and made its way inside because I used some for my recent Vegan Cinnamon Twists photoshoot. I plunked the branches behind the driftwood after the shoot and was like – oh yeah, I gotsta get me more of that. So, I added it to the vignette on our console table, to the grapevine wreath hanging on our front door, above our mantle and then stuck some in our stockings. You could also make a wreath entirely out of fresh greenery or little place card holders like these ones, if you're motivated enough to host parties with actual place cards.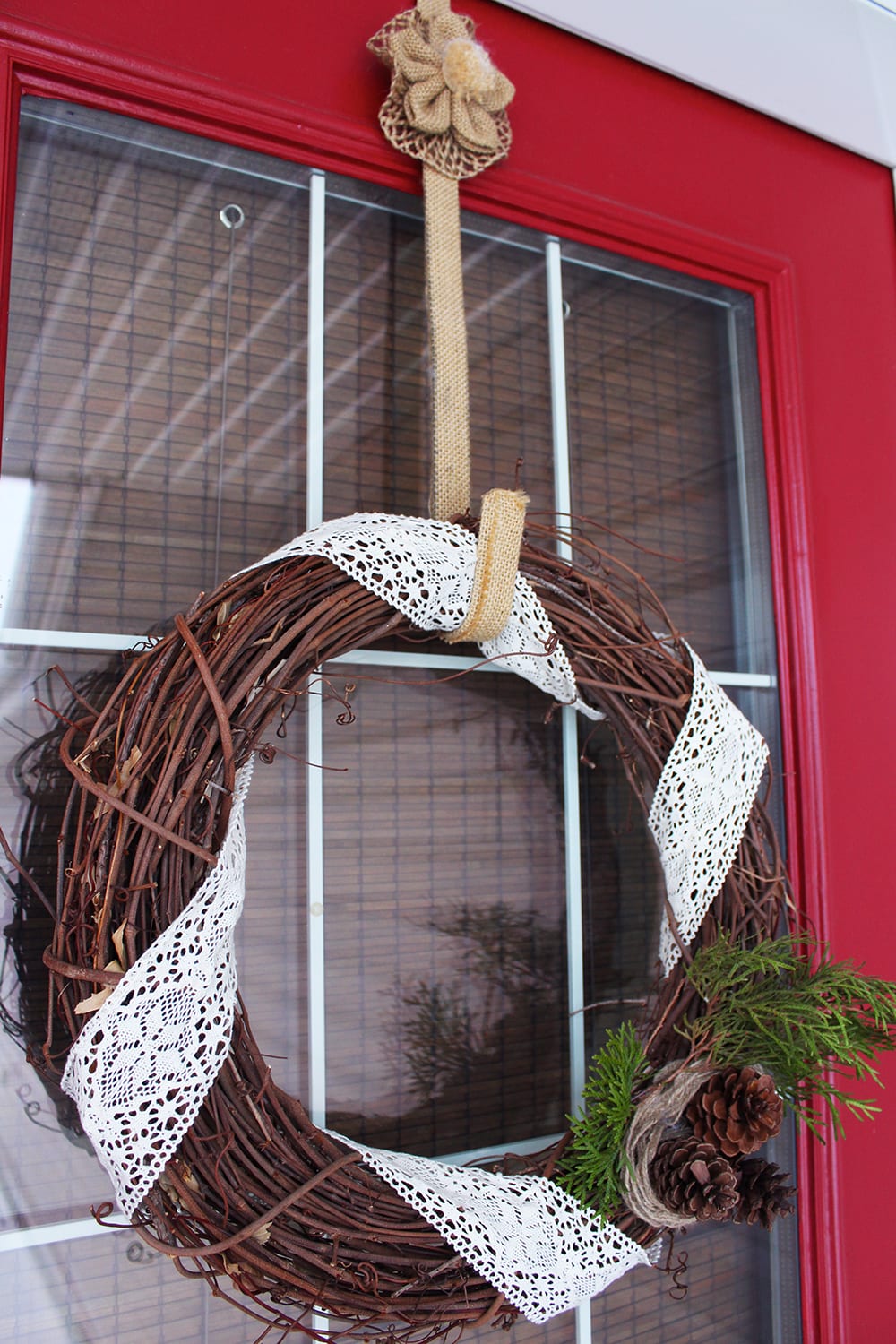 ---
---
Shapes and Figures Found in Nature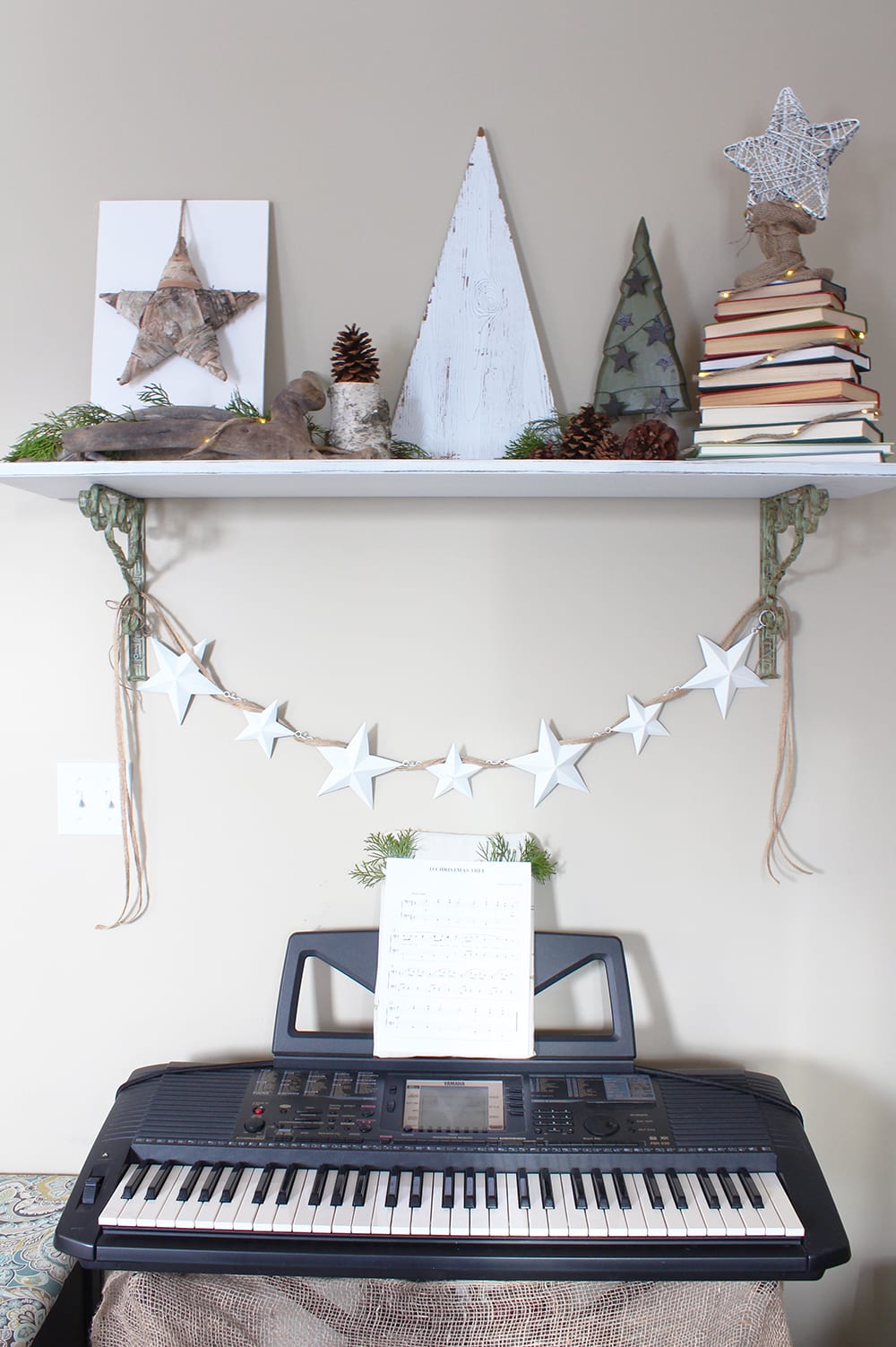 Trees
Obviously given this blog's name and subject matter tree-shaped decor was going to make an appearance on this list. And because I've loved trees as long as I've breathed, I already had a few stashed away in my Christmas decorations. I also really love this one made from birch slices… maybe next year?
Stars
Star ornaments are another long-standing fav around my house. I have a metal star garland, a twig star garland and even a super sparkly star garland that I didn't put out this year because sparkles just aren't my thing at the moment. This rusty star garland lends itself better to the whole rustic nature farmhouse thing.
Other shapes such as birds, leaves, snowflakes all fit in with this theme. Basically, if you find it in nature – you're good to go. This hand drawn chickadee ornament is darn cute.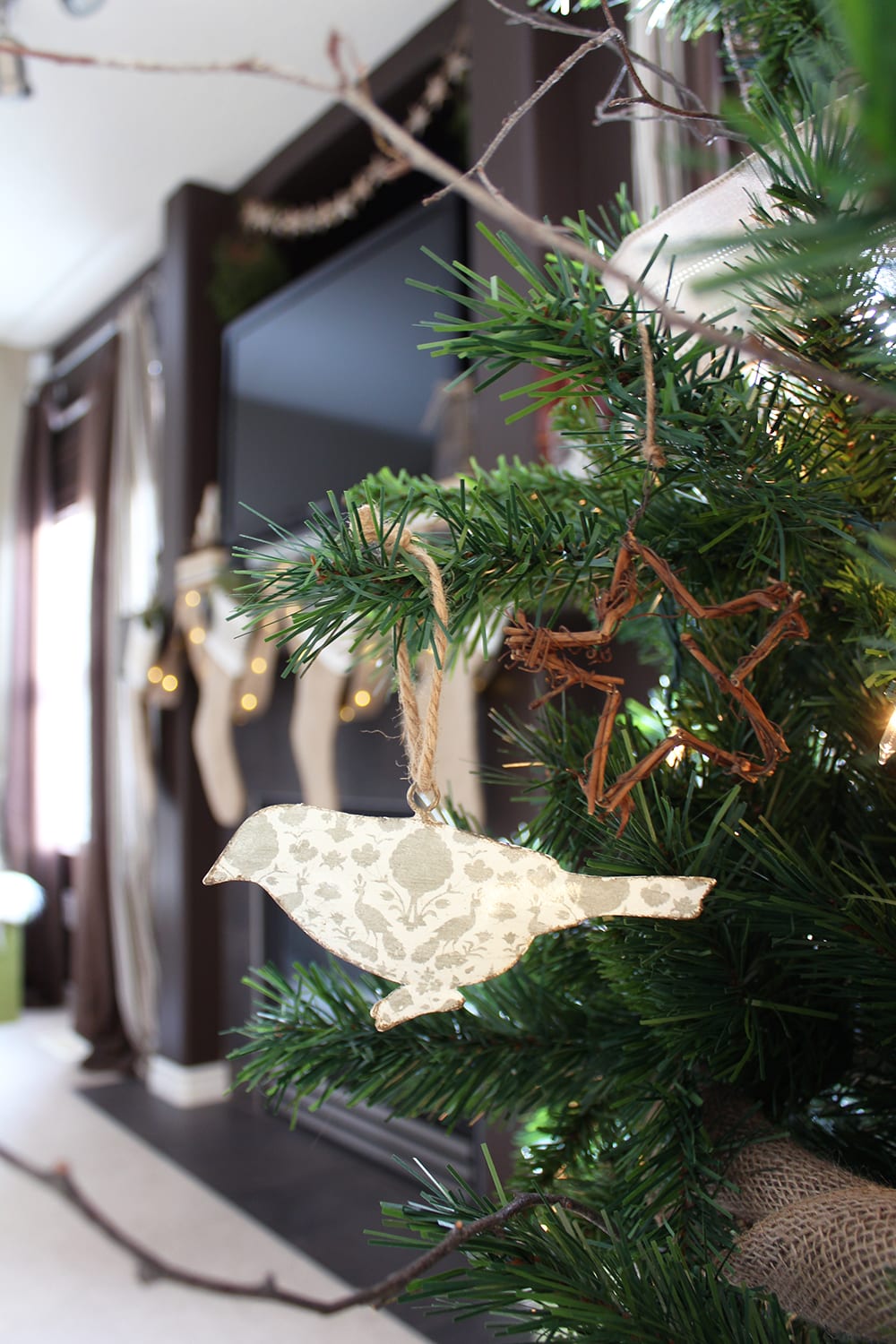 Natural Materials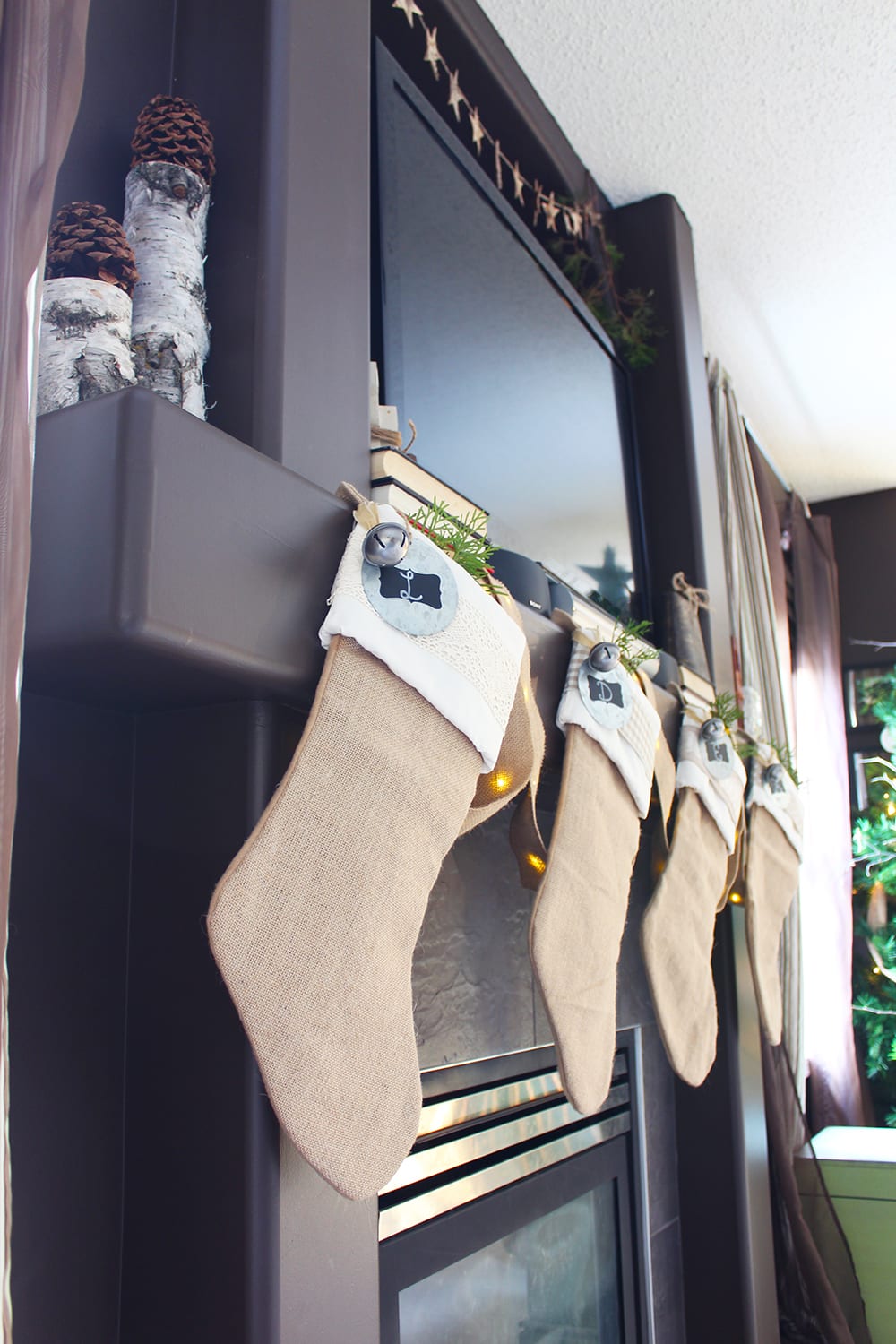 Burlap
I certainly didn't invent the idea of using burlap as Christmas decor, but I jumped on that runaway bandwagon a few years ago because burlap is an affordable and natural material. Plus, it just gives that handmade farmhouse feel. My tree skirt is literally a random piece of burlap wrapped around the stand, but you can also make or buy handmade ones like this.
Twine
Another natural material that's so easy to use as part of holiday decor is sisal or jute twine. Wrap it around a garland, tie it in a bow, string your ornaments with it. Another awesome score I came across this year was LED string lights wrapped with twine, which you could easily make yourself with some LED lights and twine.
Other natural materials you could incorporate into your nature inspired holiday decor are rocks, Christmas-y fruit such as dried orange slices and fabrics like linen and cotton.
Other Simple Decor Ideas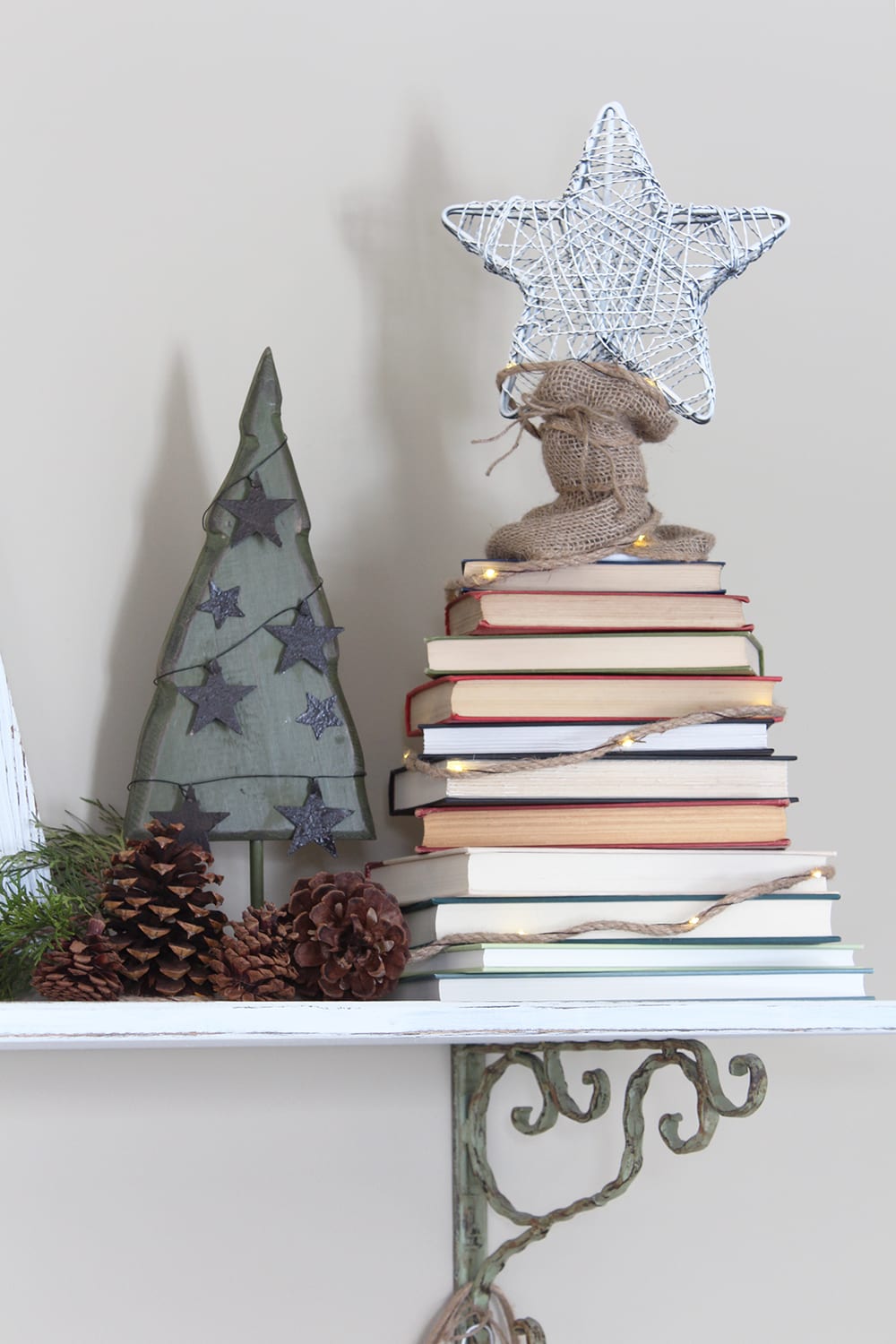 Books
Okay, so books aren't really "nature inspired," but I couldn't help myself. Number one – I'm a book nerd of the highest order. Number two – I have a lot of books hanging around and using them as part of my Christmas decor just makes sense. And number three – one of the first images I ever pinned on Pinterest was of a Christmas tree made out of a stack of books. This year I was finally able to replicate it and I just so happen to think it fits in nicely amongst the branches, pine cones and greenery.
Farm Items
The other not-quite-nature-inspired-but-still-complimentary idea I had was to add some antique farm items I found in Devin's Grandma's garage last summer. A horseshoe and a cowbell, paired with items I already had such as vintage-y bells, just lends to Christmastime from years gone by. Back when people decorated with what they had access to around their farms and homesteads and in the fields and forests beyond.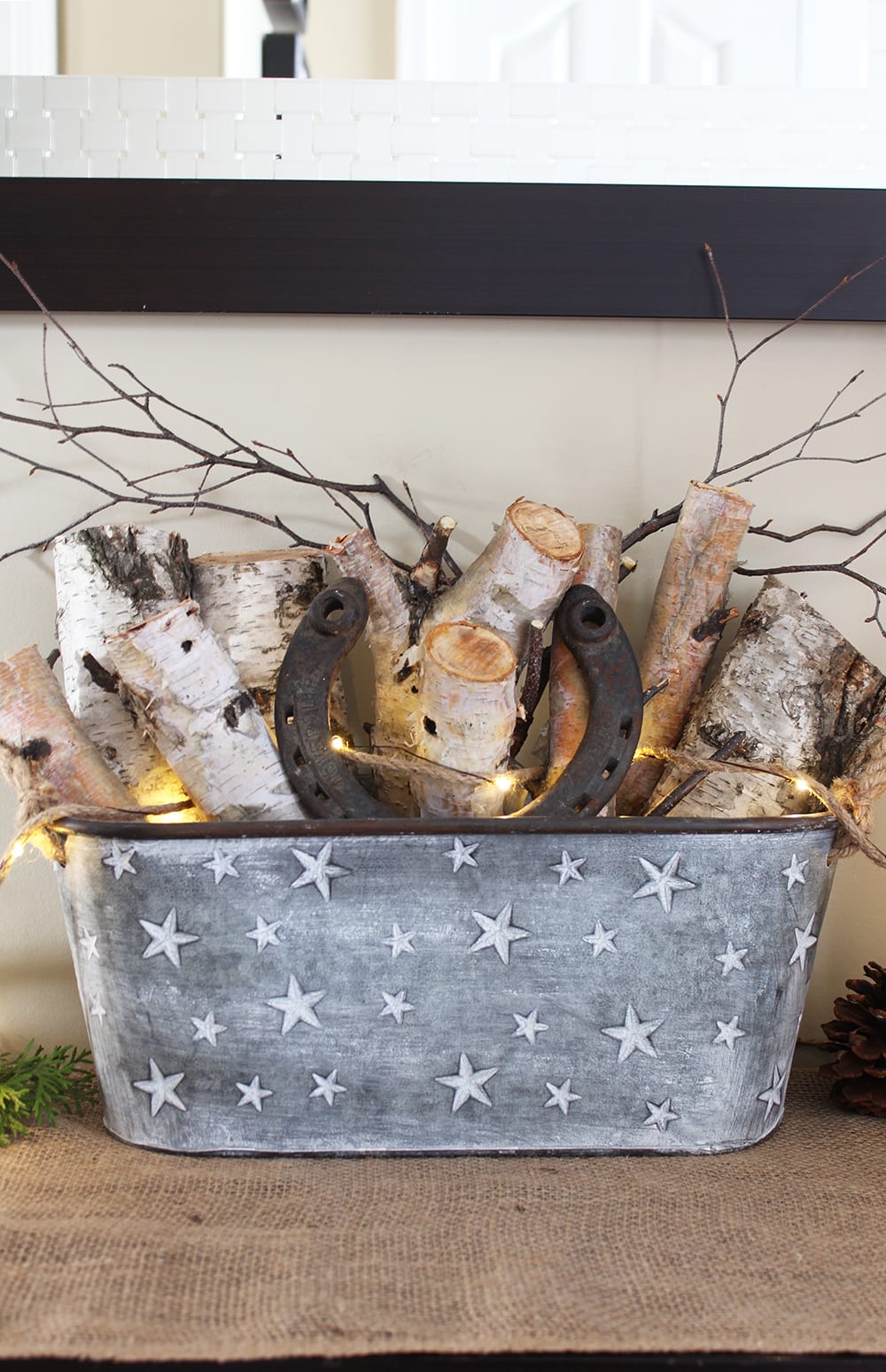 Phew. Now, that was a whole lot of nature inspired holiday decor! What did I miss? The possibilities are endless and so is my love of comments so please – comment below! And share if you care about a world where branches are more prevalent than plastic… and also if you care about me and my little ol' blog!
---
LET'S BE TREEHUGGERS TOGETHER!
Subscribe to have weekly treehugger tips + the latest Of Houses and Trees posts delivered directly to your inbox!

OH, AND LET'S BE FRIENDS TOO…
---
PIN ME!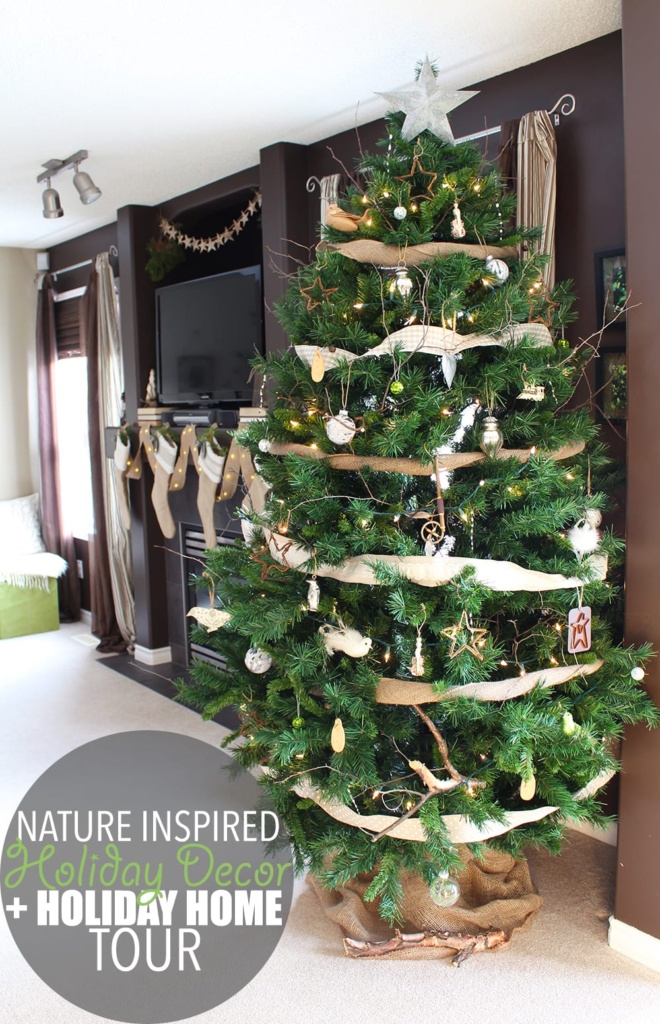 Posted on December 23, 2017 (Updated on December 14, 2018)
Former architectural technologist. Current treehugger.
I'm here to help you green your home – and your life.
Like what you're seeing? If so, please consider supporting Of Houses and Trees on Patreon – and get a few perks for yourself!
Subscribe to the Of Houses and Trees monthly newsletter and I'll send you my FREE list of "The 8 Best Places to Buy Eco-Conscious Decor Online."
Find out more about our 40 acres of land in Parkland County, Alberta and the sustainable home we built amongst the trees.
Nature Inspired Holiday Decor + Holiday Home Tour