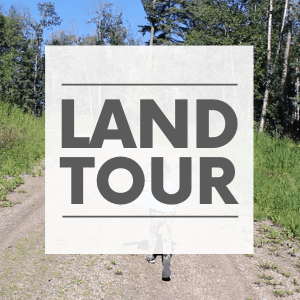 I've been wanting to take you all on a tour of our land for quite awhile now. You can read all about how it came to be ours in my post The Story of Our Land. I think the pictures in that post give a good idea of what the land is all about. And I hope my writing paints a vivid word picture. I do tend to get kind of poetic when waxing on things I'm passionate about.
But if a picture is worth a thousand words (and as a writer, I'm not sure I always buy that line), then how many pictures is a video worth? I suppose it depends on the content and the quality of the video.
But I think this one captures the true – and largely untamed – beauty of our land.
I hope you enjoy watching my land tour video as much as I enjoyed making it!
Don't forget to subscribe so you don't miss future posts on architecture, interior design, DIY projects, sustainability, home decor, crafts, gardening and healthy eating. You can also now follow my blog with Bloglovin!
PIN ME!
Posted on August 29, 2017
Former architectural technologist. Current treehugger.
I'm here to help you green your home – and your life.
Like what you're seeing? If so, please consider supporting Of Houses and Trees on Patreon – and get a few perks for yourself!
Subscribe to the Of Houses and Trees monthly newsletter and I'll send you my FREE list of "The 8 Best Places to Buy Eco-Conscious Decor Online."
Find out more about our 40 acres of land in Parkland County, Alberta and the sustainable home we built amongst the trees.