Welcome to the second post in my Green This Look series! For this round I chose this très cool rustic industrial style kitchen. Because design fusion is, like, so in right now. If you haven't seen my first post featuring a boho-minimalist living room, you can visit it right here.
My whole purpose with this series is to illustrate that any room, any decor style, can be achieved with finishes and features that are kinder to the earth than the traditional everything-must-be-brand-new approach. Because brand new is kinda old, am I right?
Here's how to replicate this rustic industrial style kitchen using earth-friendly materials and decor! (Image by Giovanni_cg.)
---
Note that this post contains affiliate links, meaning if you click on a link and make a purchase a small percentage of the sale goes to yours truly. Please know that I only link to products that are good for the earth, good for the soul, or both!
---
Repainted Secondhand Cabinets
While it's hard to tell what material the cabinets in this photo are made of – you can easily get this look by installing secondhand cabinets that you've painted yourself. Most larger cities have stores where you can buy used home items such as kitchen cabinets, such as Habitat for Humanity's ReStore or other businesses like architectural salvage shops. Searching your local buy and sell is also another great way to find secondhand cabinets.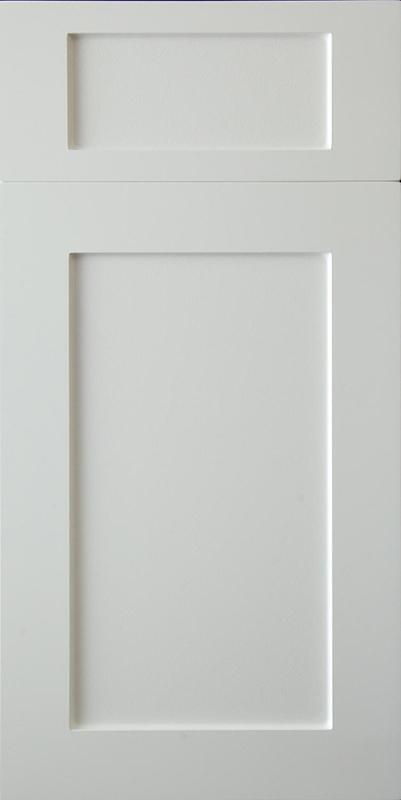 When it comes to repainting the cabinets, make sure you wash them first with a natural cleaner like vinegar. Then, choose a no-VOC paint and eco-friendly paint supplies. If you want a mottled, marble-like texture as in this rustic industrial kitchen, here is a post on how to paint countertops to look like marble – which you could easily apply to painting cabinets.
Recycled-Content Tiles
Why buy regular tiles when you can buy tile made from recycled material? The answer is pretty much a no-brainer. Don't buy regular tiles! I wrote a bit about recycled-content tiles in my How to Design an Eco-Friendly Bathroom post, but there's still so much more to talk about.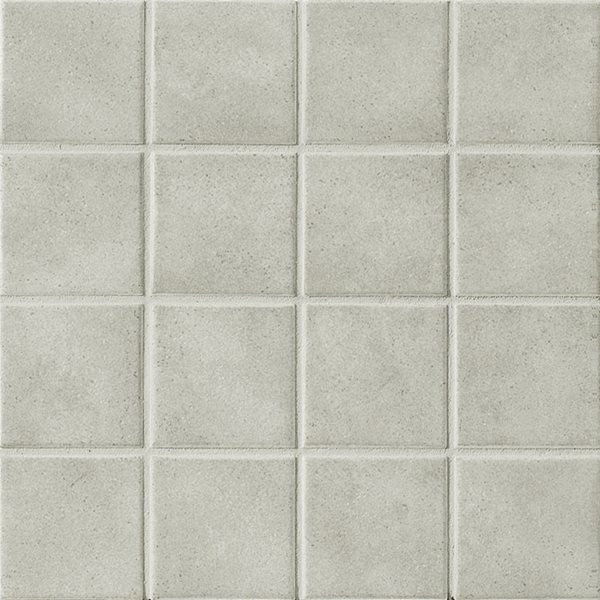 Porcelain tile is one of the most eco-friendly building materials in the world due to its high recyclability. As American-based tile manufacturer Crossville puts it, "porcelain tile waste doesn't belong in a landfill." Which is why they offer a Tile Take-Back program that accepts previously installed porcelain tile as well as cut scraps and samples – all of which they turn into brand new tile!
Reclaimed Wood Shelves
Open kitchen shelving has definitely been a thing the past few years. I'm not a fan of no upper cabinets and all open shelving since – hello – sometimes you just want to hide stuff in a cupboard. But a mix of cabinets and shelves so you can both display and hide? Yes please!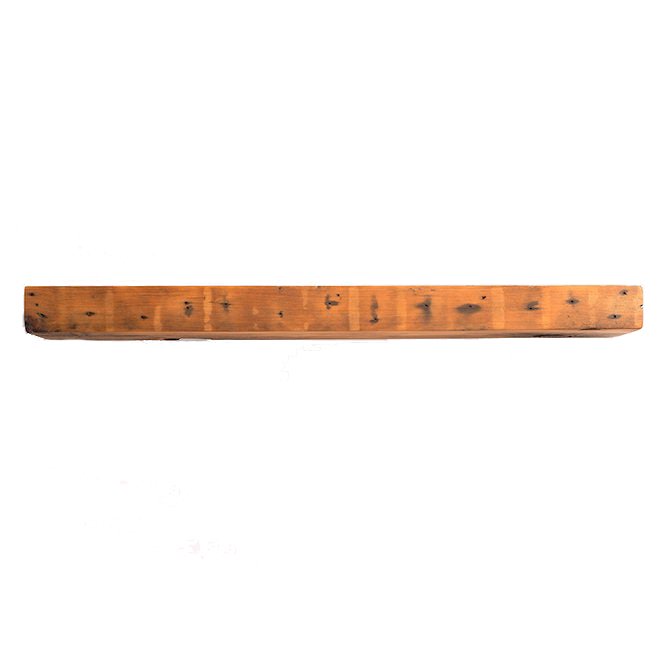 There are so many options for materials and styles of shelving. Of course, I'm going to recommend installing something either secondhand or made from reclaimed or recycled materials. Like this shelf made of wood reclaimed from deconstructed houses!
---
Did you know that Etsy is the first major online shopping destination to offset 100% of carbon emissions generated by shipping? Read more about the initiative here and view my favourite eco-conscious Etsy finds here.

---
WaterSense Faucet
This is another one of those instances where it just doesn't make sense to buy a product that wasn't designed with the environment in mind. There are so many options when it comes to WaterSense labelled faucets – you aren't going to get stuck choosing from a small selection of bland, tacky options. Instead, the world of low-flow faucets is your proverbial oyster!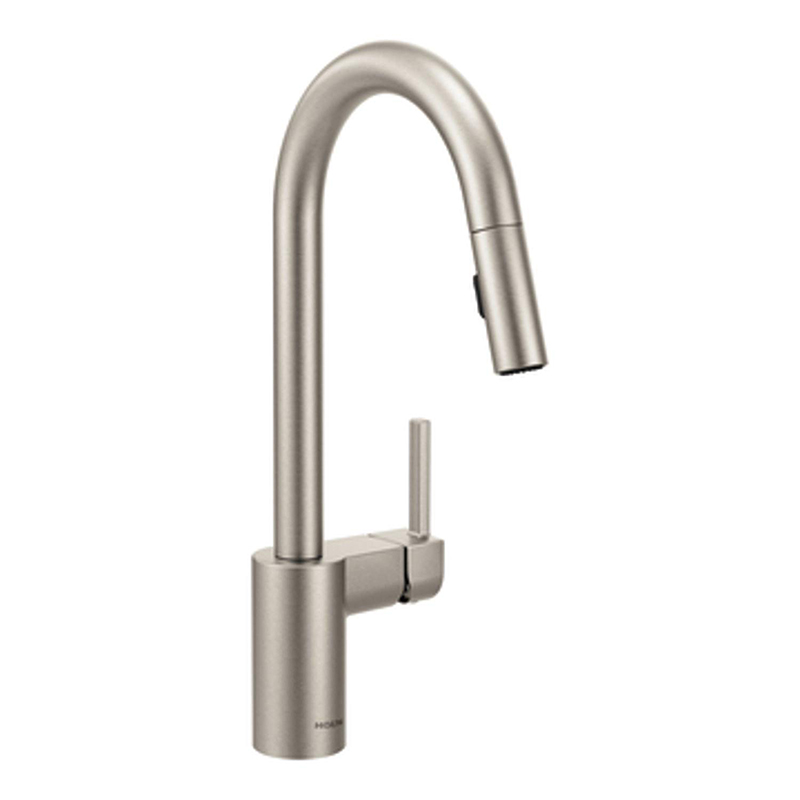 In fact, one of the biggest names in the faucet and fixture industry – Moen – has a large selection of WaterSense certified faucets. More than 271 low-flow kitchen faucets are currently listed on their website, meaning they use 1.5 gpm (gallons per minute) of water or less. Moen also asks an important question on their website: "Who designs for water?" Choose a WaterSense certified kitchen faucet and the answer to that question can be – you do!
Vintage Glass Jars
A sustainable kitchen isn't complete without reusable glass jars to fill with all your bulk items! Eliminating package in the kitchen is an important step in living a greener, less wasteful life. Plus, they look so beautiful out on a shelf! In the design for Our House in the Trees, I've set aside an area of the kitchen for open shelving so I can display my glass jars with pride.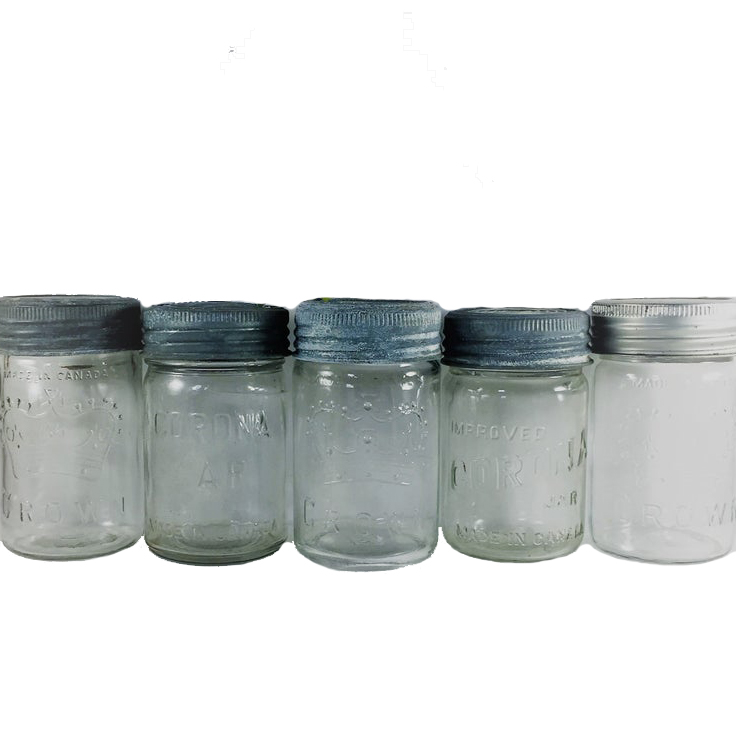 These vintage glass canning jars are gorgeous and are a double whammy on the eco front. Not only can you use them when bulk shopping, they're also secondhand. Because, you know, #secondhandfirst. I have a few of these vintage jars myself, although I use them for decor instead of food items. But most of my food jars are from a thrift shop!
Quartz Countertop
Quite clearly I have a love-on for quartz countertops, as I featured them in my How To Design an Eco-Friendly Kitchen post. While not all quartz is created equal, the reason I'm such a fan – aside from the fact it looks gorgeous while still being durable –  is that several of the companies that manufacture and sell quartz put sustainability at the forefront.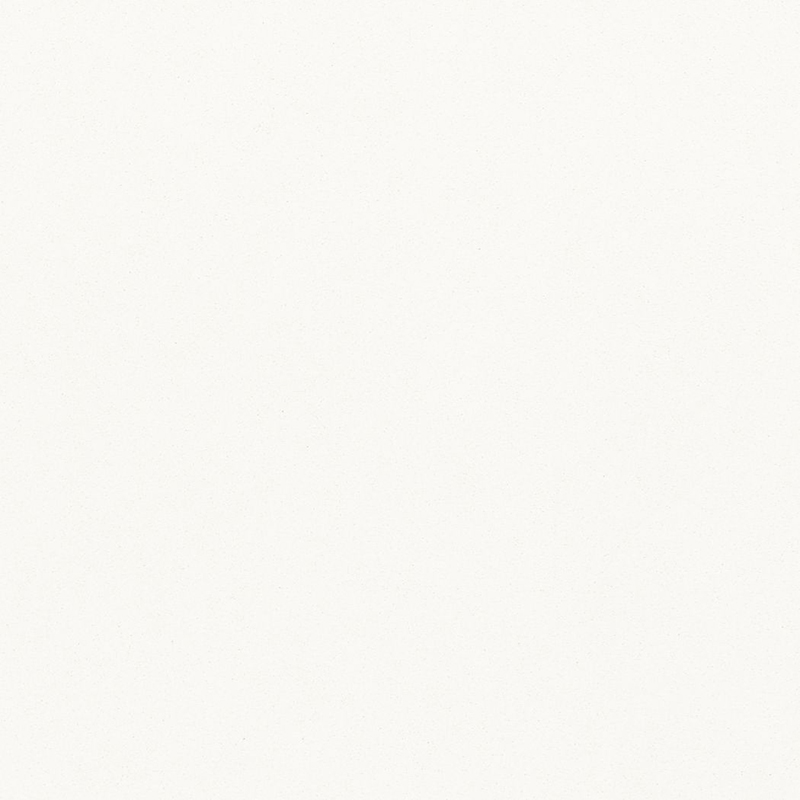 One such company is Cambria, a family-owned and operated business known for its customer service and lifetime warranty on their products. According to their website, they recycle all their metal tooling, reuse 100% of the water used for polishing, and run their quartz mine off hydroelectric power.
Steel Bar Stools
The question of whether steel is an eco-conscious material is a good one. Steel itself is extremely green as it has a very long lifespan and is infinitely recyclable. Yet, its production uses energy and produces waste. Thankfully, according to this website strides are being made as "the North American steel industry dedicates nearly 15% of its capital spending towards improving the environmental and sustainable development of its facilities."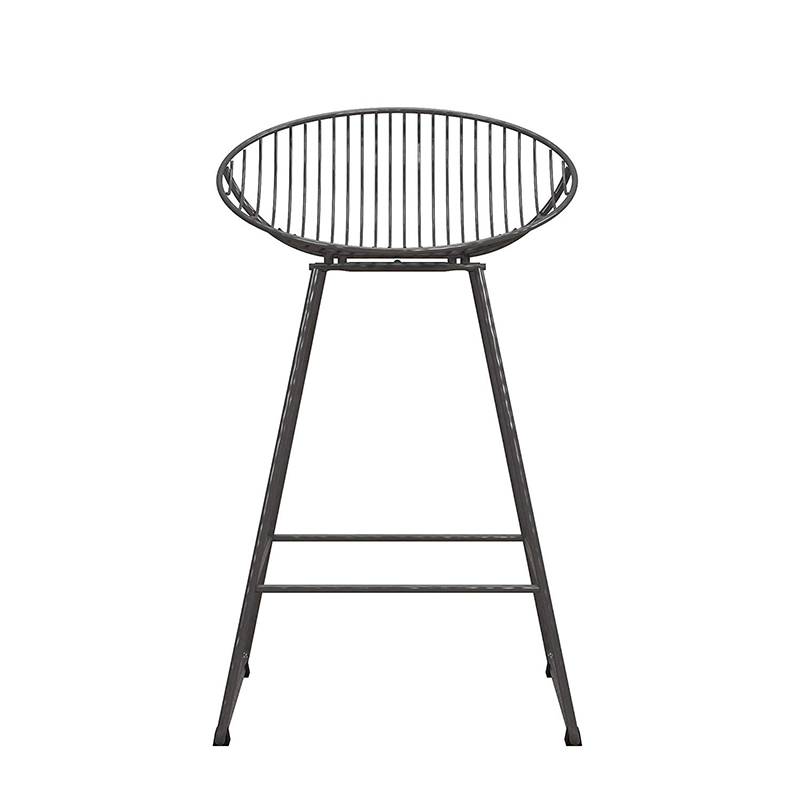 All of that just to talk about metal bar stools! But I'm all about being an informed consumer. These stools are made from steel and don't have any leather or vinyl padding on them as many other bar stools do. If you don't mind sitting on a harder surface you can leave them as is. Or, you could purchase (or make!) seat cushions from an earth-friendly material like organic cotton.
Reclaimed Wood Panels
If you're into that rustic, reclaimed, farmhouse style that incorporates natural materials like reclaimed wood then a wood feature on a kitchen island is about as close to interior design heaven as you can get. While you can certainly find reclaimed barnwood or panels from old homes on buy and sells and at architectural salvage stores, you'll likely have to sort through and cut them yourself. Beautiful? Yes. Easy? Not always.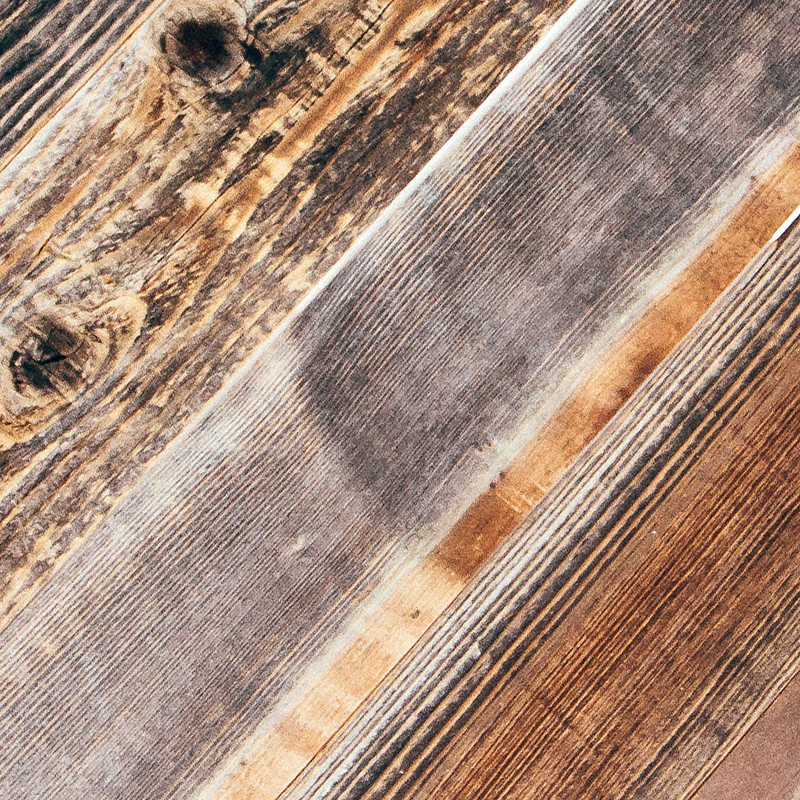 Unfortunately ease is often the enemy of sustainability and I originally felt pretty skeptical about those "easy" peel and stick wall feature products. But colour me natural redwood when I came across a company that offers environmentally friendly peel and stick reclaimed wood wall panels. Weekend Walls handcraft their panels in Portland, Oregon and their products are Rainforest Alliance and Forest Stewardship Council certified, as well as VOC-free.
Now that you're armed with all these awesome eco-friendly materials and products – go forth and industrialize! Your kitchen, that is.
---
LET'S BE TREEHUGGERS TOGETHER!
Subscribe to have weekly treehugger tips + the latest Of Houses and Trees posts delivered directly to your inbox!

OH, AND LET'S BE FRIENDS TOO…
---
PIN ME!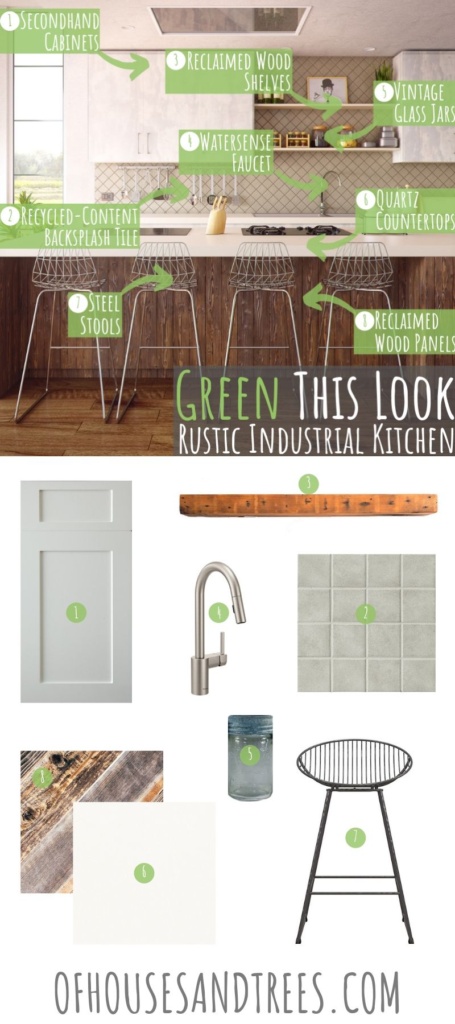 Posted on June 4, 2019
Green This Look – Rustic Industrial Kitchen