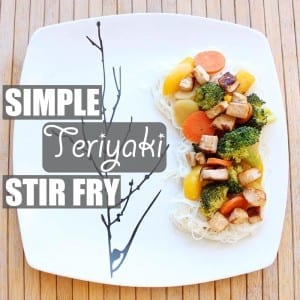 It's… finally… HERE!!! You may now be asking, "What in tarnations are you so excited about?" Why it's my first recipe, of course. A healthy veggie stir fry recipe, to be exact. When I redesigned Of Houses and Trees about a year ago, I was faced with a major life decision. I'm talking should-I-buy-the-regular-or-the-eco-concious-but-expensive-toilet-paper major.
The question: Do I start blogging about food and posting my recipes? I wrote about this conundrum in my inaugural sustainable eating post.
But essentially I didn't want to further saturate the already soggy mess that is online recipe sharing.
Don't get me wrong. While I mean "soggy mess" in the most kindhearted and least disgusting way possible, there are just so very many recipes on the internet, ranging from "yum!" to "not bad…" to "are these cookies or dog biscuits and do I even care?" So who am I to add to the smorgasbord?
Well… I'm Larissa. A person who plans lunch while eating breakfast, dinner while eating lunch and snacks about as much as a growing three year old (which is constantly and this I know because my eldest is one). Thus, in summation, I love food and it loves me way too much to not be an integral part of this blog.
Henceforth and on to the main course! (Did I forget to mention that the best part about food blogging, obviously, is the puns?) Deciding which recipe to post first was, of course, another major life decision. But I eventually settled on what I consider my trademark dish and favourite meal of all time. And though my healthy veggie stir fry has gone through many many alterations, it is something that I have been making for years and years and is actually based on a dish my mom used to make when I was a kid called Almond Chicken. The version I made for the photoshoot of this recipe should actually have had sliced almonds sprinkled on top, but I forgot. Le whoops.
And speaking of the photoshoot, this is what happens when you photograph on the floor in order to access optimal natural light…

This recipe is super easy, super versatile and super delicious. The uber-simple version is throw some veggies in a wok or frying pan, sauté 'em up, add garlic, soy sauce, honey and ginger and serve over rice or noodles. That's it! However, if you need a little more explaining, I've included the full recipe for you to follow along with. Let the sauté-ing begin!
---
Simple Teriyaki Stir Fry
Prep Time: 10 minutes / Cook Time: 20 minutes / Total Time: 30 minutes / Serves: 4
Cuisine: Asian / Description: Healthy Veggie Stir Fry / Dietary Info: Dairy Free, Egg Free, Meat Free
Ingredients:
1 tsp extra virgin olive oil
2 medium carrots, sliced
2 medium broccoli crowns, chopped
2 medium orange, red or yellow bell pepper, sliced
1 can water chestnuts, drained and rinsed
2 cloves garlic, minced (or 1 tsp garlic powder)
3/4 cup cold water (add more water or vegetable broth depending on how much sauce and the kind of flavouring you'd like)
1 tbsp all purpose flour (or flour alternative)
3 tbsp soy sauce (or soy sauce alternative)
2 tbsp liquid honey (or honey alternative such as agave syrup or coconut nectar)
1 thumbnail sized piece of fresh ginger, minced (or 1 tsp ground ginger)
1/4 cup shaved almonds (optional)
Directions:
1. Add olive oil to wok or frying pan. Sauté carrots, bell pepper, broccoli and water chestnuts over medium heat until edges begin to brown. (I'll often add a splash of water here to help the veggies soften a bit.)
2. Turn heat down to medium-low and add garlic. (Not overcooking garlic helps to retain its flavour and nutrients.)
3. In a measuring cup, mix water, flour, soy sauce, honey and ginger before adding to wok and continue to sauté until sauce starts to thicken.
4. Sprinkle almonds on top just before serving over rice or rice noodles.
Notes:
Add your favourite protein. I like to add tofu that I've sautéed in its own pan for optimal crispiness.
---
Are you a healthy veggie stir fry fiend too? What are your favourite ingredients to toss in? Or are you like those vegetable-hating-toddlers and just prefer a big pile of noodles? Let me know in the comments because (my apologies for this) you wok! And if you'd like to save this recipe to try later you can pin the below image to Pinterest… Don't forget to subscribe to have new posts delivered directly to your inbox!
—
Note that this post contains affiliate links, meaning if you click on a link and make a purchase a small percentage of the sale goes to yours truly. Please know that I only link to products that are good for the earth, good for the soul, or both!
—
PIN ME!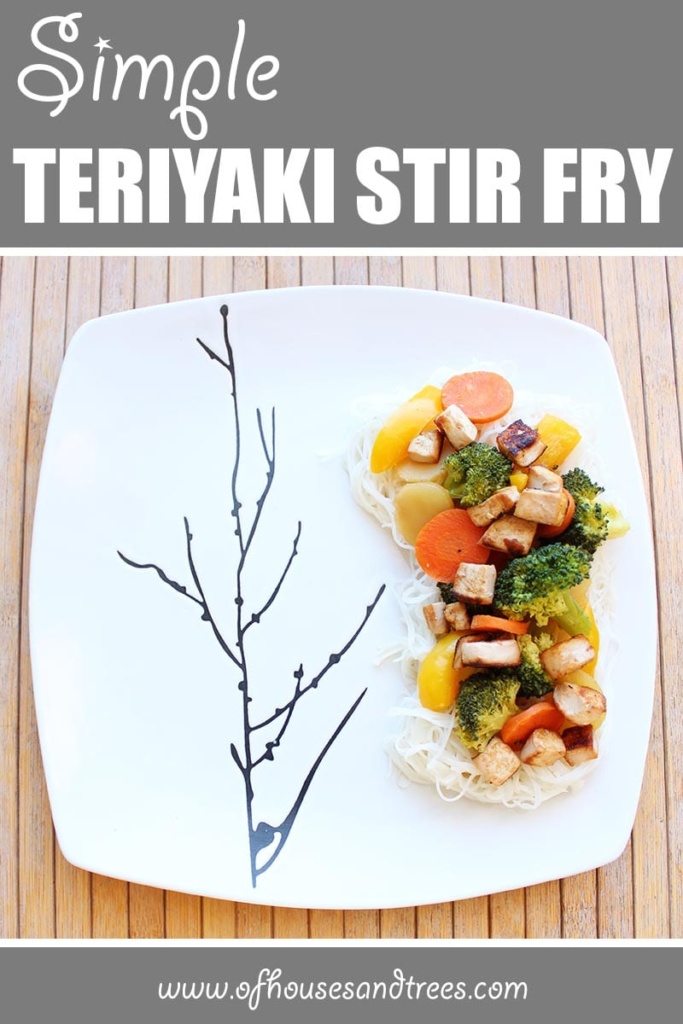 Posted on March 6, 2017
Former architectural technologist. Current treehugger.
I'm here to help you green your home – and your life.
Like what you're seeing? If so, please consider supporting Of Houses and Trees on Patreon – and get a few perks for yourself!
Subscribe to the Of Houses and Trees monthly newsletter and I'll send you my FREE list of "The 8 Best Places to Buy Eco-Conscious Decor Online."
Find out more about our 40 acres of land in Parkland County, Alberta and the sustainable home we built amongst the trees.