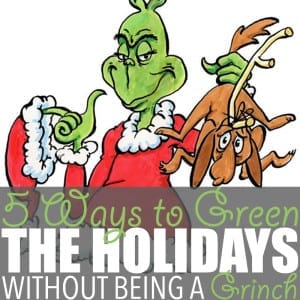 I hate throwing things away. Many times I've caught myself hovering an item over the trash. An item most wouldn't hesitate to call "garbage," but that I can't seem to let go. "Can it be reused? Recycled? Made into a hat?" (I'm convinced that all garbage can somehow be made into a hat.) I've been known to rant for tens of minutes about what is and isn't allowed in our blue bag. "What do you mean you can't recycle pickle jars? What – I'm just supposed to throw them out?"
For me, no time of the year is this more painful than at Christmas.
The wrapping paper, bows, ribbons, the live Christmas trees, the tinsel, the plastic and cardboard packaging on gifts, the leftovers we meant to eat, but then we just couldn't stomach mashed potatoes for another day. (Okay, maybe I'm reaching here because, really, who throws out mashed potatoes?) Of course, these things come from a well-meaning place
 – 
and only grinches bemoan presents, decorations and feasts, right?
Maybe I truly am a grinch. Maybe I'm even worse, because at least the grinch, after realizing Christmas doesn't come from a store, still merrily returns the paper ensconced gifts to all the little Whos – never once worrying if there's an eco centre in Whoville. Certainly, I'll happily participate in the exchange of gifts, but when it comes to throwing things away this (and every) season, I'll be anything but merry.
This Christmas, let's do all the usuals. Give. Receive. Love. Eat. But let's also do something else. Let's think about this beautiful planet we live on and give thanks for all its wonders by reusing, recycling and, most importantly, reducing.
Give Experiences, Not Things
This is one of my favourite ways to reduce waste and green Christmas. Instead of a gift, inside a box, inside a bag, give a loved one a simple gift card for a dinner out, classes at their favourite yoga studio or a night in a nice hotel. Or give them a handmade coupon book filled with things you can do for them to make them smile. Bonus points if the gift card is for an eco-friendly establishment!
Regift
Perhaps once a tacky practice, I feel (or maybe just wish) regifting has become more acceptable. My mind immediately goes towards presents for kids, as I think most of them really wouldn't care if their gifts are brand new –  as long as they're new to them. For example, my daughters are getting my old dollhouse for our eco-friendly Christmas this year. I know they'll be ecstatic. And I'll be ecstatic watching them play with a beloved toy from my childhood.
Shop Local
If you're going to buy new, then buy new from small, local businesses. This keeps your money in your community, supports people just like you and reduces the carbon footprint of your gifts since they have a shorter distance to travel. However, if you do want to do some online shopping, try going through Etsy as it supports small local businesses in other towns and cities – some of whom love themselves a green Christmas as much as I do. Check out my Etsy gift guide featuring eco-friendly Christmas gifts.
Make Less Food
A controversial suggestion. I mean, what is the holiday season without the FOOD. Well, it's a lovely time spent with family and friends being thankful that we have each other and any food at all. If your family and friends are anything like mine, there is always way too much food, which leads to overeating, feelings of regret and – inevitably – waste. You don't need to make five different kinds of Christmas cookies, three different salads and two kinds of stuffing. Make one of each. Enjoy. Move on.
Reuse
When all is said and done and we're left with wonderful memories, a sugar hangover and the boxes and bags and packaging, take those boxes, bags and packaging and turn them into something new. I've already started saving the toy boxes from early Christmas gifts for my daughters and am planning on using them for crafts in the New Year. Sustainable… and fun!
Have any ideas about using the three Rs to create an environmentally friendly Christmas? Feel free to share them in the comments! Don't forget to subscribe for posts on architecture, interior design, DIY projects, sustainability, gardening, home decor and healthy eating.
—
Note that this post contains affiliate links, meaning if you click on a link and make a purchase a small percentage of the sale goes to yours truly. Please know that I only link to products that are good for the earth, good for the soul, or both!
—
PIN ME!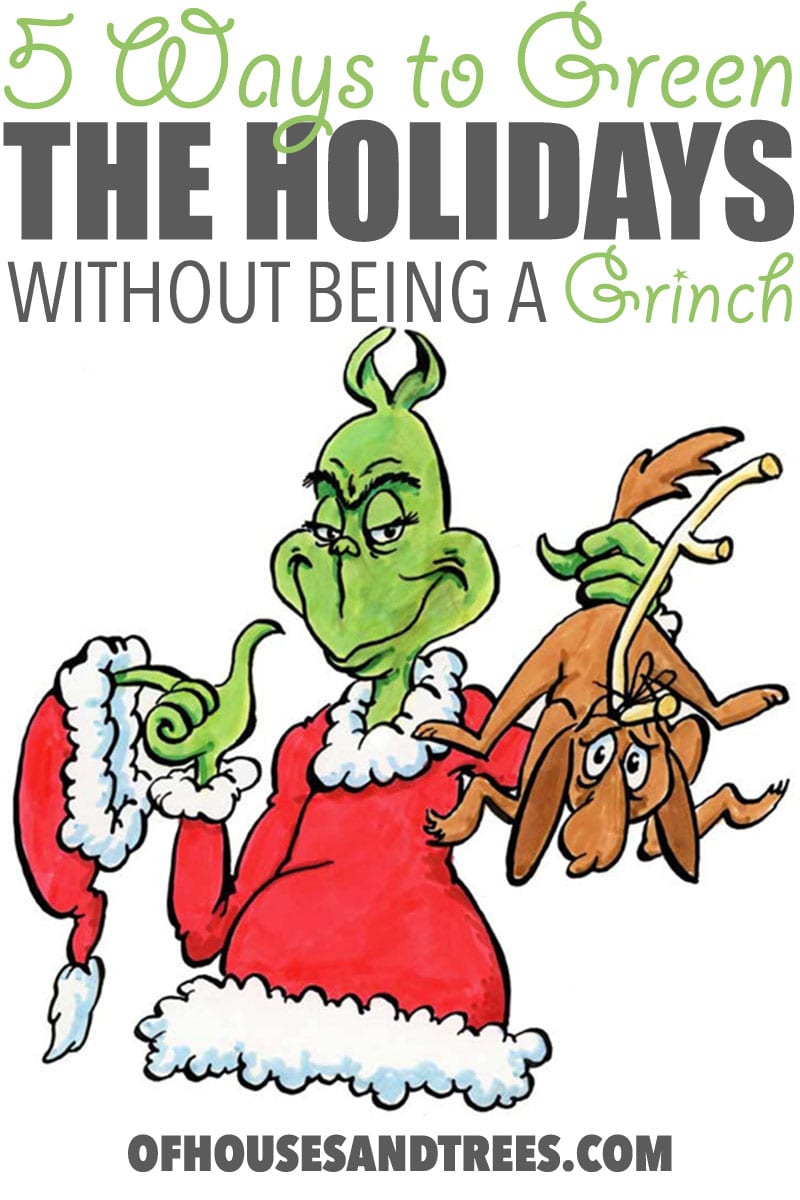 Posted December 3, 2017v
Former architectural technologist. Current treehugger.
I'm here to help you green your home – and your life.
Like what you're seeing? If so, please consider supporting Of Houses and Trees on Patreon – and get a few perks for yourself!
Subscribe to the Of Houses and Trees monthly newsletter and I'll send you my FREE list of "The 8 Best Places to Buy Eco-Conscious Decor Online."
Find out more about our 40 acres of land in Parkland County, Alberta and the sustainable home we built amongst the trees.
5 Ways to Green the Holidays Without Being a Grinch