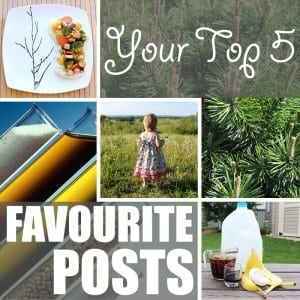 Happy anniversary to me! Well, to me and Of Houses and Trees that is. It's been one year today since I redesigned and relaunched my little blog at ofhousesandtrees.com and boy have I learned a lot in those 365 days. (I also had a second child within that timeframe, which is sort of a big deal.) Technically Of Houses and Trees (nickname – OHaT) will be five years old on October 19 of this year because that's when I officially started posting on my Blogger site.
Back then, I secretly hoped people would simply stumble upon it.
They'd read it, love it, subscribe. Yet I really didn't do anything to draw them in and for the most part just blogged for myself. I still do that, but now I also blog for you! So here are the top five favourite blog posts that received the most visits since March 31, 2016. If you missed them the first time around please give them a visit. If you've already read them, maybe give them another once-over and also some comment lovin'. I have a lot of fun and exciting, but also informative, things planned for the upcoming year. Thanks for sticking around so far! I appreciate it more than I can say.
What do you get when you mix a banana peel, black tea, molasses, an eggshell and rainwater? Why Homemade Garden Fertilizer of course! I used this concoction last year in my vegetable garden and – I'll be honest – I don't know if it made a difference. I did only use it once and I don't think any natural fertilizer is going to do much after one go. No, you need the super-potent chemical stuff for that, which is exactly what I was trying to avoid when I whipped this baby up. With spring upon us I definitely am going to give it another try and may even revise the ingredients. I'll keep you posted!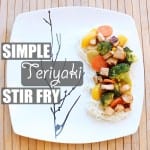 4. Simple Teriyaki Stir Fry
The fourth spot was actually a three-way tie. Simple Teriyaki Stir Fry, Green and Beige Baby Bedroom and 5 Pinterest Projects I Actually Plan On Doing all had the same number of visitors. But I decided to narrow it down for simplicity and gave the stir fry number four on the favourite blog posts list as it was my first recipe and thus a pretty big deal to me. I won't get into the mumbo jumbo of website traffic and such, but it's the newest post of the three and yet it's tied with two older posts for visits, which technically means it's "more popular."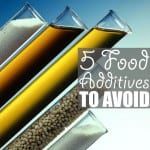 3. 5 Food Additives to Avoid
I love researching and writing posts like this and it looks like you guys liked reading it. Yay! I mean, who wouldn't want to learn that ADHD and cancer are linked to artificial food colouring? Or that polysorbate 80 (found in one of my numero uno foods – pickles) has been linked to intestinal issues, blood clots, stroke, heart problems and potential tumour regrowth in cancer patients. Yikes.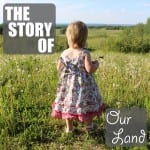 This one landing in the number two favourite blog posts spot instead of number one surprised me. It's probably my personal favourite. It also seemed to get quite a bit of attention on social media. (Please note that for a tiny little blog like this one "quite a bit" is actually "not much at all, but significantly more than other posts.") As you can see, it features a gorgeous photo of my gorgeous eldest daughter at the age of approximately one and a half. It also features a bunch of other images of our land and the full-fledged take of how it came into our lives and stole our hearts.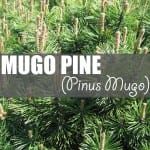 1. Mugo Pine (Pinus Mugo)
It looks like my visitors love trees as much as I do! Of all my "Tree of the Day" posts this one is most special. It's all about one of my favourite trees ever – Hugo the Mugo. Hugo, who lives in the front yard of my childhood home, is like another sibling to me. We quite literally grew up together. And one time he tried to grievously injure me with his needles, which is totally something a sibling would do. I sure do love him and his wild and unruly ways.
I hope you liked my anniversary recap! Which of the above favourite blog posts is YOUR favourite? Which of the above post types do you want me to do more of? We've got a pretty good cross-section – gardening, recipes, healthy eating, personal anecdotes and pseudo-scientific information about tree species. Let me know which ones you enjoy and I will take it into consideration as I move into another year. It's going to be a good one, so don't forget to subscribe!
PIN ME!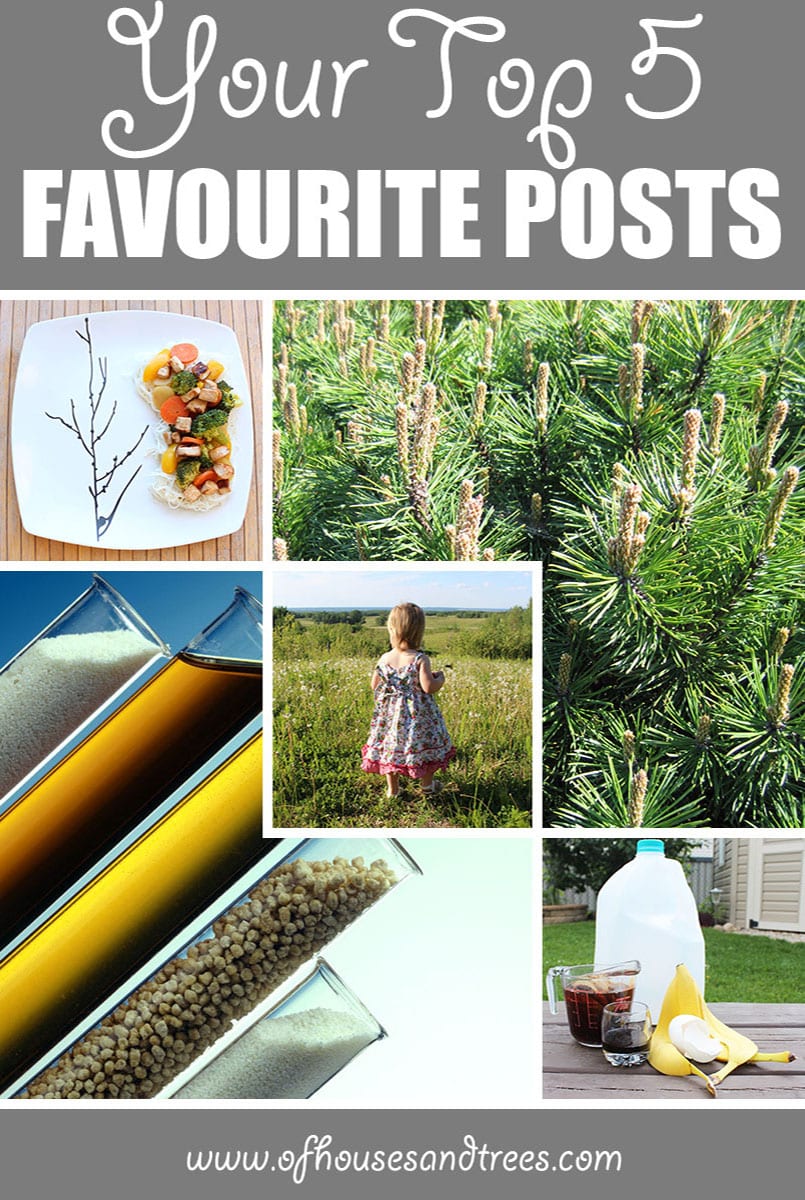 Posted on March 31, 2017
Former architectural technologist. Current treehugger.
I'm here to help you green your home – and your life.
Like what you're seeing? If so, please consider supporting Of Houses and Trees on Patreon – and get a few perks for yourself!
Subscribe to the Of Houses and Trees monthly newsletter and I'll send you my FREE list of "The 8 Best Places to Buy Eco-Conscious Decor Online."
Find out more about our 40 acres of land in Parkland County, Alberta and the sustainable home we built amongst the trees.
Your Top 5 Favourite Posts