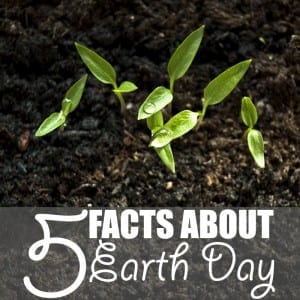 Happy Earth Day friends! If it feels like we just celebrated Earth Hour it's because… we did. But really – is one hour plus one day enough time to fully acknowledge this planet that gives us so much? I think you know my answer to that question. Which is why I've created an enjoyable – yet informative – post featuring five facts about Earth Day. Just for you!
But first, let me boldly suggest we celebrate Earth Day 365 days a year. If this sounds like a daunting task – relax – it isn't! It really is about the little things we do every day.
The things that become so ingrained in our routine they no longer are tasks to put effort into. They're just life. This Earth Day, let's vow to make caring for our planet something we just do. Every day.
So here they are, five facts about Earth Day. Plus five simple ways to integrate the philosophies of this one day into your daily life!
The first Earth Day, which was celebrated on April 22, 1970, is said to have set in motion the modern environmental movement. Now, more than one billion people participate in Earth Day activities annually.
Be a part of the movement by doing something earth-related today. For events near you, search "earth day activities (your city)." For example, the nearest large city to me is Edmonton and I found a cleanup event, a festival, a party, a march for science and a workshop for kids. Today, my family's earth-related event will be one of our own making. Spending time together in nature and teaching our children about the wonders of our planet so they understand – as a new generation – why it's worth saving.
Protests against the Vietnam War served as inspiration for the first Earth Day. Earth Day founder Gaylord Nelson, a Wisconsin Senator, wondered if that same public energy could be channeled into awareness about air and water pollution.
Ditching the chemicals you use to clean your house and replacing them with natural solutions like vinegar, baking soda and essential oils will not only help cut back on water pollution, but air pollution too because – hello – VOCs. Visit my post 3 Surprisingly Simply Ways to Help the Environment for more info on why chemical cleaners equal badness and links to recipes for homemade cleaning products.
The Earth Day Network, whose mission is to build the world's largest environmental movement, works year round to broaden the definition of the word "environment" to include issues impacting our health, creating green jobs and promoting activism.
Speaking of our health, did you know the World Health Organization has classified processed meats as a Group 1 carcinogen? And that bowel cancer is more common among those who consume red meat? No, I'm not going to launch into a stop eating meat rant. I get it – it can be hard. But eating LESS meat – even if it's just one meal a week – is not hard (veggie stir fry!). And not only is it good for your body, it's also good for the environment as meat is the most environmentally taxing food to produce.
Earth Day has had its fair share of challenges over the past forty-plus years such as disbelief in climate change, an increase in oil lobbyists and a disinterested public. However, over the last decade Earth Day has been re-established as a valid event and is currently the largest secular observance in the world.
Dealing with the issues our planet is facing can sometimes seem overwhelming, which too often leads to inactivity. The birthday presents you made for your parents as a kid and taking care of our planet have something in common. It's the thought that counts. If you simply think about how your daily actions impact the environment, you'll find yourself making environmentally friendly choices naturally. For example, the next time you buy lightbulbs, splurge for LED. They'll last you about fifty times longer than a regular incandescent bulb and use a fraction of the electricity.
Worldwide Earth Day events include teach ins, tree plantings, rallies, flash mobs and just plain old picking up trash. But much like Earth Hour, it isn't about what you do today – it's about what you do the rest of the year. 
Make a pledge to yourself that going forward you will do ONE THING that's good for the planet. That's it. Just one little thing. And if what I've suggested above doesn't work for you, find something that does. Try walking instead of driving. Start recycling. Grow your own vegetables. Shop with reusable bags. Buy earth-friendly products. It doesn't have to be difficult. It just has to be done. Because our planet, well, it's kind of worth it.
Do you have any Earth Day plans? What do you do on a daily basis that's earth-friendly? Do you know any other cool facts about Earth Day that I missed? Leave a comment – both myself and the earth will appreciate it! And don't forget to subscribe for more posts on sustainability as well as architecture, interior design, DIY projects, crafts, gardening, home decor and healthy eating.
PIN ME!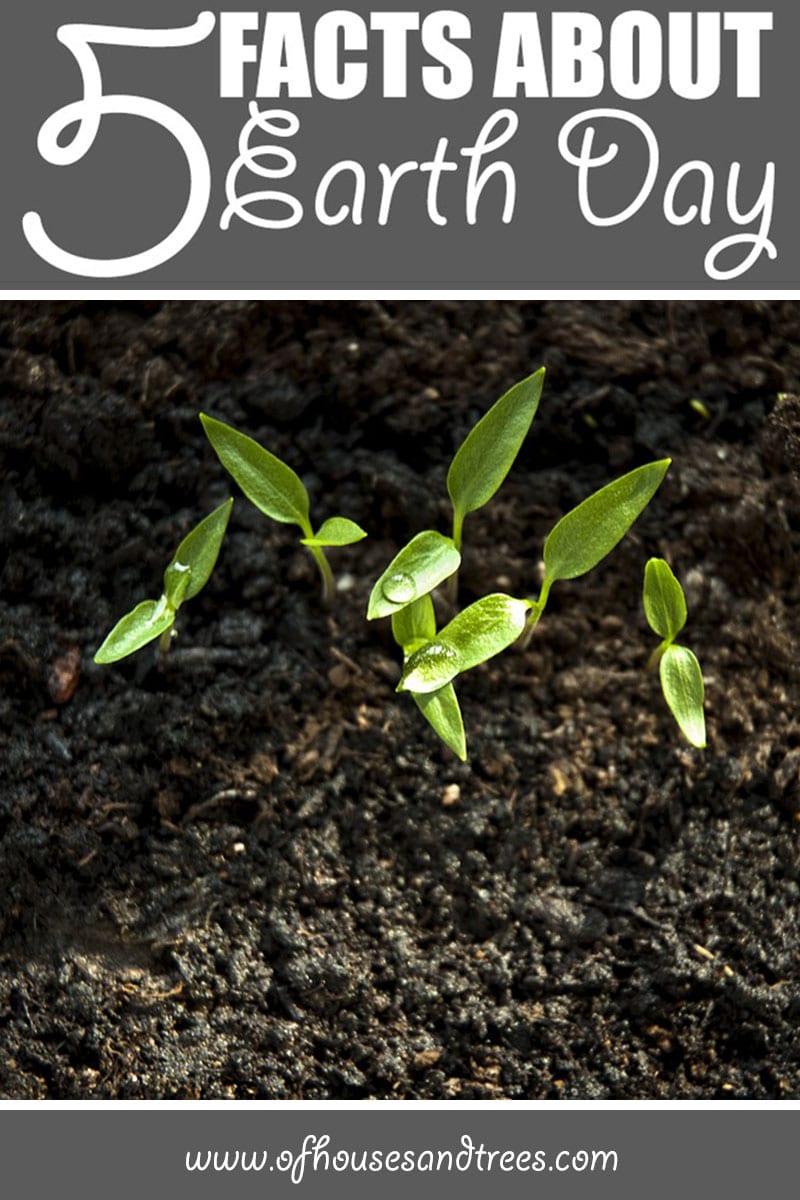 April 22, 2017
Former architectural technologist. Current treehugger.
I'm here to help you green your home – and your life.
Like what you're seeing? If so, please consider supporting Of Houses and Trees on Patreon – and get a few perks for yourself!
Subscribe to the Of Houses and Trees monthly newsletter and I'll send you my FREE list of "The 8 Best Places to Buy Eco-Conscious Decor Online."
Find out more about our 40 acres of land in Parkland County, Alberta and the sustainable home we built amongst the trees.