Back-to-school may be a stressful time, but with my eldest daughter entering Kindergarten – I'm actually pretty excited. I know she's going to love it what with all the learning and the crafting and the playing. And – although having her away from home for two (sometimes three!) full days a week will be hard – I think it will be good for us as a family.
Plus, sending her to school means I get to shop for school supplies – something I've always had a bit of a fascination with. And not just any school supplies, but eco-friendly ones!
I won't lie, finding earth-friendly versions of everything on the list provided by her school was not easy. It isn't that eco-friendly school supplies don't exist, or even that they're too expensive. But they weren't easy to find in our local stores or on websites that would ship to us for a reasonable price. But don't let that discourage you! The more of us that demand these types of products by refusing to buy anything else, the more readily available they'll be.
And, for those of you who live in other parts of the world, some of these products will be much easier to find. My number one piece of advice would be to always think before you buy. Do your research, read the labels, shop around. And – if you can find any of the items on your school supplies list secondhand or, better yet, you already own them, then yippee for you!
If you prefer to digest information via moving pictures, you can watch this video of me going through all the eco-friendly school supplies I bought for my daughter – complete with a special (and adorable) appearance of said daughter!
Note that this post contains affiliate links, meaning if you click on a link and make a purchase a small percentage of the sale goes to yours truly. Please know that I only link to products that are good for the earth, good for the soul, or both!
---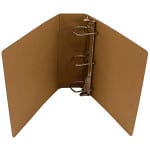 I very much wanted to find a binder for my daughter that was either secondhand or made of recycled materials, but the school requested a very specific binder – a 1.5″ D-ring binder with a clear overlay. Not really sure why a five year old needs this exact binder, but I obliged. I was able to find a new PVC-free binder that matched the specs, but if you're able to purchase a binder made from recycled content then I envy you… for real.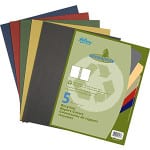 So apparently only Canadians call the report covers with the metal prong fasteners duotangs, but that's what I've always known them as. I was also surprised to learn that Hilroy school supplies, which I grew up on, are hard to come by in other countries. Lucky for us Canucks, Hilroy has a line of products made out of recycled content so I snagged these Enviro-Plus Report Covers. If you live elsewhere, these ACCO Report Covers are made from 50% recycled content.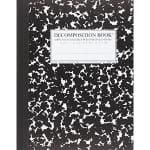 As mentioned above, Hilroy's recycled school supplies are pretty much exclusively found in Canada so I bought a few Hilroy exercise books from our local Staples. I imagine they're equivalent to composition books, which I never used as a student, but have seen in many a TV show or movie. These cleverly named decomposition books are made from 100% post-consumer waste and were printed using soy ink.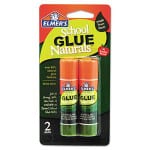 Glue sniffers and glue eaters rejoice! Elmer's has glue sticks made from plants, packaged in a glue barrel made from post-consumer recycled plastic and affixed with a label printed with soy ink. Another brand you might want to check out is Onyx + Green, who have quite a few products I'd love to try out. Unfortunately Onyx + Green products are harder to come by in Canada, but their glue sticks are available right here on Amazon.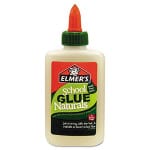 And the natural glue celebration continues! Elmer's does it again with a liquid glue made with 99% natural ingredients. I actually bought my bottle from our local Walmart. (Not my favourite place to shop – but I'll shop almost anywhere if it means eco-friendly alternatives.) But like its glue stick cousin, it's also available on Amazon.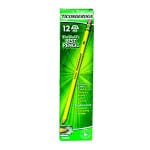 If a company goes so far as to call their product "The World's Best Pencil," well then they better be some damn good pencils. And they are! Not only do they do all the things pencils are supposed to do, but they're also made from reforested wood, are printed with non-toxic ink, have latex-free erasers and are 100% recyclable. Another pencil to check out is Onyx + Green's recycled newspaper pencils.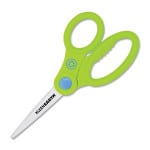 I found these scissors when I was researching products for my Eco-Friendly Craft Supplies for Kids post and just knew I had to have them when it came time to buy a pair of "big-kid" scissors for my daughter. Not only is the plastic handle made from post-consumer material, it's also antimicrobial, which stops bacteria growth that leads to odours, stains – and sniffles.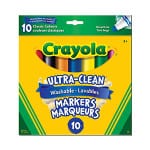 Did you know that Crayola markers contain recycled plastic resin and that some of their products are made with the help of solar power? Neither did I! I tend to be skeptical of big companies because they don't always have the environment's best interests in mind, but I was happy to learn that one of the biggest school and art supplies corporations in the world does have a green initiative. Another option are these non-toxic markers made from environmentally friendly materials that I also featured in my Eco-Friendly Craft Supplies post.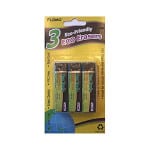 Much like the very specific binder requirement, my daughter's kindergarten supplies list asks for white erasers. If it hadn't, I would have tried to get my hands on these erasers made of natural charcoal. But alas, instead I resorted to new PVC-free white erasers. Why PVC-free? According to Greenpeace, "PVC contaminates humans and the environment throughout its lifecycle: during its production, use, and disposal. Few consumers realize that PVC is the single most environmentally damaging of all plastics." The solution? Buy PVC-free products!
Here are a few school supplies my daughter didn't require this year, but are pretty common items for older students.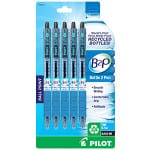 These retractable ball-point pens by Pilot are made from recycled bottles. Even good ol' Bic has their Ecolutions pens made from 62% pre-consumer recycled plastic.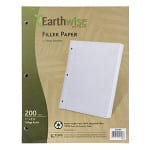 Paper is probably one of the easiest eco-friendly school supply items to find. Ampad has lined paper made from 100% post-consumer fibre while Printworks has printer paper made from recycled food and beverage containers. Cheers!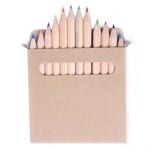 Yet another product from my Eco-Friendly Craft Supplies post, these non-toxic pencil crayons come in a plain box – meaning no ink was used on the packaging. And the adorably named brand ColOWLful also has non-toxic pencil crayons in an eco-friendly box.
Not to mention calculators, dividers, backpacks, lunch kits and more! Don't forget to shop for your eco-friendly school supplies at thrift stores, to raid your school supplies stash and to look for products made from recycled and non-toxic materials. And remember to either reuse, donate or recycle everything when you're done using them!
Don't forget to SUBSCRIBE to have posts on sustainable design, sustainable living, sustainable eating – sustainable everything – delivered to your inbox!
PIN ME!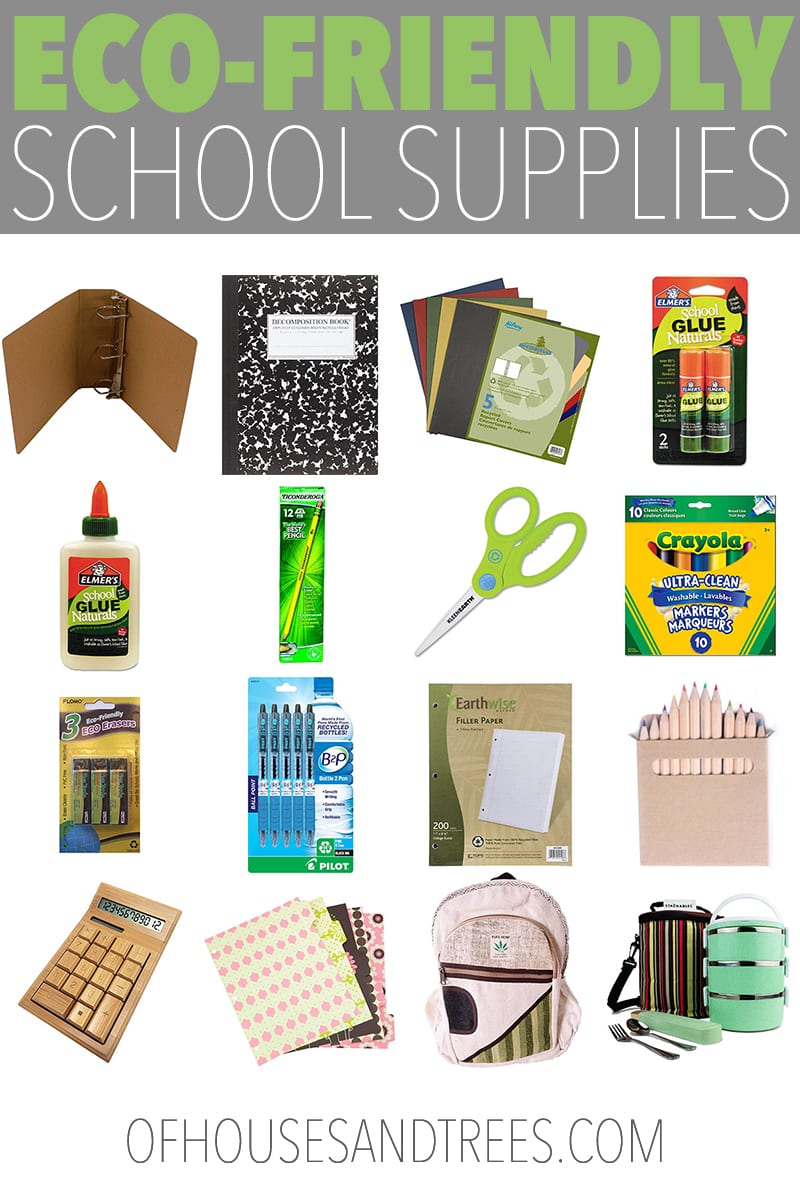 Posted on August 5, 2018
Former architectural technologist. Current treehugger.
I'm here to help you green your home – and your life.
Like what you're seeing? If so, please consider supporting Of Houses and Trees on Patreon – and get a few perks for yourself!
Subscribe to the Of Houses and Trees monthly newsletter and I'll send you my FREE list of "The 8 Best Places to Buy Eco-Conscious Decor Online."
Find out more about our 40 acres of land in Parkland County, Alberta and the sustainable home we built amongst the trees.
Eco-Friendly School Supplies