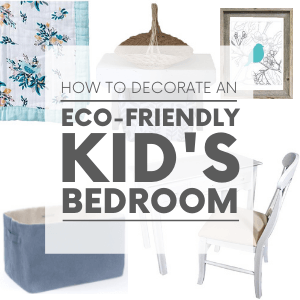 Rooms for kids are the perfect place to go all out with eco-friendly decor. Why? Because so many parents already want their child's room to be non-toxic and tend to gravitate toward natural materials anyway. (With the exception of all that unnecessary plastic. There are other options – I promise!) 
Kids' rooms are also the perfect place to throw in some secondhand furniture and decor – because it means saving money! And, more importantly, it means there's no need to buy brand new – and no need for all the packaging that comes with new items.
Plus, by involving your kids in the decorating process, you can explain to them why you're choosing green items and start them on the road to living an eco-conscious life. Because teaching the next generation to consider how they impact the environment in everything they do is the key to a sustainable future!
I was inspired to create this post by my lifelong best friend, who wants to create a beautiful (and organized!) space for her seven year old daughter. By combining existing furniture and decor with natural and secondhand items – plus some cute storage solutions – her daughter's bedroom is going to be environmentally friendly AND easy to keep clean.
Here are five simple steps to creating an eco-friendly kid's room.
---
Note that this post contains affiliate links, meaning if you click on a link and make a purchase a small percentage of the sale goes to yours truly. Please know that I only link to products that are good for the earth, good for the soul, or both!
---
Use What You Already Have
If you're redecorating a pre-existing space, consider what you can reuse. Try and think outside the obvious as well. A wooden toy chest doesn't have to be for toys. Why not use it to store clothes? Or craft supplies? How about turning it on its side, putting some shelves in it and making it into a miniature library? Use your imagination! Or, maybe your kid has a desk that you're planning to keep and use… as a desk. Nothing wrong with that!
If you're starting from scratch, don't think that means you have to buy all new. Shop your own home first. What can you relocate to your kid's room? Can that living room armchair become a cozy place to curl up and read? Can those baskets under your bathroom sink become storage boxes for toys, clothes or books? And remember, repainting and reupholstering can turn a seemingly boring "grown-up" item into a fun, colourful, customized piece for your child's space.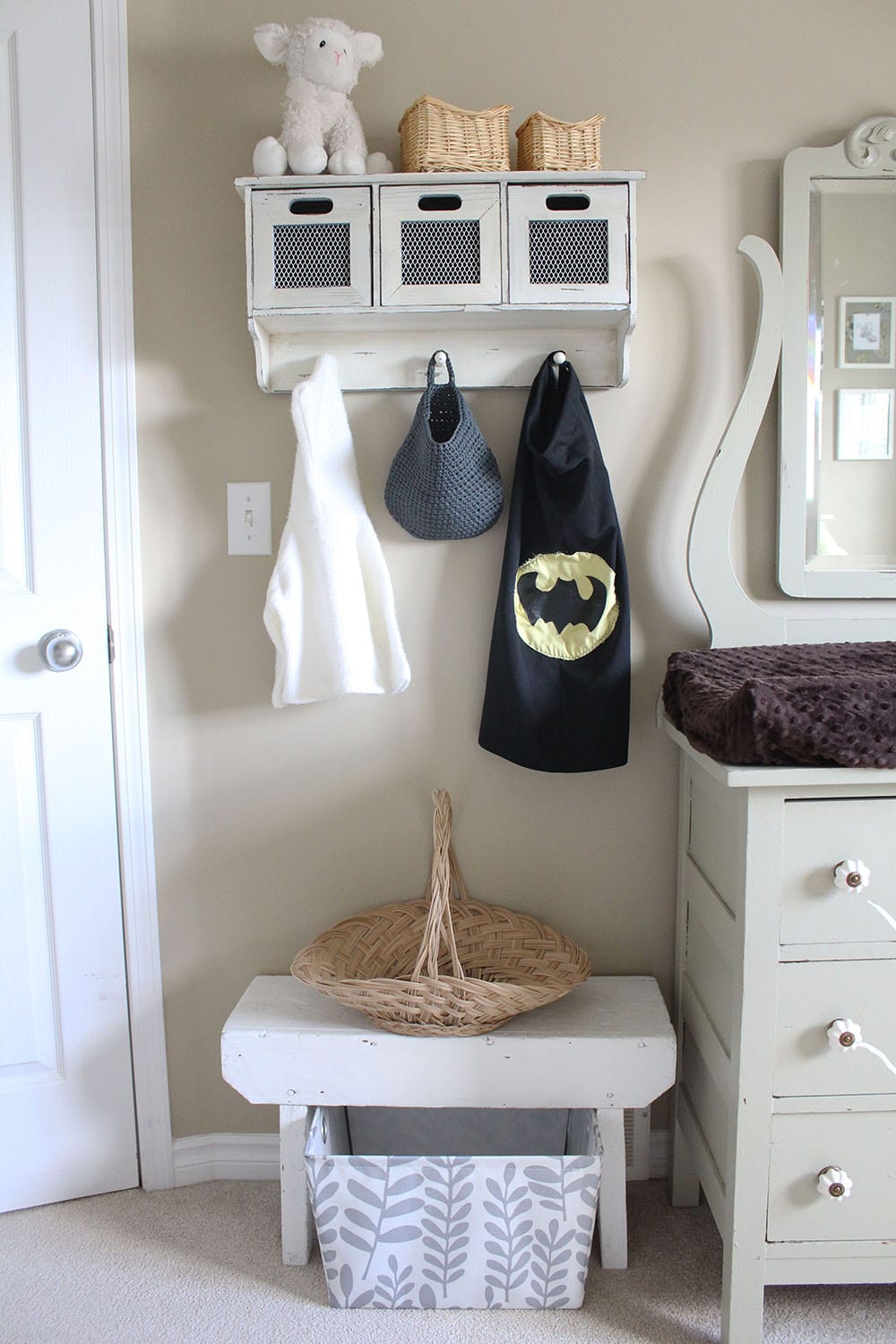 Buy Secondhand
I've said it before and I'll say it again, secondhand furniture is the best! Why? Because it's environmentally friendly, it's inexpensive, and it's just asking to be repainted with your own signature style. Most of our secondhand furniture was passed down to us before I remade it, such as this this tree dresser from our old nursery and this other tree dresser from my eldest daughter's room. But other items, like this rocking chair, I bought secondhand. So, where are the best places to find secondhand furniture and decor for a kid's room?
It's no secret to regular reader's of this blog that I'm a BIG fan of Etsy. Why? Because it gives you the chance to buy items from small businesses and individuals around the world. Including secondhand items! Etsy has a huge vintage section including vintage furniture, vintage decor – plus vintage toys. There's even a dedicated section for vintage kids' furniture! Most people don't automatically think of decorating their kid's room in vintage items, but I say why not? Vintage items have character and are much easier on the environment than new items. You should definitely also try consumer-to-consumer sites like eBay, Craigslist and Kijiji, as well as local buy and sells and garage sales.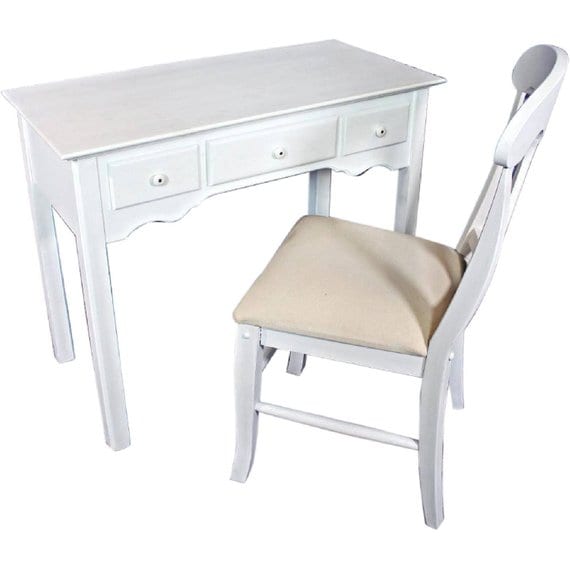 Choose Natural Materials
If you're going to buy new, the first thing you should look for are items made out of natural materials. I'm talking fabrics like bamboo, organic cotton, linen, muslin and materials found in nature such as wood. Not only are these materials better for the environment as they are more eco-friendly to produce, but they also contain little to no toxins, which is exactly what you want in your kid's room.
The great thing is that once you know what to look for you can find items made of natural materials anywhere. Look for bedding made out of bamboo and organic cotton, curtains made from linen and furniture made from solid wood as opposed to composites or plastics. This is also another great opportunity to involve your kids in the decor process by asking them what kinds of animals or items found in nature they want featured in their room. A few choices popular with kids are birds, horses, elephants, dogs and cats. Trees, leaves, flowers, bugs, mountains and water-inspired decor are other fun ways to bring the outside environment into your kid's room.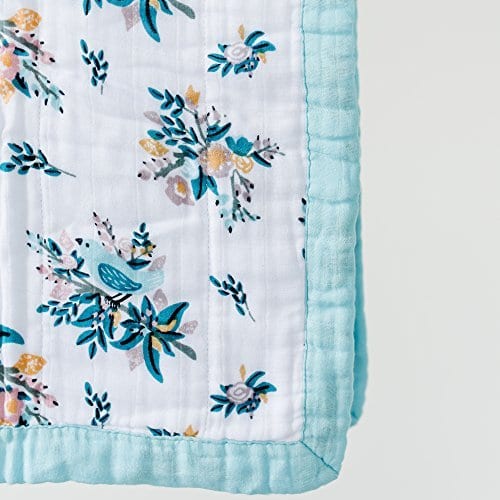 Less is More
I think most parents struggle with the perpetual mess that is our child's bedroom. And I know why. Because it's pretty much impossible to keep a room crammed with crap clean. Yup. Crap. I said it. A million stuffed animals. Tiny little trinkets. Multiple pairs of fairy wings. A dozen variations of Pinkie Pie. Okay, your kid's room probably has different stuff in it, but those are the exact things in MY kid's messy room.
Every few months I do a thorough clean and put aside a few things to donate to the thrift shop. Sometimes I involve her in the process, sometimes I don't. But either way, the less stuff in a kid's room – the less messy it will be. Keep only the clothes they wear (or will wear in the future), the toys they play with and the books they read. Clear away all but a few knick knacks and hang one or two meaningful photographs or pieces of art on the wall.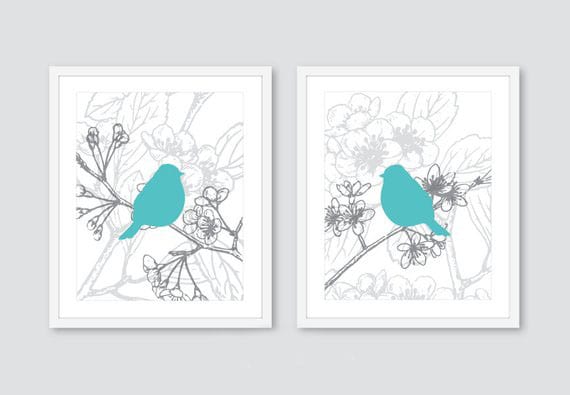 Get Green, Get Organized 
Now that you've gotten rid of all the extraneous stuff, it's time to organize. Essentially, every corner, every drawer, every shelf should have some sort of (green!) storage solution. It doesn't have to be fancy, expensive or brand new, but organizing your kid's room is where you've got to start thinking the way you would when putting together a puzzle. Every item should have a designated spot, and if it doesn't – does it really need to be in the room at all?
Green storage solutions could be anything from baskets made of recycled denim, to storage boxes made of natural materials, to vintage hooks (like these copper schoolhouse hooks from the 1940s). And remember, if the storage items are causing clutter themselves – they aren't really doing their job. And don't forget to utilize the area under the bed for storage, which will mean there's no room for random pieces of paper, markers with no lids, missing lego and leftover food from two weeks ago. Thankfully, the moldy food thing hasn't happened in my kid's room… yet.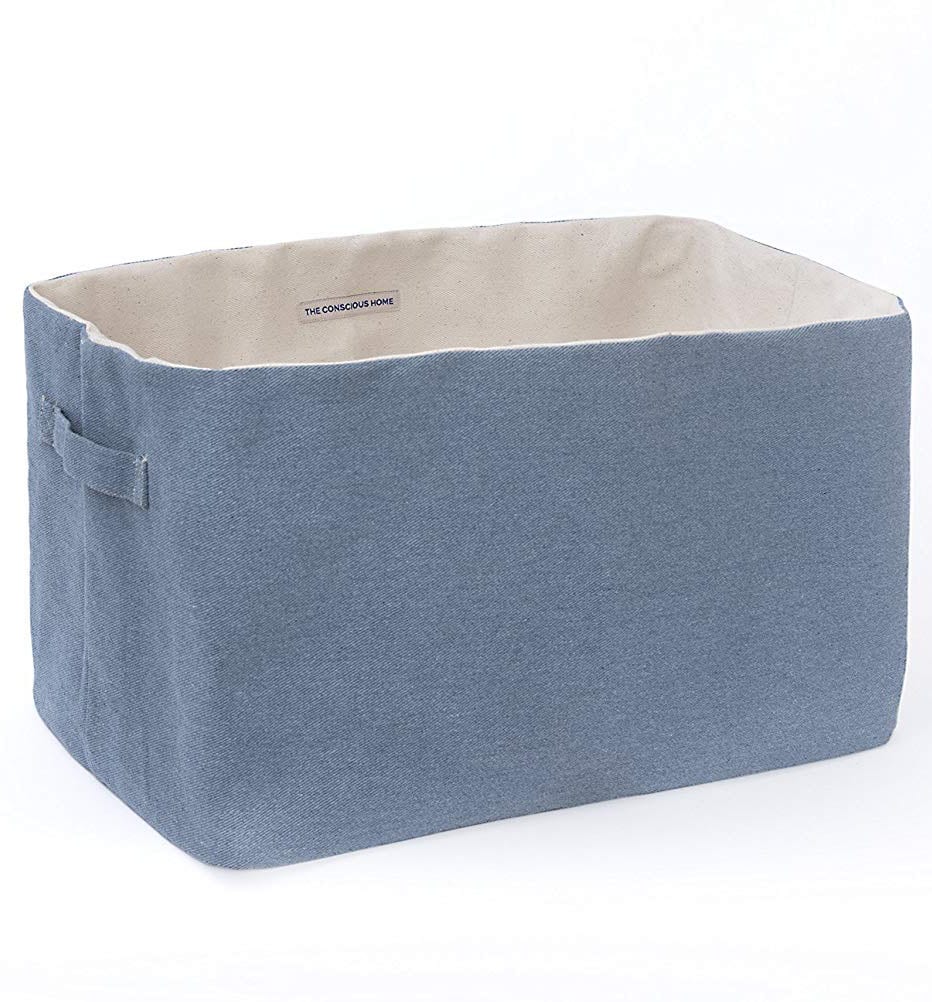 Don't forget to subscribe to have posts on sustainable design, sustainable living, sustainable eating – sustainable everything – delivered to your inbox. Let's be treehuggers together!
PIN ME!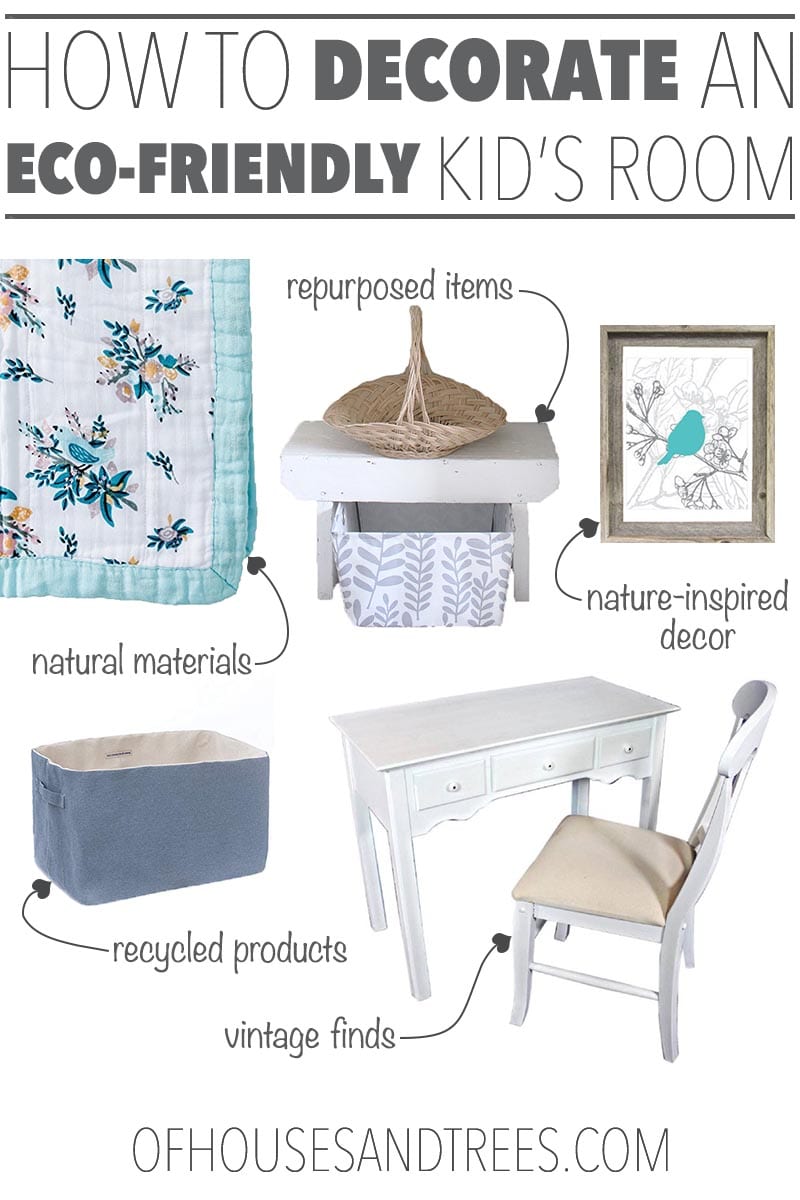 Posted on September 18, 2018
Former architectural technologist. Current treehugger.
I'm here to help you green your home – and your life.
Like what you're seeing? If so, please consider supporting Of Houses and Trees on Patreon – and get a few perks for yourself!
Subscribe to the Of Houses and Trees monthly newsletter and I'll send you my FREE list of "The 8 Best Places to Buy Eco-Conscious Decor Online."
Find out more about our 40 acres of land in Parkland County, Alberta and the sustainable home we built amongst the trees.
How to Decorate an Eco-Friendly Kid's Bedroom