Ever since my eldest daughter could hold a crayon (without eating it), she's been a crafter. Colouring, stickering, cutting, glueing – she does it all and loves it all. So, of course I'm always on the hunt for the most eco-friendly craft supplies I can find.
You'd think it would be easy – after all, most kid's craft supplies are non-toxic. But just because something is non-toxic to humans doesn't mean it's environmentally friendly.
I've rounded up a few of the greenest craft supplies I could find.
All of these products are made from natural materials or recycled content or both. Let the crafting begin!
---
Note that this post contains affiliate links, meaning if you click on a link and make a purchase a small percentage of the sale goes to yours truly. Please know that I only link to products that are good for the earth, good for the soul, or both!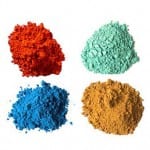 This all-natural craft paint is handmade from sugar glucose powder, calcium carbonate and natural earth pigments. Just add water and you're good to go!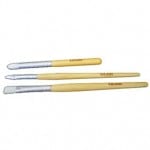 Bamboo Paint Brushes
Not only are these bamboo paint brushes made from one of the most sustainable products on earth, but there bristles are made from a cruelty-free synthetic fibre.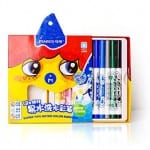 Eco-Friendly Washable Markers
Of course, finding markers that are washable are a must. But don't think because they're washable it means they're green. These eco-friendly washable markers are made from environmentally friendly materials and meet EU safety standards.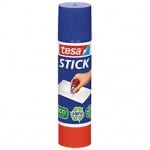 Plant-Based Glue Stick
This plant-based glue stick is made without the use of solvents and is packaged in 100% recycled plastic.
---
---
---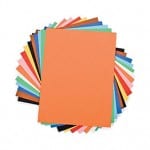 Strangely, it took a lot of digging to find eco-friendly craft paper. Then I came across this construction paper made from 100% recycled fibre and it seemed so simple. Acid-free, fade-resistant and available in every colour of the rainbow.
Need help choosing eco-conscious furniture and decor for your home? That's what I'm here for!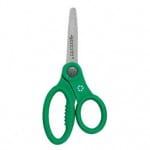 Recycled Scissors
I've been looking for child-sized scissors made from either natural or recycled materials for awhile now and was super excited (too excited?) when I came across these recycled scissors. I like that they have two kinds – blunt tip for younger children and pointed tip for older.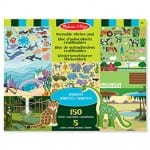 Reusable Stickers
We bought this reusable sticker set for our daughter when she was 18 months old and she still plays with it when we bring it out. Unfortunately, I'm not sure if it's made out of environmentally friendly materials, but I am sure that stickers you can use over and over again are far more sustainable than the regular one-use kind.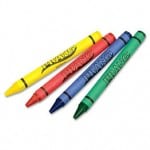 Soy Crayons
Did you know regular crayons are made from paraffin wax, which is derived from petroleum? Considering paraffin wax can take decades to decompose, biodegradable soy crayons are probably a better choice.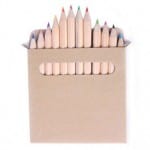 Wood Pencil Crayons
These wood pencil crayons come in a plain brown box, meaning no extra colours or dyes added. Plus, kids can decorate the box themselves. Fun!
I also have to throw in this super cool paper bead kit. With it, you can turn scrap pieces of paper into beads. I know what my daughter is getting for her next birthday!
Do you own any super awesome eco-friendly craft supplies? Let's chat in the comments about glue and paper and stuff. 
---
LET'S BE TREEHUGGERS TOGETHER!
Subscribe to have weekly treehugger tips + the latest Of Houses and Trees posts delivered directly to your inbox!

OH, AND LET'S BE FRIENDS TOO…
---
PIN ME!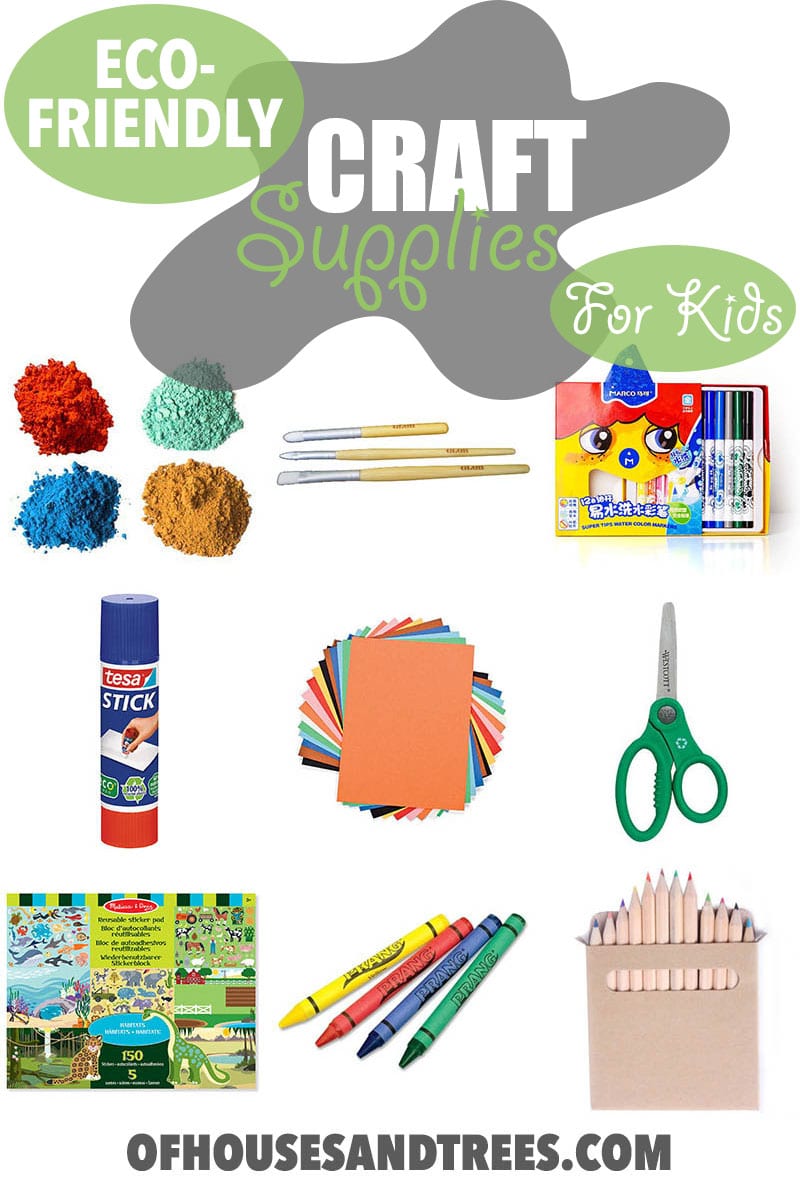 Posted on January 30, 2018 (Last Updated on December 23, 2018)
Former architectural technologist. Current treehugger.
I'm here to help you green your home – and your life.
Like what you're seeing? If so, please consider supporting Of Houses and Trees on Patreon – and get a few perks for yourself!
Subscribe to the Of Houses and Trees monthly newsletter and I'll send you my FREE list of "The 8 Best Places to Buy Eco-Conscious Decor Online."
Find out more about our 40 acres of land in Parkland County, Alberta and the sustainable home we built amongst the trees.
Eco-Friendly Craft Supplies for Kids