When it comes to creating an eco-friendly bathroom, we all know we need to reduce our water usage. But there's no reason to stop there! Companies who make traditional bathroom materials and products don't always take their environmental impact into account. Thankfully, there are a whole host of options for creating a sustainable space to wash, brush, floss and… all that other stuff.
As always, the first step is to follow the three Rs. If the bathroom is part of a new build or an addition to your home, reduce its square footage.
Next, reuse whenever you can – think secondhand items and reclaimed and recycled materials. If you're updating an existing bathroom, try and recycle any old fixtures and materials yourself. Or you could sell/donate them to someone else.
And that's only the beginning! Read on to learn how to design and eco-friendly bathroom that's as beautiful as it is green.
---
Note that this post contains affiliate links, meaning if you click on a link and make a purchase a small percentage of the sale goes to yours truly. Please know that I only link to products that are good for the earth, good for the soul, or both!
Eco-Friendly Bathtub and Shower
Whether you're a bath person, a shower person, or both (like me!) you don't want your cleanliness and relaxation to come at the expense of the planet's resources.
Although I wanted to feature mostly new items made from recycled or sustainable materials fin this post – so as to show the wide variety that's out there, I can't talk about bathtubs without mentioning that buying an antique clawfoot tub is reusing at its best. I've already purchased one for Our House in the Trees and I could not be more excited. (And no – I'm not exaggerating. I actually shed a few tears when I bought it.)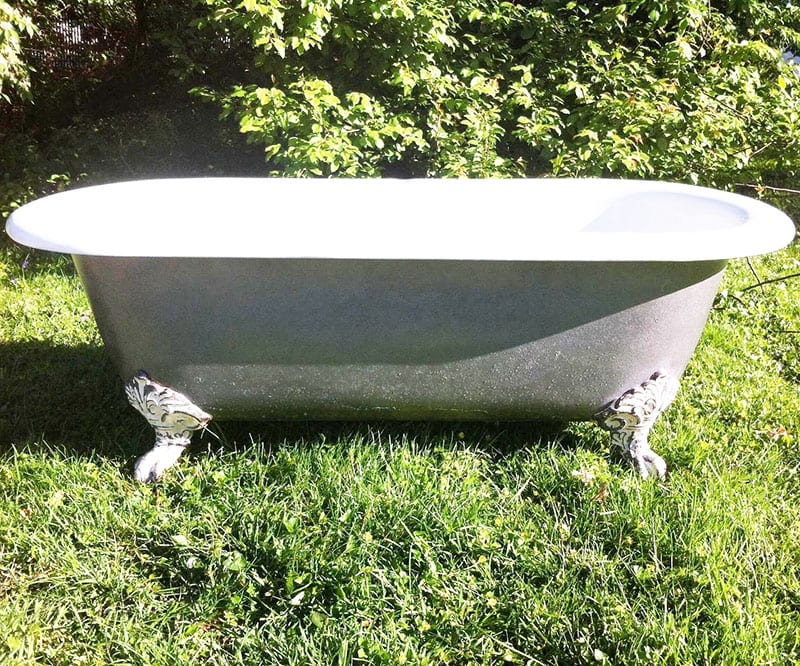 For new bathroom fixtures, sustainability-focused Blu Bathworks makes shower bases and bathtubs – as well as sinks – from a mix of quartzite and bio-based resin, making their products eco-friendly to produce, recyclable and a healthy, natural option for your home.
Eco-Friendly Vanity
Thank goodness for reclaimed wood! From beds to benches to frames to vanities – almost any kind of furniture can be made from reclaimed, reused and recycled wood. Certainly there are other eco-conscious vanity materials, such as recycled wood or rubber and FSC certified wood. But you know a treehugger like me just loves anything reclaimed!
We're planning on ordering two custom-built reclaimed wood vanities for our sustainable home build from a local company that also sells on Etsy.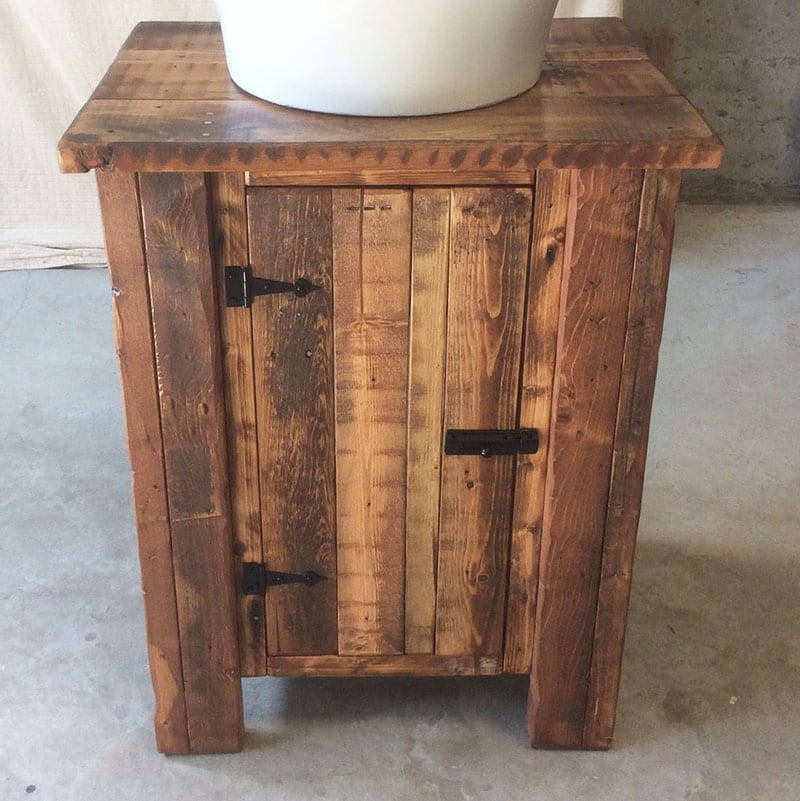 If you're really into the natural look, TheGreenTeam brings salvaged trees back to life by turning them into live edge vanity counters. But if reclaimed wood really isn't your thing, try a vanity made from eco-friendly MDF board.
Eco-Friendly Sink
Sure, sinks are one of the most functional items in the bathroom, but that doesn't mean they can't also be the prettiest. And, thanks to green companies and artisans, the options for an eco-friendly bathroom sink are impressive.
Canadian-based company WETSTYLE make eco-friendly sinks from their trademarked bio-based material called WETMAR BIO, which is made up of soy and mineral stone. So cool.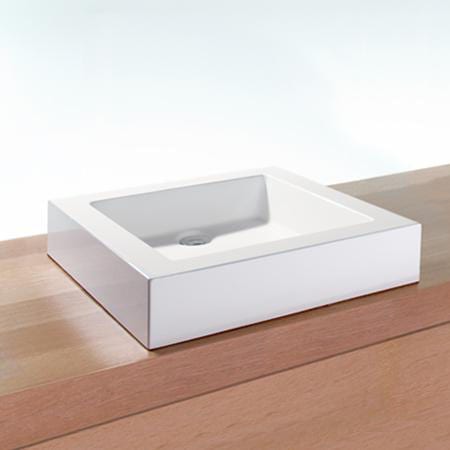 Copper is a material long known for its durability and recyclability. Plus, with talented artists creating pieces like this handcrafted copper bowl sink, you get to admire a work of art while you brush your teeth. And if you're into the super natural look, a hand carved stone sink will add a touch of the outdoors to your bathroom.
Need help choosing eco-conscious furniture and decor for your home? That's what I'm here for!
Eco-Friendly Faucets and Showerheads
When it comes to sink faucets, bath faucets and showerheads, the key to eco-friendliness is water conservation. WaterSense labelled products reduce water flow without sacrificing performance. Look for faucets with a flow rate of under 1.5 gpm (gallons per minute) and showerheads with a flow rate of under 2.0 gpm.
Vigo produces a wide range of bathroom faucets in a variety of finishing – including the ever-popular matte black, with the majority of their faucets having a 1.2 gpm flow rate.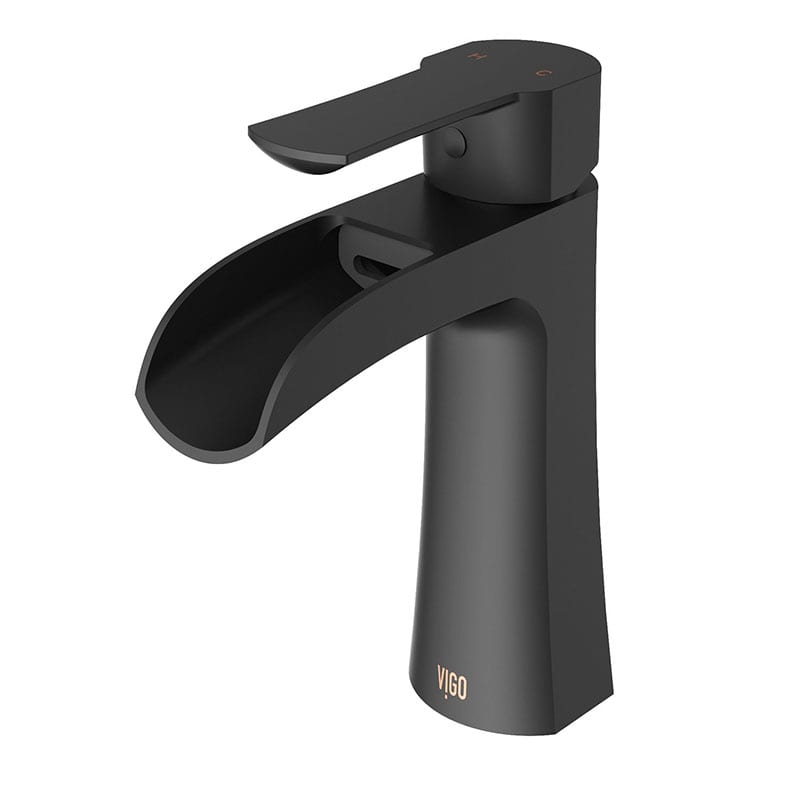 Delta offers Watersense labelled showerheads and faucets that conserve water. They're also designed to last twice as long as faucets that follow the industry standard of 500,000 cycles. And Moen's Roman Tub Faucet is Watersense certified and covered by lifetime warranty, while their Gibson Bathroom Faucet has a flow rate of 1.2 gpm.
Eco-Friendly Tile
Sometimes eco-friendly versions of products can be hard to find. Thankfully, tile for bathroom walls and floors isn't one of them. Many companies offer ceramic and glass tile made from recycled content.
Fireclay makes gorgeous ceramic tiles from recycled materials. And the company has a whole host of other awesome attributes to boot, including manufacturing all of their tile in North America and offsetting 100% of their carbon emissions. (Plus, you can custom design your own tile pattern!)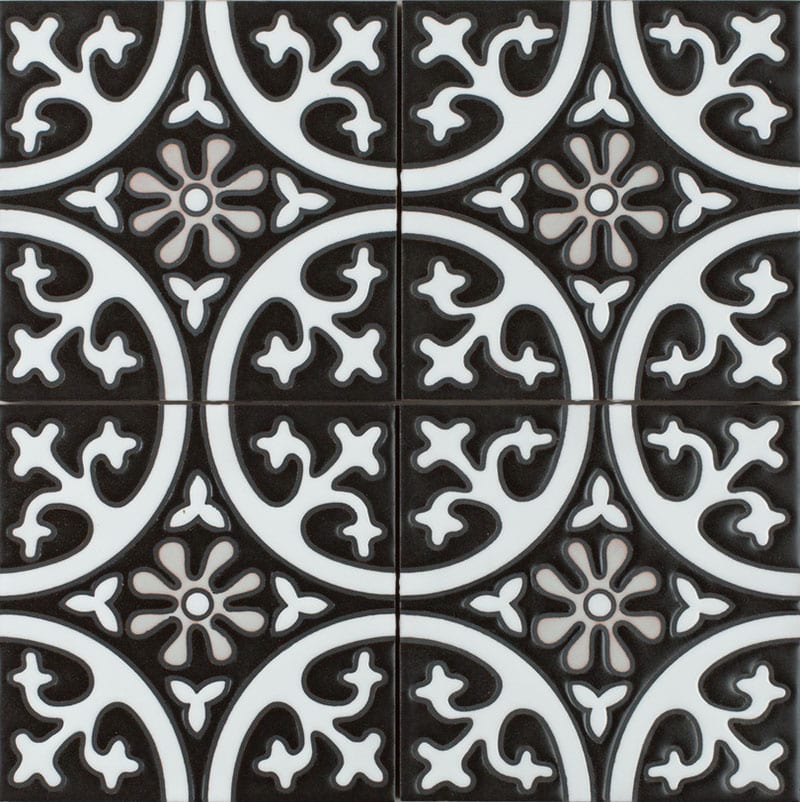 For glass tile, Oceanside offers a recycled content percentage for every single one of their tiles and note they recycle 2 million pounds of post-consumer bottle glass each year.
Eco-Friendly Toilet
I would be remiss not to mention what some may say is the centrepiece of the bathroom – the toilet! Just like faucets, some toilets are Watersense labelled. And must I point out the importance of dual flush when purchasing an eco-friendly toilet? I mean, why use the amount of water for a number two when you've only gone number one – am I right?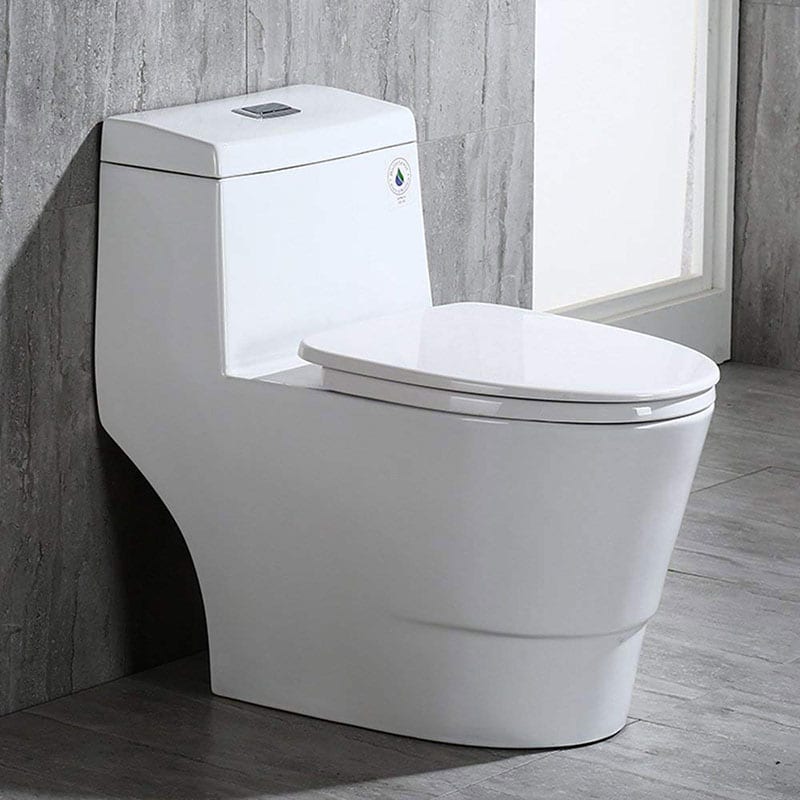 Former architectural technologist. Current treehugger.
I'm here to help you green your home – and your life.
Like what you're seeing? If so, please consider supporting Of Houses and Trees on Patreon – and get a few perks for yourself!
Subscribe to the Of Houses and Trees monthly newsletter and I'll send you my FREE list of "The 8 Best Places to Buy Eco-Conscious Decor Online."
Find out more about our 40 acres of land in Parkland County, Alberta and the sustainable home we built amongst the trees.
How to Design an Eco-Friendly Bathroom