Of Houses and Trees offers e-design services!
Need help creating the home of your dreams? Care about the planet? You've come to the right place.
What is e-design?
E-design – also known as e-decorating – is an online interior design service that allows you to get virtual help creating and setting up your interior spaces.
It's known for being more streamlined – and more affordable – than hiring an in-person designer.
Note that this page may contain affiliate links, meaning if you click on a link and make a purchase a small percentage of the sale goes to yours truly. Thank you for your support!
How does e-design interior design work?
Online interior design services vary, but most commonly include email contact with a designer, one or more custom design boards and links to the chosen home decor products.
With Of Houses and Trees, you answer a design questionnaire, send room measurements and photos, plus inspiration images of spaces you love.
I'll provide you with an initial design board, which you give feedback on, before receiving a final design board and a product list of the selected items. (You may also receive discount codes for some – or all – of the products. Yay!)
All that's left for you to do is purchase the products, set up your room and enjoy!
Here's a super short video outlining the process…
Why work with Of Houses and Trees?
There are a lot of places to find a home or room design service online. But Of Houses and Trees is different because each design ONLY features products made from sustainable materials – by eco interior brands or small businesses. 
I want to make it easy for you to create a beautiful and eco-conscious home – one room at a time!
Is sustainable interior design more expensive?
Looking for affordable interior design e-design and worried that the "sustainable" label comes with a hefty price tag? I'm happy to tell you – it doesn't have to!
Just as with regular home design and decor, there's a huge range of sustainable interior design products varying from budget-friendly to high end. You just have to know where to look. 
And that's where I come in!
Is sustainable interior design right for you?
Eco-friendly home design has come a long way. A sustainable home does not have to be a neutral, plant-filled oasis. (Although that certainly is one option!)
Any interior can be a green interior. Whether your personal decor style is bohemian, coastal, contemporary, industrial, farmhouse, mid-century modern, minimalist, rustic, shabby chic, traditional – or a mix of two or three – you can have a home you love AND be kind to our beautiful planet. 
How much does it cost and what do you get?
All custom designs include an initial design board and allow for one full revision, if necessary. Once you're happy with the items selected, I'll send you the final design board and shopping list with product links (plus any applicable discount codes).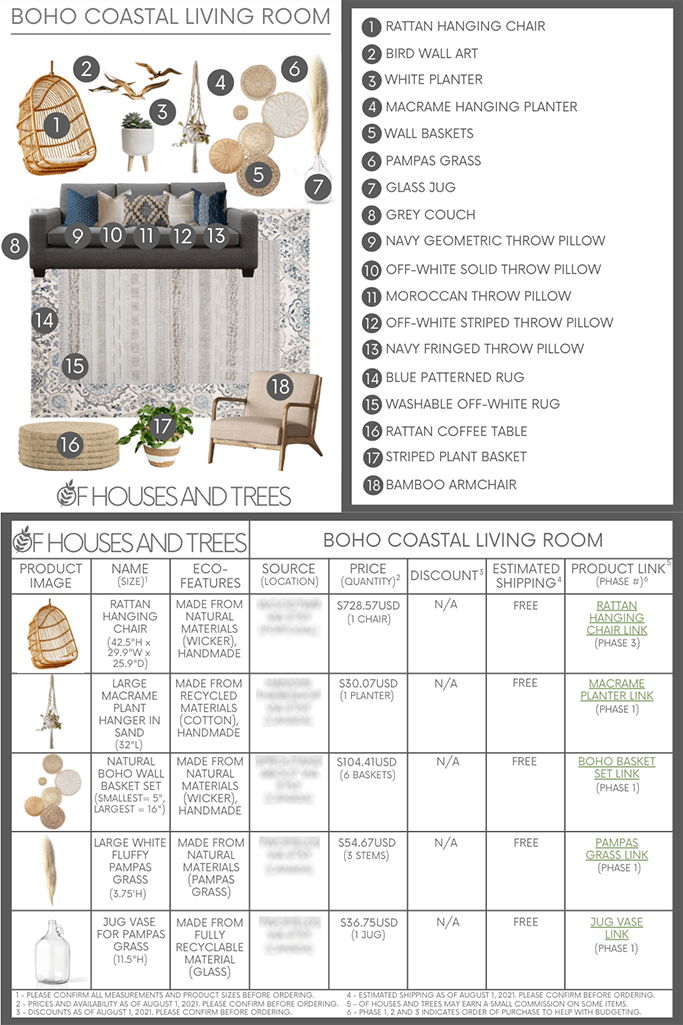 One Room Online Interior Design Package: $149 USD*

Two Room Online Interior Design Package: $250 USD*
If you'd like to work together on more than two rooms – or on your whole house – contact me for a custom quote!
*Please note that the above design fees do not include the furniture and decor items.
Here are a few examples of custom e-design packages!
Here are just a few examples of custom e-design interior spaces. Please remember these are just samples! If you need a different room in a different style – that's what I'm here for.
How long does the process take?
Once you fill and out and submit the design questionnaire, you can expect your initial custom design within 7 to 10 days*. If you're happy with it as is, then the process is finished!
If you request changes, you can expect to receive the final version of the board within a week.
*Please note timelines can vary depending on the scope of the project. If you have any questions or concerns about the timeline please don't hesitate to contact me!
Don't want to wait? Check out my ready-made e-design packages!
I also have ready-made e-design packages for sale, which means no waiting for a custom design. Just click, buy and decorate!
Use code OHAT15 for 15% off ready-made design packages!
Need paint suggestions too?
Need paint colour selections to go with either your custom or ready-made e-design package? Or maybe you don't need any furniture or decor recommendations and think a fresh coat of paint will do? Check out my interior paint palettes!
Use code OHAT15 for 15% off interior paint palettes!
Have questions about e-design – or anything else?
Feel free to contact me at larissa(at)ofhousesandtrees.com or fill in the contact form below.
I'm always ready to chat about any and all things sustainable!