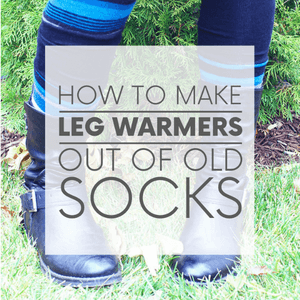 Keep your legs toasty – and look cute while doing so! Here are two ways to make simple DIY leg warmers out of old socks.
Whether you love the look of them, or just hate being cold, I bet you're thinking a pair of DIY leg warmers sounds pretty cozy right now. 
As a dancer, I wear leg warmers because I discovered the way to appease my achey post-baby knees is to keep them super toasty.
But I also wear leg warmers when I'm not dancing because, well – they're kind of cute, no? Although I do own a few pairs of store-bought leg warmers, I also have several pairs of DIY leg warmers made from old socks.

If you'd like to learn how to make leg warmers to call your very own, keep reading!
There are two different methods. The first is the super easy no-sew way. The second you can either sew by hand or with a sewing machine if you own one or have access to one.
Check out my how-to video below, where I demonstrate both ways to make DIY leg warmers from old socks, or scroll down below for step by step instructions!
Note that this post contains affiliate links, meaning if you click on a link and make a purchase a small percentage of the sale goes to yours truly. Please know that I strive to only feature eco-conscious products and brands.
The great thing about these techniques is – of course – they're super simple, but also that you can use them on any kind of old sock. You can even make sock leg warmers for toddlers or babies – just use smaller socks!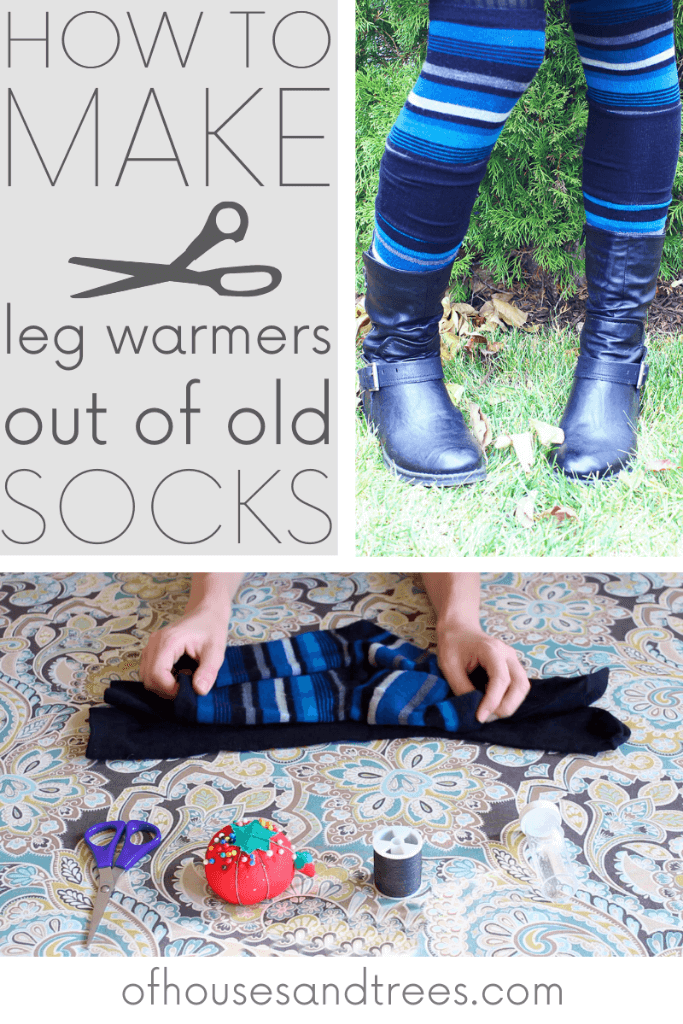 How to Make Leg Warmers Method 1: Cut and Done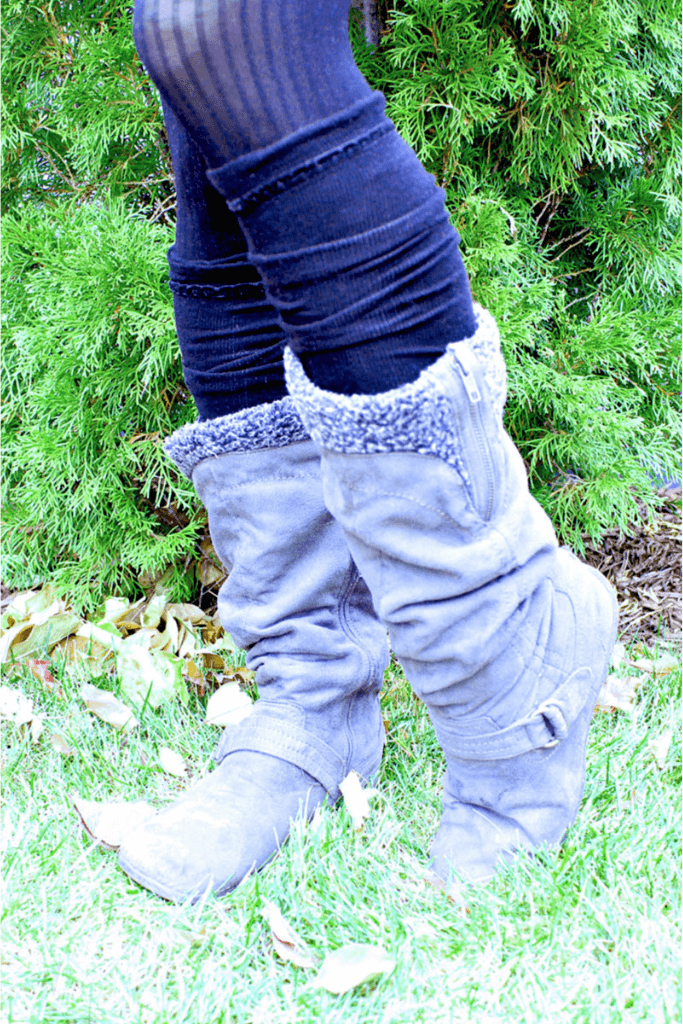 Supplies:
– scissors
Directions:
1. Cut the heel and toe off a pair of old socks. Try on and adjust as needed. That's it!
Need help choosing eco-conscious furniture and decor for your home? That's what I'm here for!
How to Make Leg Warmers Method 2: Cut and Sew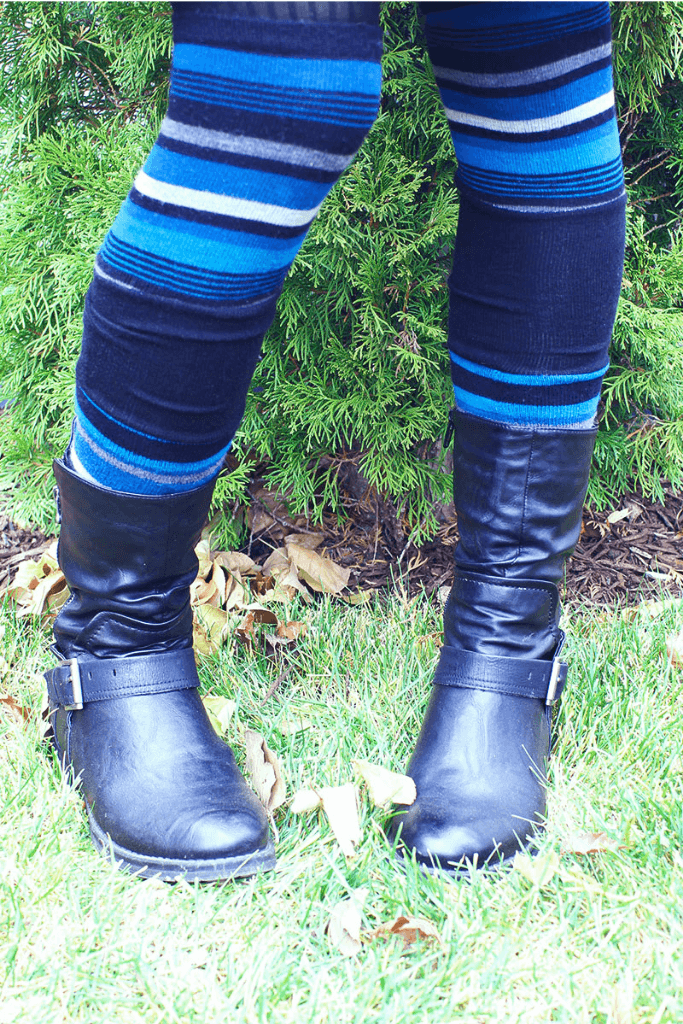 Supplies:
– scissors
– pins
– sewing machine or needle
– thread (thread with a bit of stretch works best)
Directions:
1. Cut sections out of two pairs of old socks. Make sure to keep the elastic at the top of the socks in tact.
2. Flip the sections inside out and arrange in order. (For example, striped section, solid section, striped section, solid section.)  Place the portions with the elastic at the top and bottom of the leg warmer.
3. Fold back a small lip around each rim and pin adjacent pieces together.
4. Sew each section, flip back to the outside and voila! Leg warmer paradise.
No Time to DIY? Handmade Sock Leg Warmers You Can Buy
Finally, if you love yourself a good DIY, but just lack the time to put into it, you can buy some hella cute handmade sock leg warmers on Etsy. 
Maybe you didn't make them, but someone did. Plus, you get to support a crafty artisan, which always feels great. Or, you can use these beautiful DIY leg warmers as inspiration.
Hope you found this leg warmers DIY helpful!
PIN ME!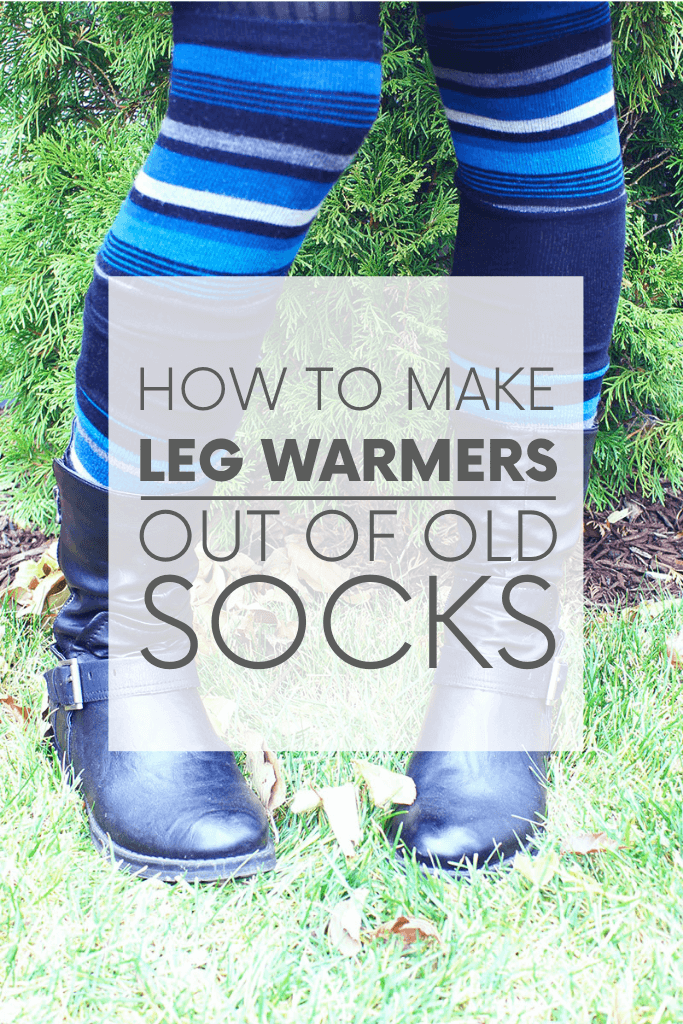 Last Updated November 16, 2021 (Originally Posted October 29, 2017)
Need help choosing eco-conscious furniture and decor for your home? That's what I'm here for!
Former architectural technologist. Current treehugger.
I'm here to help you green your home – and your life.
Like what you're seeing? If so, please consider supporting Of Houses and Trees on Patreon – and get a few perks for yourself!
Subscribe to the Of Houses and Trees monthly newsletter and I'll send you my FREE list of "The 8 Best Places to Buy Eco-Conscious Decor Online."
Find out more about our 40 acres of land in Parkland County, Alberta and the sustainable home we built amongst the trees.
How to Make Simple DIY Leg Warmers Out of Old Socks – Two Ways!