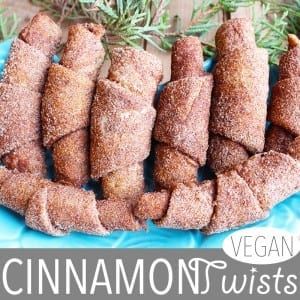 When I was a kid, my mom's cinnamon twists were the envy of all my friends. Every year as the holidays approached, my mom would pack these tasty bundles of cinnamon doughy-ness in my lunch and my classmates would just have to have 'em. They would offer me items from their lunch in exchange for just one cinnamon twist and – being the (somewhat) generous person I was as a child, I would share (sometimes). Now that I'm all grown I no longer feel the urge to bogart the cinnamon twists and am happily sharing my mom's cinnamon twists recipe with the whole internet. 
One catch though – I've made them dairy and egg free! If you're vegan – this is great news. If you're not – don't worry, you won't know the difference. Here's a breakdown of how to make cinnamon twists from scratch. It's pretty simple and the result is hella delicious.
---
Note that this post contains affiliate links, meaning if you click on a link and make a purchase a small percentage of the sale goes to yours truly. Please know that I only link to products that are good for the earth, good for the soul, or both!
---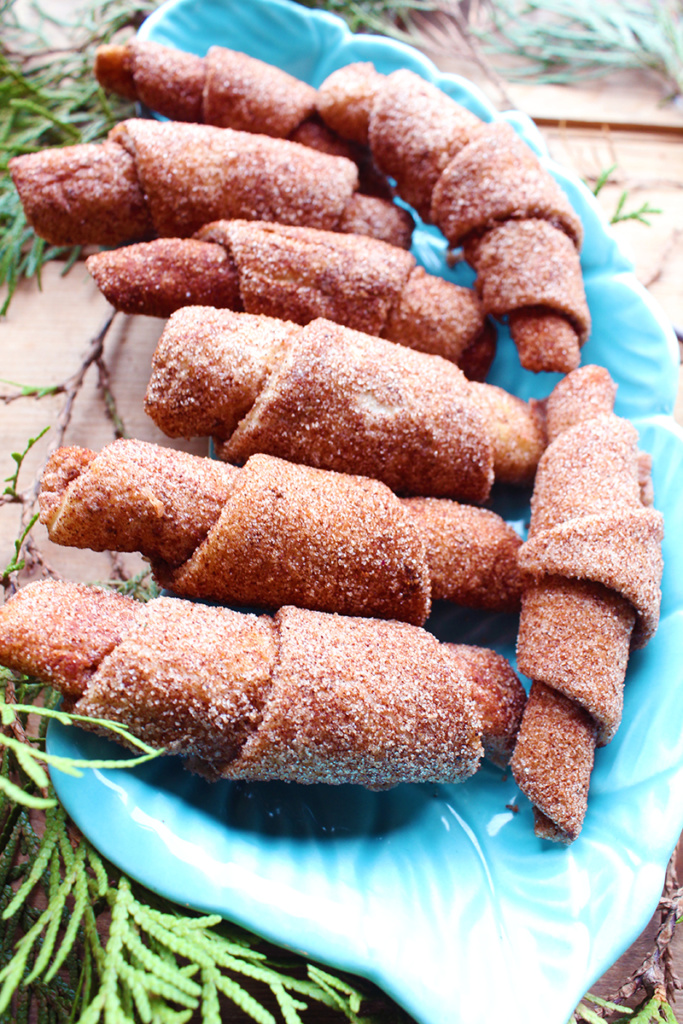 ---
Vegan Cinnamon Twists
Prep Time: 5 minutes / Cook Time: 15-20 minutes / Total Time: 20-25 minutes / Serves: Makes 32 cinnamon twists.
Cuisine: Baking / Description: Cinnamon Twists / Dietary Info:Dairy Free, Egg Free, Meat Free
Ingredients:
2 1/2 cups all purpose flour (or flour alternative)
1 tsp baking powder (try to get an aluminum free brand)
1 cup vegan margarine (such as Earth Balance)
1 chia "egg" (1 tbsp chia seeds + 2 1/2 tbsp water)
1/2 cup almond milk (or other milk alternative)
1 cup white sugar (I like to use cane sugar)
Cinnamon to taste
Directions:
1. Mix flour, baking powder and margarine using a fork or masher.
2. Mix chia seeds and water in a separate bowl and let stand for 2-3 minutes to thicken.
3. Add milk to chia egg, stir, then add wet ingredients to flour mixture.
3. Use your hands to mix well. If too sticky, add a small amount of flour. If too dry, add a small amount of milk. Separate into 4 balls and chill in fridge for an hour.
4. Spread about 1/4 cup of sugar on counter. Add cinnamon until mixture is light brown in colour and lightly kneed one ball on top. Roll out the with a rolling pin until you have a circle about 10″ in diameter.
5. Spread the cinnamon-sugar mixture from the countertop on top of the dough circle until the dough is covered. Flip and repeat on other side.
6. Cut the circle like a pizza so you have 8 "slices." Then, starting at the long end, roll each slice until the pointy end is tucked under the twist. Sprinkle more cinnamon-sugar on top if desired.
7. Repeat steps four to six for the remaining three balls of dough.
8. Place twists on one or two greased cookie sheets (you can also place them on parchment paper or on an eco-friendly silicone baking mat). Don't worry about spacing them out too much as they don't spread while baking the same way cookies do.
9. Bake at 325F for 15-20 minutes. Let cool completely, then store in an airtight container. (Or just eat them all in one sitting. I've done it before. You get over the shame pretty quickly.)
Do you have a favourite holiday baking recipe? Think you might give this easy cinnamon twist recipe a go? Comment below – let's talk all things pastry! Please consider sharing the recipe with all your cinnamon twist loving friends… or just save it for yourself. I won't tell.
Don't forget to SUBSCRIBE to have posts on sustainable design, sustainable living, sustainable eating – sustainable everything – delivered to your inbox!
PIN ME!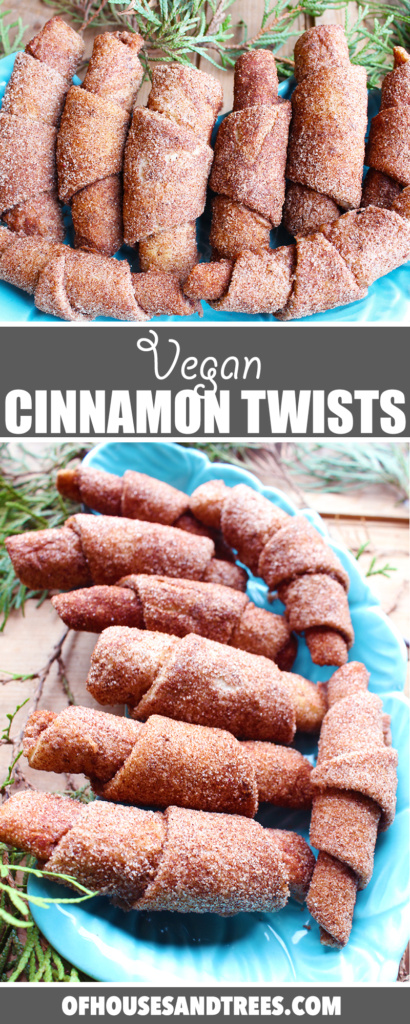 Posted on December 20, 2017 (Last Updated September 14, 2019)
Former architectural technologist. Current treehugger.
I'm here to help you green your home – and your life.
Like what you're seeing? If so, please consider supporting Of Houses and Trees on Patreon – and get a few perks for yourself!
Subscribe to the Of Houses and Trees monthly newsletter and I'll send you my FREE list of "The 8 Best Places to Buy Eco-Conscious Decor Online."
Find out more about our 40 acres of land in Parkland County, Alberta and the sustainable home we built amongst the trees.