Want to create a calm and uncluttered look for the holidays? Here are five tips on how to decorate a small living room for Christmas that are simple – and sustainable!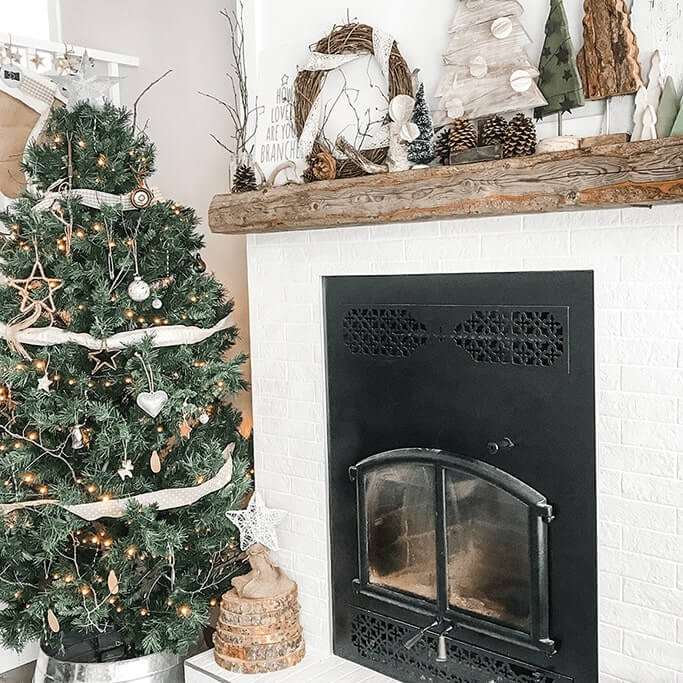 I find that one of the best ways to manage the frenetic holiday energy is to keep my home decor Christmas ideas pretty minimal. One way I achieve this by putting up the majority of our Christmas decor in the living room, which is a rather small space.
The benefit of keeping our decorations mostly contained to one space is that putting them up and taking them down is a quick process. But it also means I have to be quite selective in what I do put out so it doesn't look like the holiday section of a department store exploded in our living room.
Keeping things simple is also a great way to be eco-responsible during one of the more wasteful seasons of the year. Plus, keep things more minimal leaves more time for the things that matter – namely family, gratitude and eating lots and lots of homemade holiday treats.
So, here are my five small living room Christmas decor ideas to help you create a simple, cozy, eco-conscious space this holiday season. You can also use these ideas when putting out Christmas decor in small spaces anywhere in your home. Kitchen, bedroom, bathroom – you name it!
*Keep in mind that I only use the term "Christmas" because that's what I call it. Please replace it with the word for what you personally celebrate as you read and watch below!*
Note that this post may contain affiliate links, meaning if you click on a link and make a purchase a small percentage of the sale goes to yours truly. Please know that I strive to only feature eco-conscious products and brands.
Start by Putting Things Away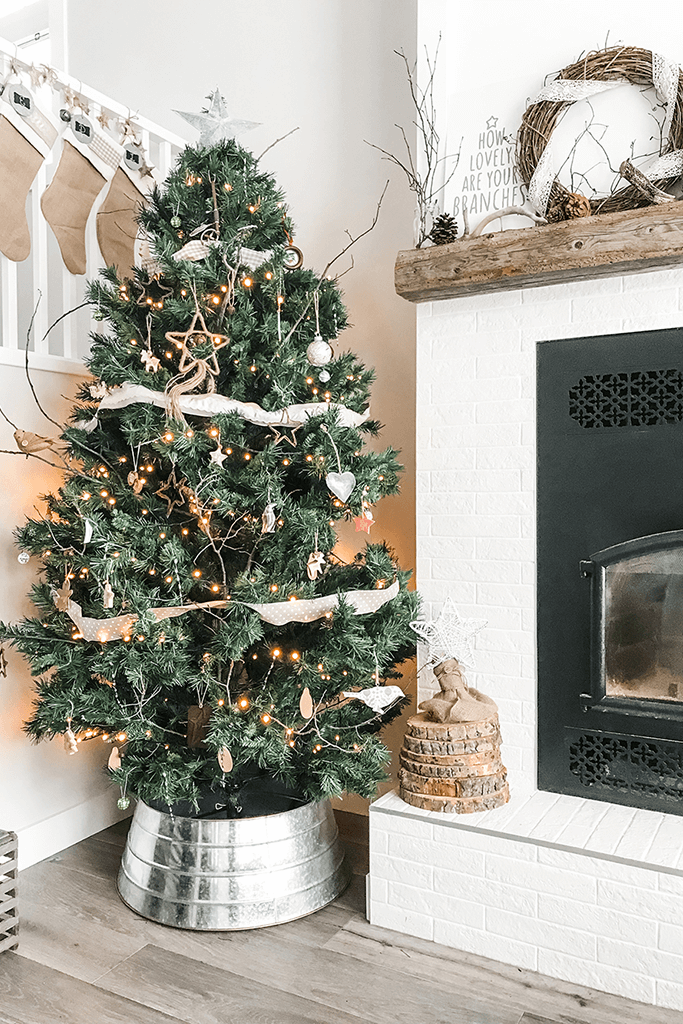 If you've ever wondered why your house doesn't feel all that calm around Christmas, it's probably because you missed this important first step. You have to put things away before you put anything new out. This step is especially important if you're decorating a small living room for Christmas.
I never used to put my year-round items away and would just add my holiday decor to my existing decor. Then I would wonder why things didn't look or feel quite right. I eventually figured out you have to make space for your seasonal items and it has totally changed how I decorate.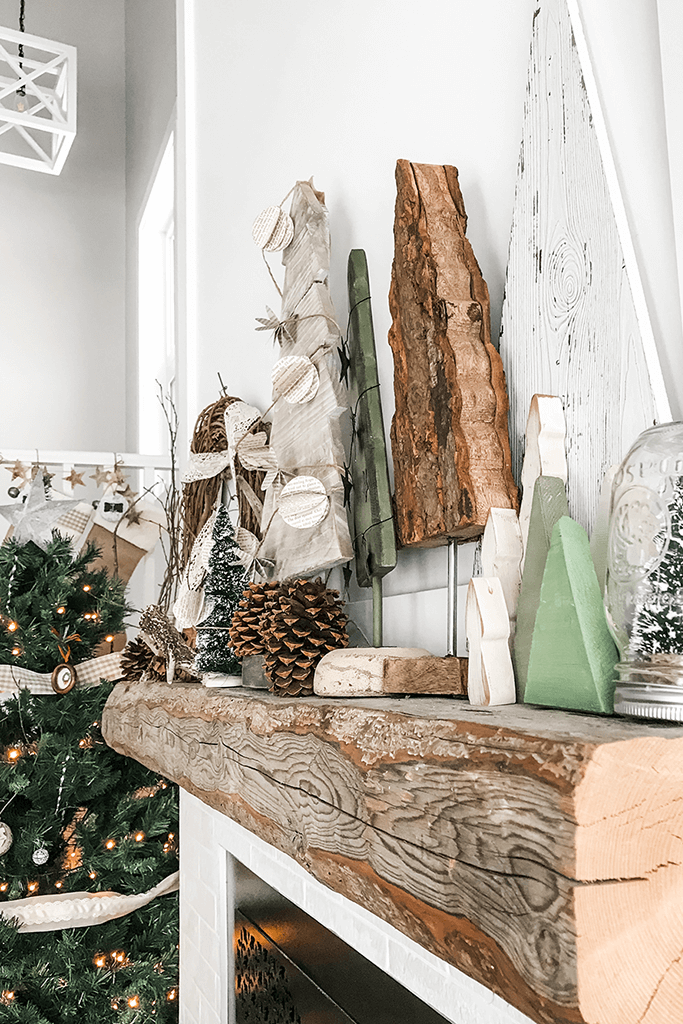 So grab a bin and start tucking things away. You can also try moving items to different rooms or even to different parts of the same room. You can always put things back when the holidays are over. Or maybe you'll discover you like them more in their new spot!
Layer in Simple Nature-Inspired Items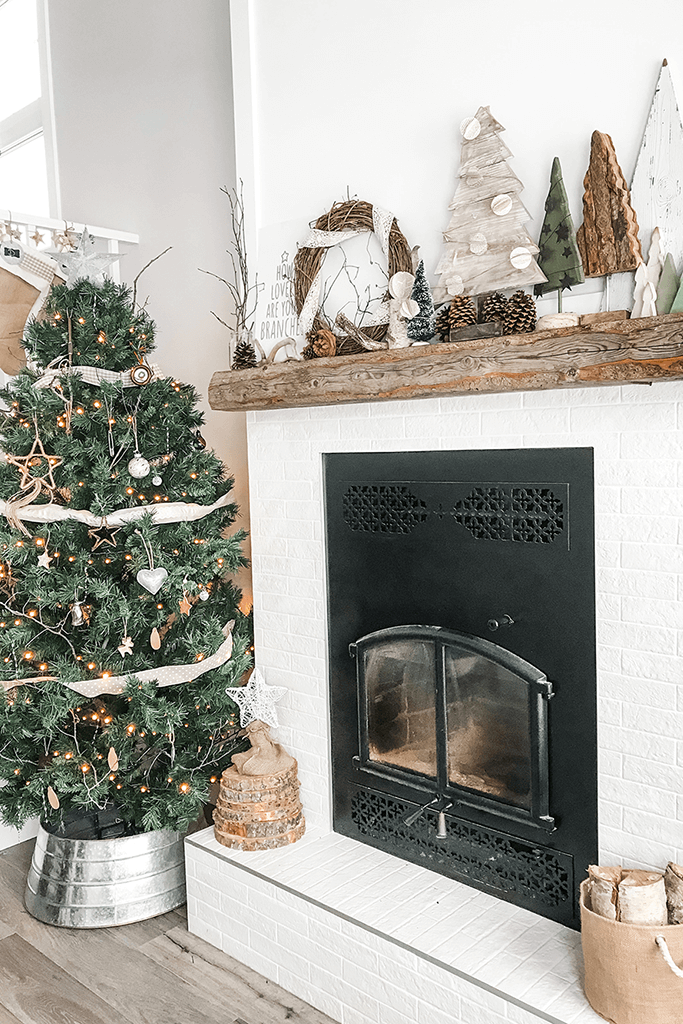 As I always say, nature is my favourite place to shop. Most of my simple, sustainable living room Christmas decor ideas revolve around using items from the great outdoors. The reason this works so well when it comes to Christmas decor for small spaces is that you can create a lot of impact without needing to go over the top. 
Foraged items such as branches, twigs, pine cones and found antlers draw the eye because we aren't used to seeing them inside. Instead of blending in to the point you don't really notice them, they create beautiful, subtle focal points that draw the eye.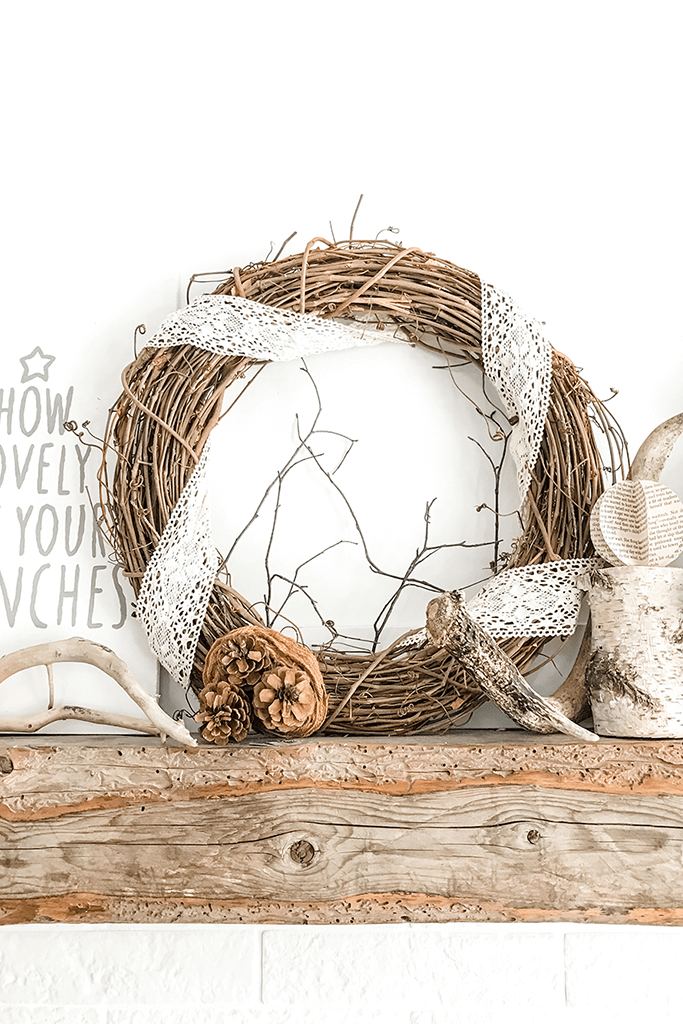 Another way to make a statement is with nature-inspired decorations like trees, stars and animals such as birds or reindeer. These items are the perfect small space Christmas decorations because they tend to be more neutral in colour, yet often offer a lot of texture. (See idea number five for the importance of texture when you're trying to come up with small living room Christmas decorating ideas!) 
Create Custom DIY Pieces to Fit Your Space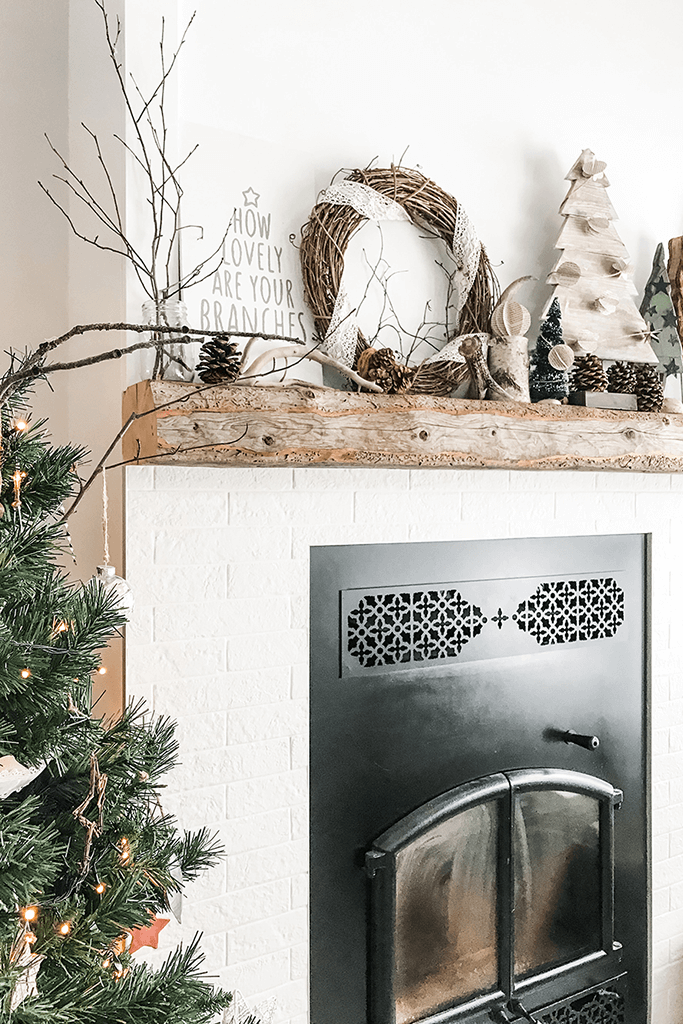 Creating a few choice DIY pieces is a great solution when decorating small spaces for Christmas because you can make them as small – or as big – as you like. 
It also feels super special to put out seasonal decor you made yourself. My DIY Christmas tree sign and book page garland are two of my favourites.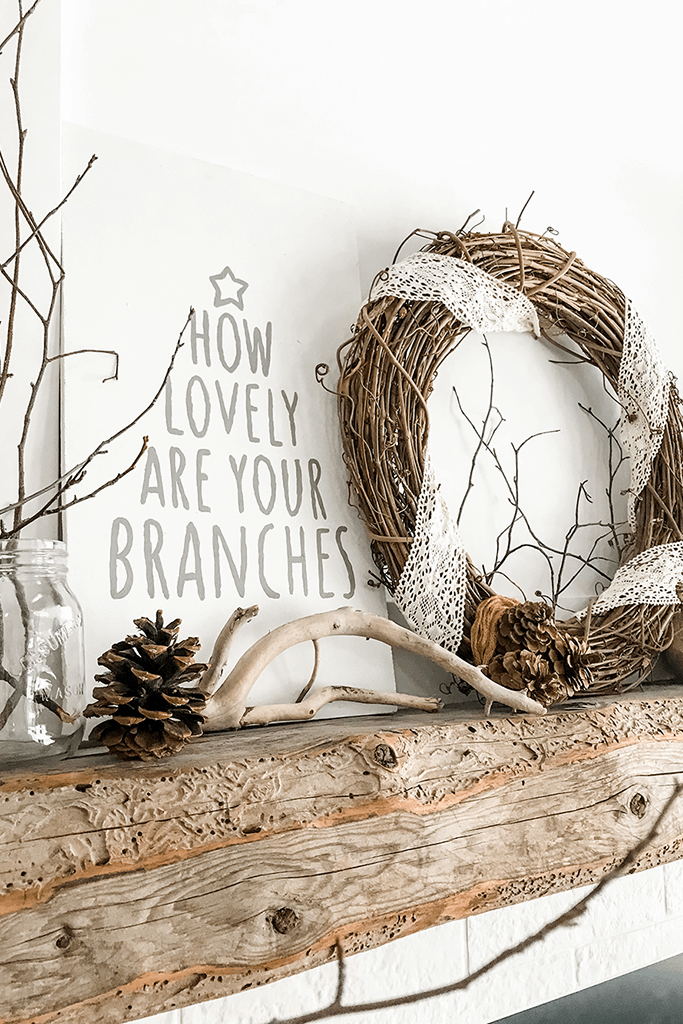 If making your own decor doesn't feel all that simple to you, then head on over to Etsy and support an artisan by purchasing a few of their handmade items. If you don't have the time or the skills to DIY, this is the next best thing. Plus, Etsy sellers are normally fantastic about customizing their items, meaning you can request specific sizes so they'll perfectly fit your small space.
Need help choosing eco-conscious furniture and decor for your home? That's what I'm here for!
Incorporate Unique Vintage and Thrifted Finds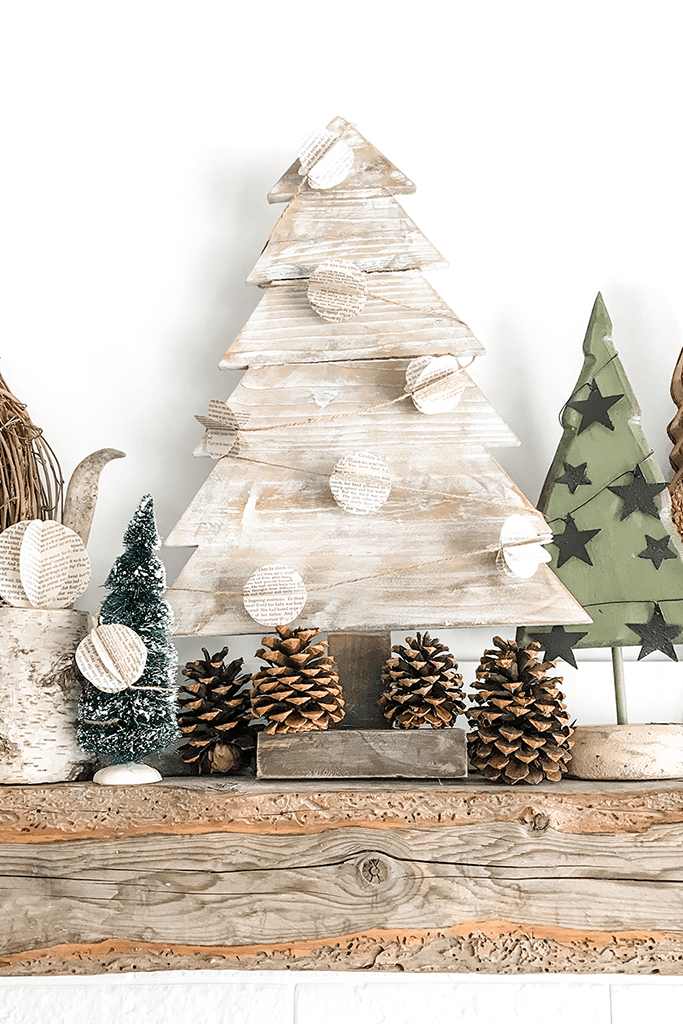 Any time of the year is a perfect time for vintage and thrifted home decor – particularly Christmastime! Why? Well, first of all, decor with a vintage look gives your space a lived in, warm, comfy feeling. And second, vintage decor tends to have more of an impact than brand new pieces, meaning you don't need a lot of it to make your small space feel cozy.
This can mean actual vintage items such as decorations passed down through your family, things found at antique and secondhand stores, or vintage-inspired decor handmade by yourself or local sellers.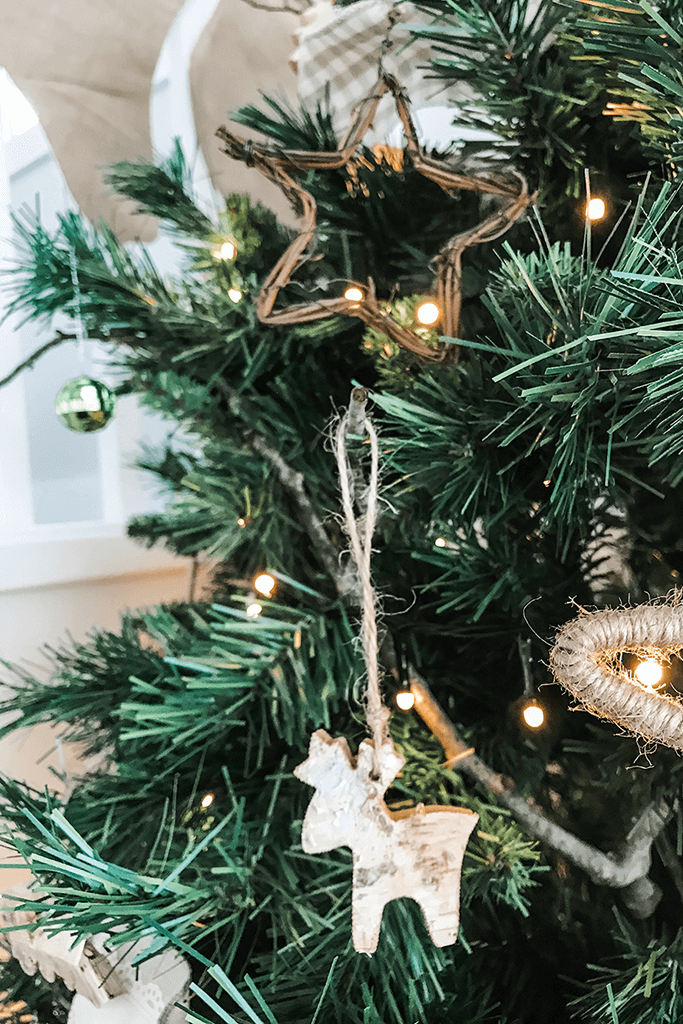 And second, buying previously used during a time of year where there is just so much overconsumption makes sense, doesn't it? It may seem like a small thing, but refusing to buy brand new, plastic-wrapped decor likely made by underpaid workers is a way of taking a stand and voting for the kind of holiday season you want to see.
Make it Feel Cozy with Texture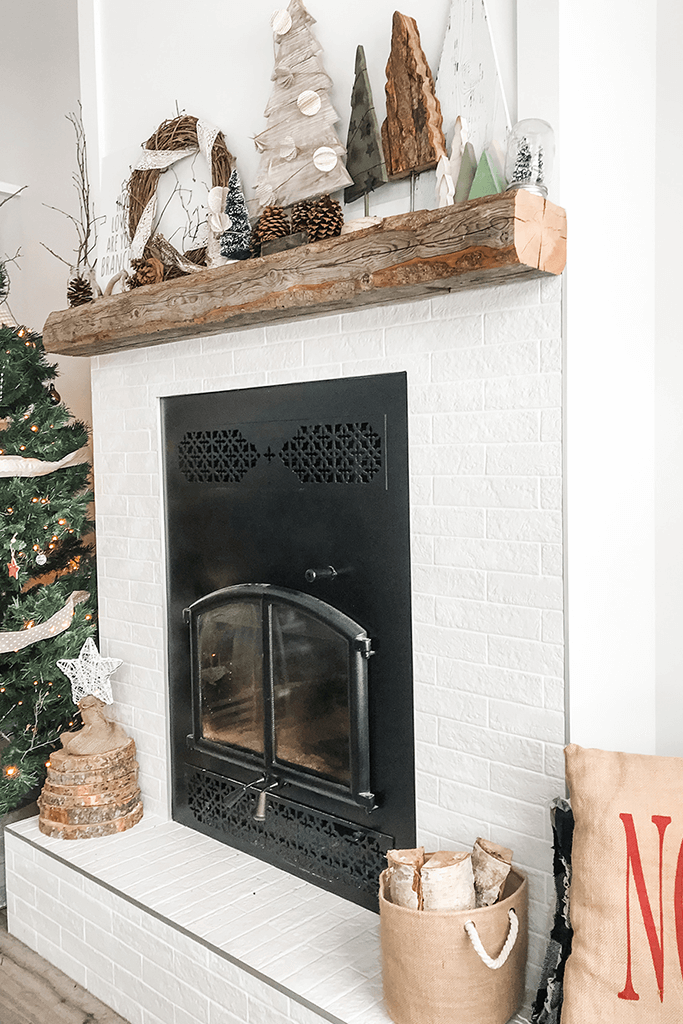 One of my favourite small living room Christmas decoration ideas is adding in a few textural elements like blankets, throw pillows and – of course – stockings! It's important to mix textures anytime you're decorating a space.
And this is even more true during the holidays because so many of us associate Christmas with that cozy-wrapped-in-a-blanket-drinking-something-warm kind of vibe.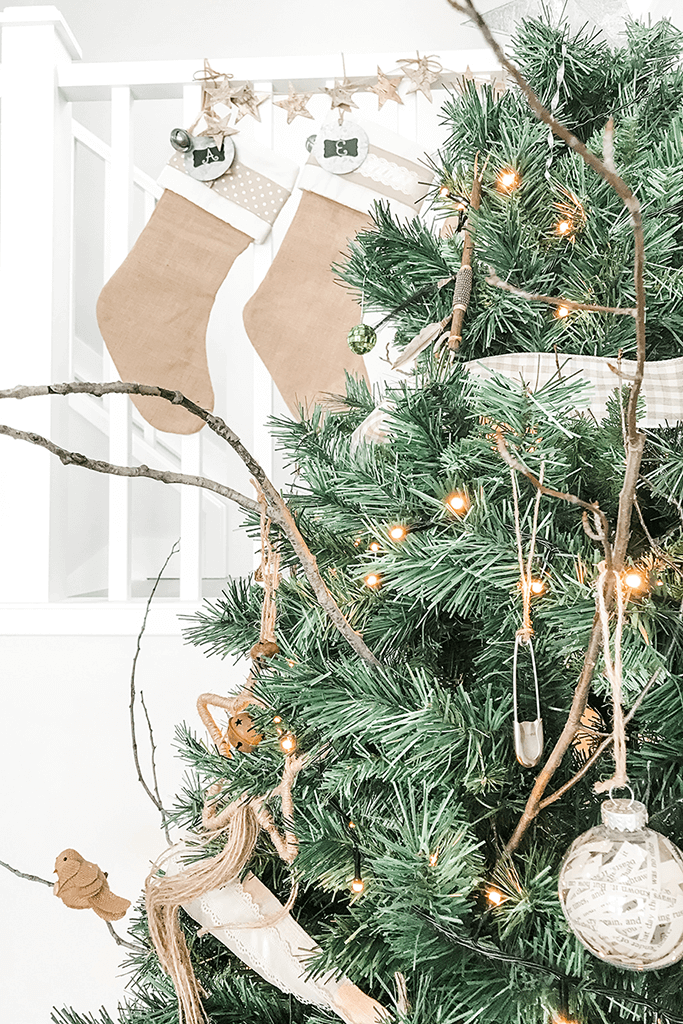 Since I love all things natural I gravitate towards fabrics like burlap and organic cotton, but other eco-festive and cozy textile ideas are recycled sweater stockings, plaid throw blankets and vintage wool pillows.
Hopefully you found my tips on how to decorate a small living room for Christmas helpful. Happy holidays to you and your loved ones, from me and my loved ones!
PIN ME!
Last Updated on December 15, 2022 (Originally Posted on December 2, 2020)
Need help choosing eco-conscious furniture and decor for your home? That's what I'm here for!
How to Decorate a Small Living Room for Christmas: 5 Simple + Sustainable Solutions