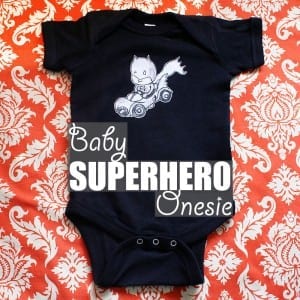 Devin and I are nerds. If you know us, then you know this. We adore fantasy and sci-fi movies and have been known on occasion to pretend we are ninjas. We geek out over superheroes, routinely discussing them. Mostly it's me asking him extremely detailed questions about lesser-known characters and seeing what he can recall from his comic book collecting youth. We have both avoided ever playing Dungeons & Dragons for fear of falling into an obsessive vortex and never being able to climb back into the real world. So yeah… nerds.
You may recall the Batman cape that snuck into a photo in this post about our nursery. Or the baby superhero artwork from this one. Basically, our daughters don't stand a chance when it comes to being cool. Born of nerds… thus nerds you shall become.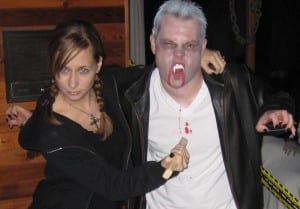 When Devin drew the series of baby superhero cartoons for our first daughter's bedroom (now our second daughter's bedroom), I knew I wanted to one day have them printed on t-shirts. I decided I'd start with baby Batman, because well… it's Batman. And instead of a t-shirt I went with a baby superhero onesie so our second daughter could wear it and surprise him. Well, she hasn't worn it yet, but he was indeed surprised! My dear friend Heidi (who is partially responsible for taking baby Batman from wall hanging to silkscreen) showed up for a dinner date with the baby superhero onesie in a gift bag, which she had put a rush order on through her mama's screening business completely unbeknownst to me!
So thanks Heidi, Berna and All Sports Cresting for your patience with me as I agonized over every line of the baby Batman graphic in order to ensure it looked EXACTLY like the original. It's a pretty special drawing by a pretty special person. Next up, I'm thinking a baby Catwoman t-shirt for my toddler, followed by baby Spiderman for Devin and baby Wonder Woman for me!
Who's your favourite superhero? (Just for the record, mine is actually Buffy. Maybe I should get Devin to draw me a Buffy cartoon that I can print on a t-shirt instead?) Do you have a cool superhero shirt that you wear with pride? Or maybe an entire superhero costume…? Don't forget to subscribe to have new posts delivered directly to your inbox!
PIN ME!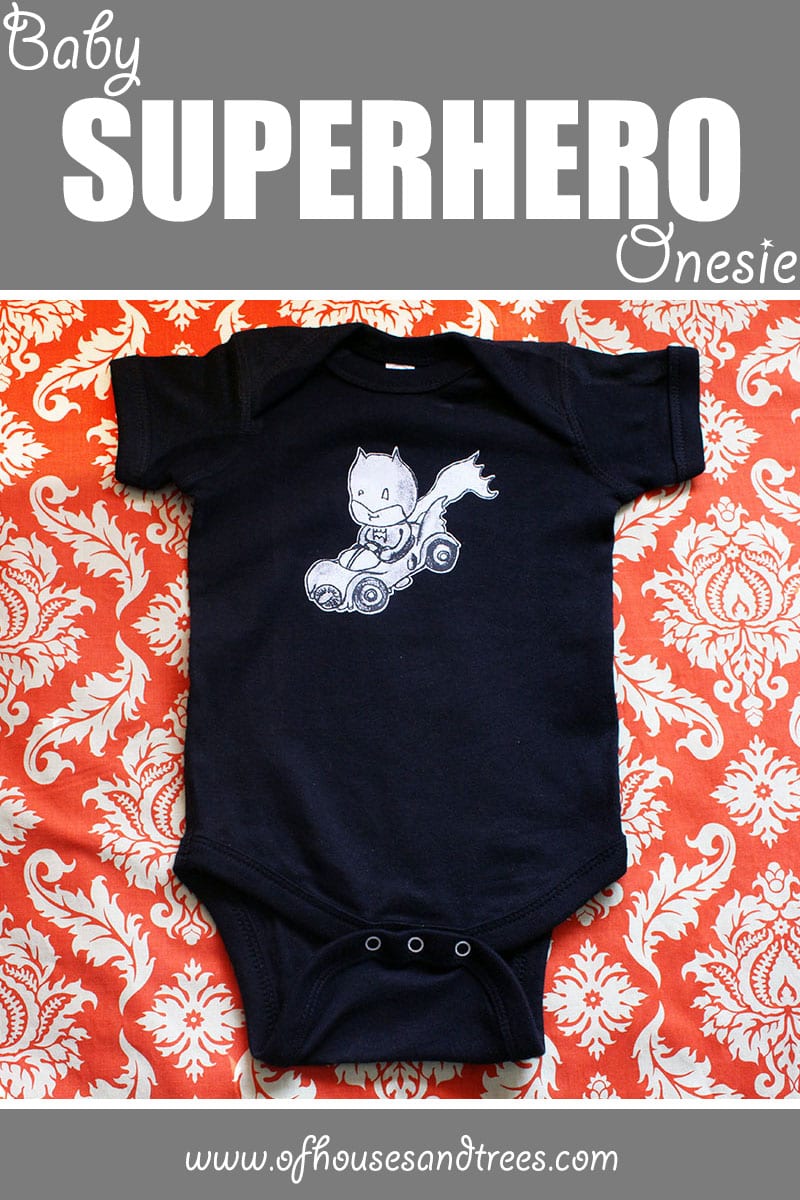 Posted on June 6, 2016
Former architectural technologist. Current treehugger.
I'm here to help you green your home – and your life.
Like what you're seeing? If so, please consider supporting Of Houses and Trees on Patreon – and get a few perks for yourself!
Subscribe to the Of Houses and Trees monthly newsletter and I'll send you my FREE list of "The 8 Best Places to Buy Eco-Conscious Decor Online."
Find out more about our 40 acres of land in Parkland County, Alberta and the sustainable home we built amongst the trees.