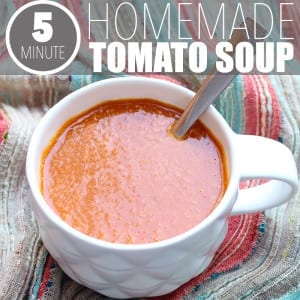 When I was a kid, I loved me a bowl of canned tomato soup. I don't even think my family bought the "good" stuff – it was strictly no name brands for us back then. But it didn't matter. Throw a can on the stove, fry up a grilled cheese sandwich (with the no name processed cheese) and I was in little kid heaven.
My tastes may have matured a bit, but I still love tomato soup and a grilled (vegan) cheese sandwich. The problem is, it's not easy to find canned tomato soup that doesn't have some kind of milk ingredient in it.
So, when I first stopped eating dairy I had to forgo tomato soup all together. It was a sad time.
Why, oh why, did I not realize sooner how damn easy it is to make tomato soup from scratch? I mean, it's basically veggie broth and tomatoes. Pretty much a no brainer. (Although, to make it slightly more of a brainer – and healthier – you can add shredded carrots!)
So, just in case you too have not yet discovered how simple it is to make tomato soup, here is my recipe. And, much like my Asian Coleslaw and Tofu Scramble recipes, you can whip this up in no time at all. Five minutes – including prep and cook time!
Who needs canned soup when you've got a recipe this quick and easy?
---
Note that this post contains affiliate links, meaning if you click on a link and make a purchase a small percentage of the sale goes to yours truly. Please know that I only link to products that are good for the earth, good for the soul, or both!
---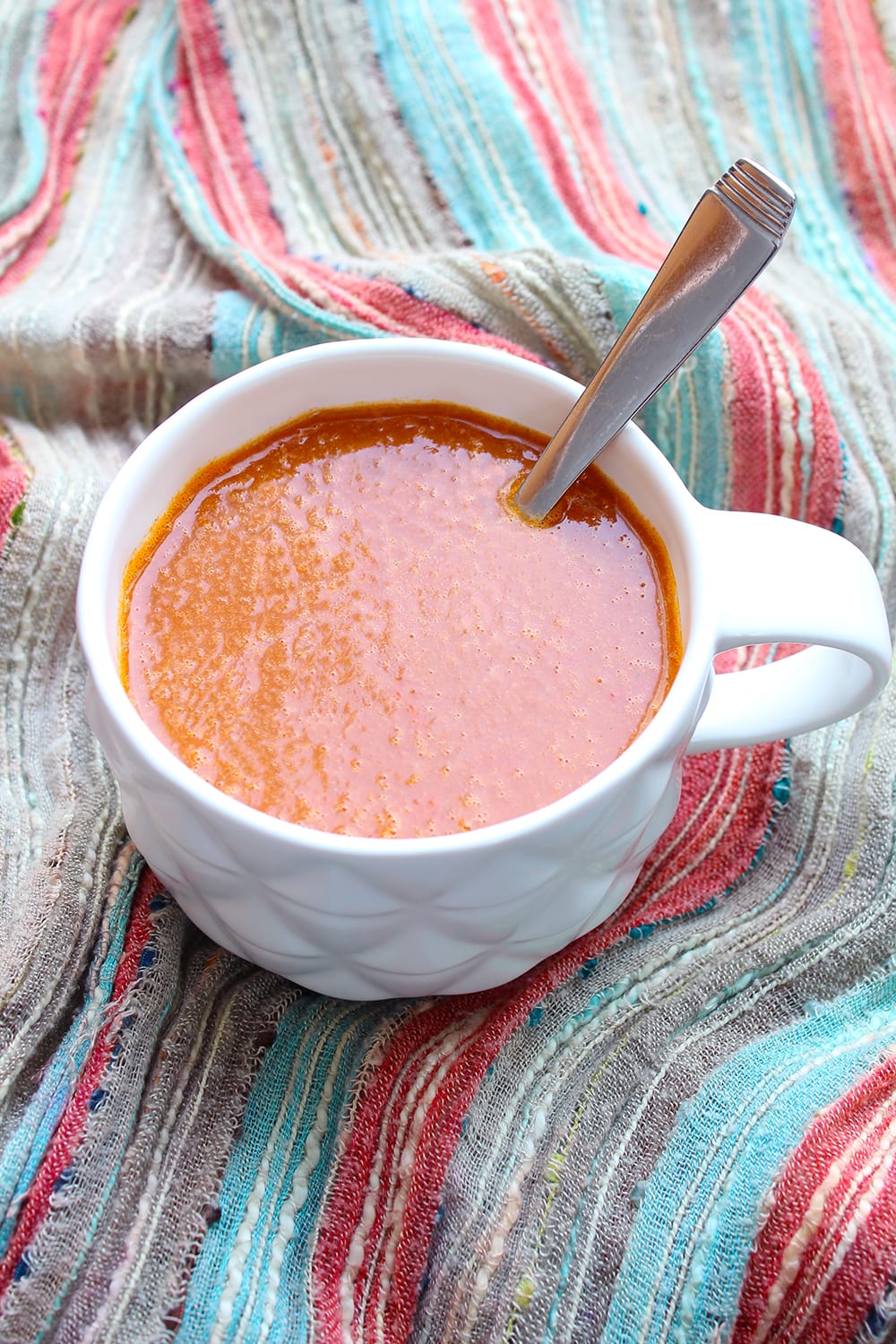 ---
Homemade Tomato Soup Recipe
Prep Time: 2 minutes / Cook Time: 3 minutes / Total Time: 5 minutes / Serves: 4
Cuisine: North American / Description: Basic Tomato Soup Recipe / Dietary Info: Dairy Free, Egg Free, Meat Free, Refined Sugar Free
Ingredients:
5 cups vegetable broth (I use bouillon and mix the broth myself)
5 cups grape or cherry tomatoes, whole (you could also use 3 cups tomatoes and 2 cups shredded carrots)
2 cloves garlic, minced (or 1 tsp garlic powder)
salt and pepper to taste
basil or Italian spice to taste
Directions:
1. Add tomatoes and broth to a pot and bring to a boil. (Add carrots as well, if using.)
2. Boil for approximately 3 minutes, or until you can easily pierce the tomatoes with a fork.
3. Blend until smooth.
4. Return to pot and add salt, pepper and basil or Italian spice to taste.
Notes:
This homemade tomato soup is a great base for other soups. Try adding black beans, onions, peppers, corn and cumin to turn it into a Southwest style soup. You can also add plain rice or macaroni to make it a bit heartier – my kids love it with noodles and I love it with rice!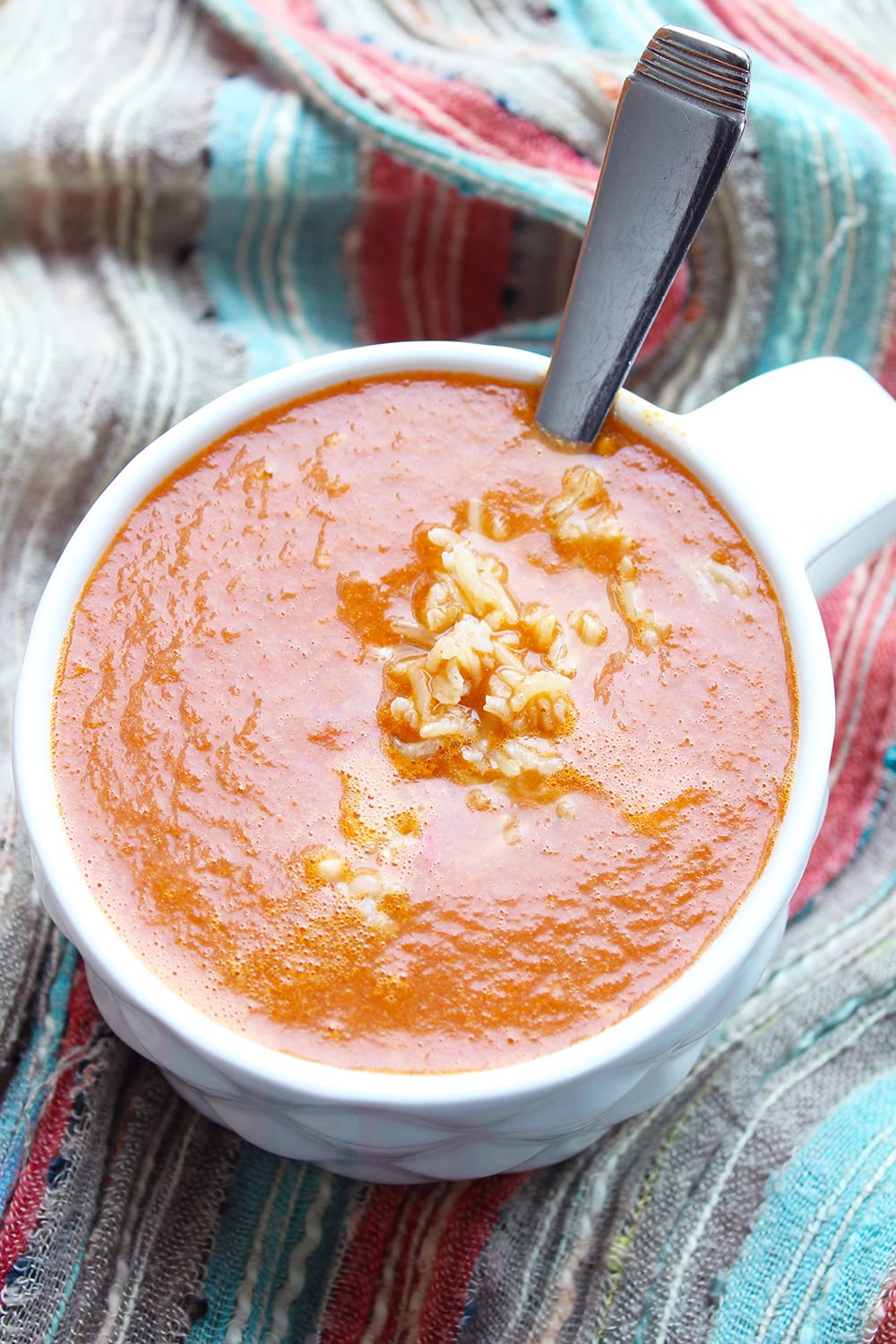 ---
Don't forget to SUBSCRIBE to have posts on sustainable design, sustainable living, sustainable eating – sustainable everything – delivered to your inbox!
PIN ME!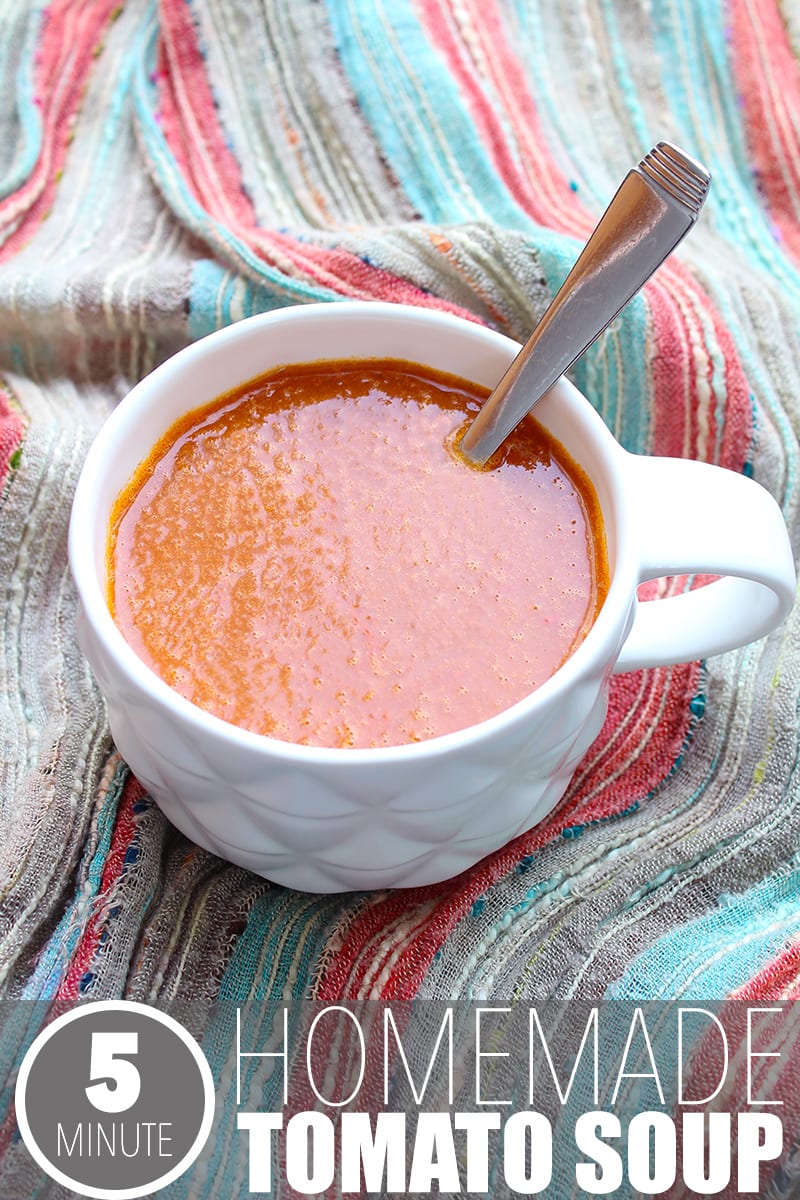 Posted on November 6, 2018
Former architectural technologist. Current treehugger.
I'm here to help you green your home – and your life.
Like what you're seeing? If so, please consider supporting Of Houses and Trees on Patreon – and get a few perks for yourself!
Subscribe to the Of Houses and Trees monthly newsletter and I'll send you my FREE list of "The 8 Best Places to Buy Eco-Conscious Decor Online."
Find out more about our 40 acres of land in Parkland County, Alberta and the sustainable home we built amongst the trees.
Homemade Tomato Soup in Under 5 Minutes