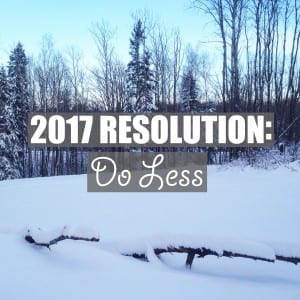 Hi. My name is Larissa and I am a chronic over-doer. Aren't most of us though? The thing is – doing stuff makes me happy.
I like cooking and cleaning. I like taking my kids to the park. I like going to yoga and dance class. I like hanging out on the couch talking to Devin for hours because we're too tired to go to bed. I like working. I like running errands and going to appointments and grocery shopping and visiting with friends and family and gardening and organizing my basement and doing crafts and working out and – of course – blogging.
But the older I get (and the more kids I have… man those little buggers are time consuming) the more I've begun to realize I can't do it all. Gulp. There's that word. Can't…
Those of you who have been reading this blog for awhile may recall my 2016 resolution was "Save the Planet." Sure, I was being somewhat facetious, but I also meant it. Being conscious about how I live my life and how it effects the environment is something that is still very important to me. But 2016 was a tough year. I tried my best. However, when your main goal when you wake up is to just get through the day without lying face down on the floor and giving up, whether you should buy regular or eco-friendly toilet paper isn't aways at the forefront of your mind.
Welcome to 2017. The year I attempt to do less… and most likely fail. Seriously. I've already made one major life decision based on "doing less" and completely regret it. So I made up for it by saying yes to the next thing – even though I actually don't have the time to do it. Because, as I said, I like doing stuff! Now, you might be asking "If you like doing stuff so much, why did you make such a resolution?" Good question, my friend. Good question, indeed.
Sometimes I see myself on a trajectory that continues for the rest of my life in which I am unable to relax. To shut off. To sit and play with my kids without looking at the clock. To go to bed without keeping myself awake with all the things I need to do the next day. Or, worse, all the things I did that day that I could have done better. I'm not talking about mentally beating myself up, I'm talking about how us overachievers/perfectionists are never truly happy with where we are in life because we're constantly planning where we need to go next. Sometimes, this personally trait can be a good thing. It pushes you out of your comfort zone. Compels you to learn more, experience more. Other times it can become something you internalize so deeply your physical body actually revolts and you develop chronic pain that severely disrupts your daily life. True story.
This is where I'm at. Somewhere between being driven to do all the things I want to do and living a life so over-scheduled and fast-paced that one day I look up and my children are grown and I can't even remember how I got there (okay, this most likely will happen regardless). Currently, my Google calendar has more coloured spaces than white, Devin just called to see how my day was and I hurried to get off the phone so I could get back to blogging (love you bud!) and the timer on my phone is at this very moment counting down how many minutes I have to finish writing this post. 2 minutes, 43 seconds… 42 seconds… 41 seconds…
Maybe "doing less" isn't so much an act as it is a mindset. One where you still try and do all the things you like, but know deep down it really isn't going to happen… and that it will be okay. Even when you let go of something you actually wanted to keep, understand there's a reason for everything (yes – I'm one of those people). And maybe you had to let go to make room for something else.
Just breathe it all in. Because this is your life.
By the way, my timer went off three minutes ago.
Are you a chronic over-doer? Is it a quality you like about yourself or are you trying to change it? Did you make a resolution for 2017? If so, what was it? If not, what's the square root of 124 in radical form? (I wanted to give a question to the non-resolutioners too.) Comment below and happy 2017!
Don't forget to subscribe to have new posts delivered directly to your inbox!
Posted on January 19, 2017
Former architectural technologist. Current treehugger.
I'm here to help you green your home – and your life.
Like what you're seeing? If so, please consider supporting Of Houses and Trees on Patreon – and get a few perks for yourself!
Subscribe to the Of Houses and Trees monthly newsletter and I'll send you my FREE list of "The 8 Best Places to Buy Eco-Conscious Decor Online."
Find out more about our 40 acres of land in Parkland County, Alberta and the sustainable home we built amongst the trees.