Need help creating a beautiful, sustainable home?
Check out my eco-conscious – and affordable – e-design services!
Custom room packages starting at $149 USD. Ready-made packages for only $19 USD.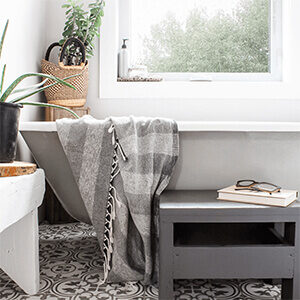 Latest Posts from Sustainable Design
Need help choosing eco-conscious furniture and decor for your home? That's what I'm here for!
Latest Posts from Sustainable Living
Latest Posts from Sustainable Products
Latest Posts from Our House in the Trees
Former architectural technologist. Current treehugger.
I'm here to help you green your home – and your life.
Like what you're seeing? If so, please consider supporting Of Houses and Trees on Patreon – and get a few perks for yourself!
Subscribe to the Of Houses and Trees monthly newsletter and I'll send you my FREE list of "The 8 Best Places to Buy Eco-Conscious Decor Online."
Find out more about our 40 acres of land in Parkland County, Alberta and the sustainable home we built amongst the trees.